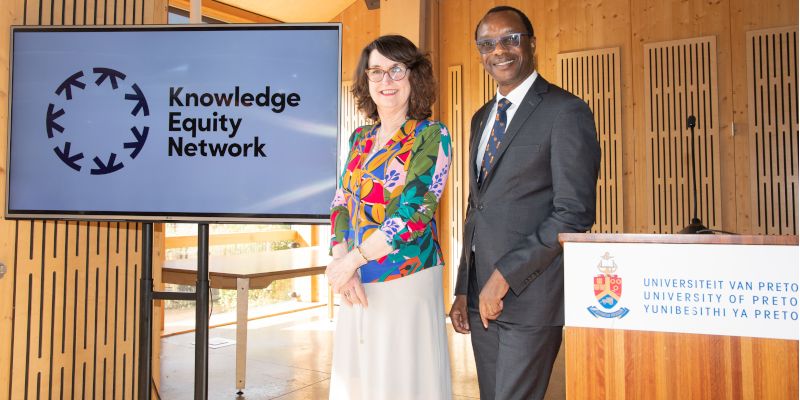 Academic institutions and leaders across the globe are joining forces in a bid to solve some of the most urgent challenges facing the planet today.
In an unprecedented move, research and education experts in areas ranging from famine and poverty to gender equality and climate change are forging a new alliance among higher education institutions.
The Knowledge Equity Network was founded by the University of Leeds and had its inaugural global summit in November 2022. Now it is expanding and gathering signatories from across the globe. Regional launch events are being hosted by partners in Africa, North America and Europe, all signing up to this ground-breaking platform designed to inspire close collaboration across all continents.
The network aims to enable global open access to research production and outputs, and high-quality university education, providing a global platform for collaboration and open sharing of expertise.
Each signatory supports the Declaration on Knowledge Equity - a commitment to actively contribute to achieving equitable access to knowledge. Network signatories will regularly convene through forums and discussions to advance and monitor progress, working towards openness and generosity as a global community.
Universities have been focused on competition for too long and it is time for change.
Details of the Network were outlined at an event held at the University of Pretoria in South Africa, during this week's Africa Week, featuring contributions by Professor Simone Buitendijk, Vice-Chancellor and President of the University of Leeds
Professor Buitendijk said: "The University of Leeds is proud to be founder of the Knowledge Equity Network. I was delighted to be at a prestigious regional launch led by the University of Pretoria during Africa Week, in front of university leaders from around the globe.
"This ground-breaking new network will help open up higher education teaching and research and encourage radical collaboration. Universities have been focused on competition for too long and it is time for change. It's only by working together and making access to knowledge more equitable that we will address the world's greatest challenges. Networked universities need to take the lead."
Professor Tawana Kupe, Vice Chancellor and Principal of the University of Pretoria, which is a co-founder of the Network, said: "As a leading, global research-intense African university that is committed to co-creating and contributing to new scientific knowledge, we are excited to commit our experts and resources to find solutions to world-wide problems like unemployment, inequality and climate change.
"This collaboration of global academic institutions and leaders aimed at finding solutions to challenges that the world is facing is in line with our efforts of creating and sharing scientific knowledge that has a visible and tangible impact on society.
"We host Africa Week biennially as a science leadership event where we interrogate ideas of science as a global public good through the lenses of the global Open Science Movement and its significance for the continent. This year's theme: Open Africa, Open Science, encourages African scientists, academics and researchers to embrace the growing Open Science Movement and get more involved in solving world problems."
Professor Nick Plant, University of Leeds Deputy Vice-Chancellor: Research and Innovation, this week attended a Worldwide Universities Network meeting at Tecnológico de Monterrey, Mexico. Founding partners of the Knowledge Equity Network were in attendance including from the University of Pretoria and Mahidol University, Thailand.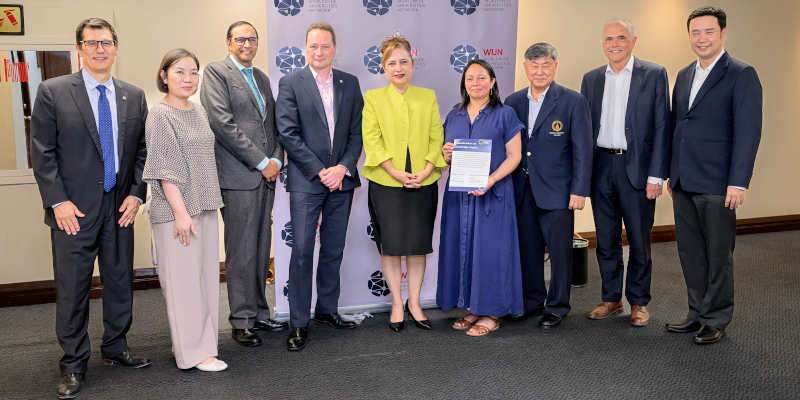 Professor Plant said: "Our planet and its people are facing unprecedented challenges and widening inequalities. By signing the declaration, we are embracing exciting plans to adopt open and collaborative practices of knowledge creation and dissemination with and for our local and global communities."
Professor David Garza, President of the Tecnológico de Monterrey, said: "At Tecnológico de Monterrey we recognize that access to education is a fundamental human right, and the basis for guaranteeing the well-being and development of people, as well as of society."
Professor Banchong Mahaisaviya, Mahidol University President, added: "This network is dedicated to promoting collaboration, universality, sustainability and inclusion in the production and dissemination of knowledge and is working tirelessly to ensure that all voices are heard and all perspectives are valued.
"It is critical that we have networks like the Knowledge Equity Network working to amplify underrepresented voices and create opportunities for marginalized communities to participate in the knowledge creation process.
"The efforts to promote open access to information, support diverse scholarly publishing models, and advocate to move away from competition-focussed rankings are truly inspiring and are making a real difference in the world."
Further information
Main image: Professor Simone Buitendijk, Vice-Chancellor and President of the University of Leeds, and Professor Tawana Kupe, Vice Chancellor and Principal of the University of Pretoria.
For media enquires please email Rebecca Hurrey in the University of Leeds press office via r.hurrey@leeds.ac.uk.
More information about the Knowledge Equity Network can be found at knowledgeequitynetwork.org.
For further information on joining the Knowledge Equity Network, please contact the KEN team at knowledgeequitynetwork@leeds.ac.uk.