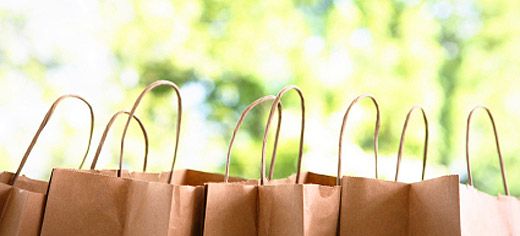 An online marketplace for eco-friendly and natural products founded by two University of Leeds graduates has secured £200,000 investment from a syndicate of business angels.
Founded in 2010 by entrepreneurs Liam Patterson (24) and Jason Dainter (27), EthicalCommunity.com aims to recreate online the more personal atmosphere found at farmers markets and craft fairs. The website has already signed up over 850 sellers from around the world and currently over 7,000 products are for sale - ranging from organic t-shirts from eco-fashion designers in London, to Fairtrade coffee direct from Ethiopian farmers in Africa.
"As well as promoting great products and fantastic causes, the site also enables shoppers and sellers to connect in a very personal way," says Patterson. "We found that people looking to buy eco-friendly and natural products are really interested in the stories behind the products such as who made it, what from and why."
"This created a really interesting challenge of how to communicate these stories - and this is really where our site's innovation comes in, says Dainter.
"Throughout the site shoppers are encouraged to interact with the people behind the products via personal activity feeds and videos from sellers filmed directly from their workshops, farms or kitchen tables. There's also a blogging platform which enables sellers to share their stories, tips and experiences on living a green lifestyle."
The funding round includes investment from e-commerce pioneer Mary Turner, CEO of smart home technology company AlertMe.com and board member at ASOS.com; digital advertising guru Giuliano Stiglitz, CEO of Orange Advertising Networks; technology venture investor Kelvin Au, and Robert Barnes, founding member of Alchemy Partners. The business will use its new funding and angel expertise to grow its seller and shopper base, launch a new improved version of the platform in Spring 2012 and continue with its ambitious expansion targets.
The pair met in 2009 when Patterson, who had been awarded an Enterprise Scholarship by the University's business start-up service SPARK, went to hear Dainter give a talk to students about how he'd set up his first business. Soon after teaming up, they hit on the idea for Ethical Community. Says Patterson: "We have a lot to thank the University for, especially the Enterprise Scholarship grant and mentorship opportunities which helped us enormously in the early days.
We've come a long way with the business and have big plans, particularly with overseas markets such as the US, Canada and Australia, where eco-friendly products are extremely popular. The investment will give us a tremendous boost in this respect together with our refined marketing and IT efforts. Moreover, we now have a team of successful entrepreneurs on board whose experience and advice will be invaluable in helping us achieve our growth ambitions."
Further information from:
Contact: University of Leeds Communications & Press Office: Tel +44 (0)113 343 4031, email pressoffice@leeds.ac.uk
Liam Patterson can be contacted on mobile 07920 843255, tel 01133220541, email contact@ethicalcommunity.com
High resolution photographs and logos are available to download from
http://press.ethicalcommunity.com/company