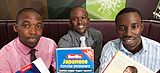 Three high-flying engineering students from the University of Leeds are getting a privileged insight into the secrets of Japan's manufacturing success.
The trio are spending their summer living and working alongside engineers at one of Toyota Boshoku's plants in Japan. The 10-week placement will give them an unrivalled view of how the globally renowned company turns ideas into technology that can be rolled out on the production line.
The students' taste of Japanese industry is being funded by Dr Shuhei Toyoda, a former PhD student at the University of Leeds and now President of the Toyota Boshoku Corporation, part of the world-renowned Toyota group of companies.
The students will be based at the Toyota Boshuku plant in Aichi, a part of central Japan known for its flourishing industries, art and culture. Whilst there, they will see for themselves how the company develops its technologies and get a chance to contribute their own ideas.
One area of work lined up for the students is a 'green' manufacturing project, exploring how Toyota Boshoku can make more interior car parts from cultivated plants. Toyota Boshoku already uses the woody plant kenaf to make a few parts, such as door trims, for some of its high-end vehicles that are sold in Japan. However, it is aiming to make plant-based parts the norm and roll-out kenaf-based trims, seat covers and floor mats across its entire range of models and markets. The Leeds students will be invited to suggest ways of making this happen.
Professor Simon Biggs, Pro-Dean for Learning and Teaching at the University of Leeds' Faculty of Engineering, said: "This is a great opportunity for three of our best students - Stephen Seporo, Itseng Motsumi and Akintomide Adesanmi - to experience how engineering research translates to the industrial workplace.
"Toyota Boshoku has long been recognized as an industry leader in manufacturing and production. Stephen, Itseng and Akintomide won't simply be observing what goes on, they will actually be taking part in the process, experiencing how manufacturing happens in the real world."
The students will be living in accommodation owned by Toyota Boshuku alongside Japanese and other international workers from the plant. They will have a chance to explore the country further during a 10-day factory shut-down during August.
To prepare for the trip, the trio have been getting tips on Japanese culture and taking lessons on the Japanese language from other students at the University of Leeds School of East-Asian studies.
Stephen Seporo said: "The idea of coming to Japan and spending enough time here to experience how manufacturing operates in a very different cultural environment really appealed to me. This placement is going to be a fantastic experience."
Itseng Motsumi said: "I have always admired the way that Toyota group operates so when the chance of working at one of the plants came up, I just grabbed it. I want to learn how Japanese companies operate, what it is about their processes that make them so successful."
Akintomide Adesanmi said: "I see this as an amazing opportunity to work at the forefront of cutting-edge technology, to experience for myself how engineers are helping create more sustainable technologies for the future. That's something I really want to be part of and this placement is hopefully going to show me how."
For further information:
Please contact the University of Leeds Press Office on +44 (0)113 343 4031 or email pressoffice@leeds.ac.uk
High resolution photographs available on request.