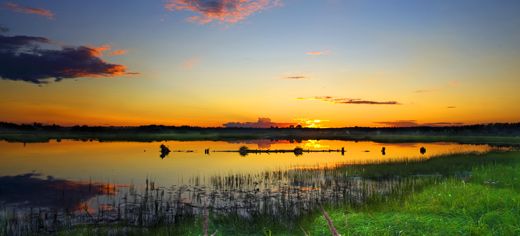 The University of Leeds is spearheading the drive to recruit the next generation of environmental scientists.
The University, in partnership with the University of York, has led a successful bid from the Natural Environment Research Council (NERC) for a Doctoral Training Partnership (DTP) to train environmental science PhD students.
The Doctoral Training Partnerships aim to equip the next generation of environmental scientists with the skills necessary to understand the complex interactions within the Earth system. This enables them to contribute to the development of scientific and policy solutions to the problems we will face in the coming decades, on both national and global scales.
Professor Martyn Chipperfield, who led the bid from the School of Earth and Environment at the University of Leeds, said: "We are delighted to be hosting one of the new NERC DTPs in Leeds. Along with York's Department of Chemistry we have an excellent track record in research in the environmental sciences. Our DTP will allow us to build a coordinated five-year training programme for the next generation of environmental scientists.
"The DTP will encourage exciting, collaborative research projects and also allow us to forge stronger links with our 48 external partners who will provide students with training experience outside of the university environment."
Leeds' DTP consists of all five Leeds departments who are active in NERC science: the School of Earth and Environment; School of Geography; School of Chemistry; School of Biology and the School of Mathematics. The Department of Chemistry at the University of York is also covered by the bid.
Professor Alastair Lewis, from the University of York's Department of Chemistry, said: "The announcement by NERC of new investments in PhD training will help our mission to deliver highly skilled scientists who can make significant contributions to society and the economy. Our atmospheric chemistry PhD students, for example, go on to have careers that improve public health, support international policy, and create new products and services in high value sectors such as sensors, high performance computing and fine chemicals."
The strong focus on collaboration within and between the DTPs allows partners to pool their experience to create rich training environments for students and encourage knowledge-sharing and interconnectivity, which benefits environmental science researchers.
The DTPs will offer postgraduate studentships and training across the full range of NERC's disciplines, and in multidisciplinary environments, helping to enrich the student experience. Each DTP will create a strong and active community of students that are able to integrate, work, and learn together. These students will receive in-depth, advanced research training, as well as training in the professional and transferable skills essential in today's economy.
An integral element of the NERC DTP programme is that a minimum of 30% (or 360) of the students will work with and undertake research projects that are directly relevant to non-academic partners. This will help keep the UK at the forefront of research training, and provide students with the training experience they need to enter a wide range of careers.
NERC is providing £100m of funding for Doctoral Training Partnerships.
Science and Universities minister David Willetts said: "This significant investment highlights the Government's commitment to supporting postgraduate training and research in the environmental sciences. We're dedicated to providing the next generation of environmental researchers with the necessary skills and training to succeed in academia and industry.
"The strong support for this programme from a number of international partners such as BP, Microsoft and Arup is enormously encouraging. Not only will this initiative benefit students, UK research organisations, business, industry and the economy, it will keep us at the forefront of the global science race."
Professor Duncan Wingham, chief executive of NERC, said: "If UK environmental sciences are going to continue to prosper, we need to make sure we get the best from our students. These DTPs position us to compete in an increasingly competitive global environment by training students in the best possible way to use environmental sciences to help meet the challenges and opportunities facing us today.
"We want to provide these students with the skillsets and experiences to equip them to become future scientific leaders, and sustain the flow of top talent and skilled people for UK research, business and government. Encouraging collaboration between academic institutions and partners across the environmental sciences sector when delivering training for every student will help achieve this.
"NERC DTPs will further scientific progress and support UK economic growth, job creation and prosperity."
More information on the DTP can be found at www.nercdtp.leeds.ac.uk
Further information
Professor Martyn Chipperfield is available for interview. Please contact Ben Jones, Press Officer, University of Leeds, on 0113 343 8059 or email B.P.Jones@leeds.ac.uk