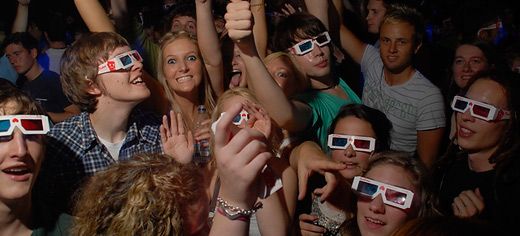 Packed rush-hour trains or Oxford Street at Christmas are rarely much fun, but for some the experience of a packed crowd can be highly enjoyable, experts from the University of Leeds have found.
Following a survey of people at an outdoor music event (a Fatboy Slim gig in Brighton) and a protest march against NHS changes, the findings explain why people actually seek out and find pleasure in dense, crowded areas.
The researchers found that social identity was a key factor in predicting positive emotions in both crowds and that people's social identification with the crowd led them to seek out and enjoy more dense locations.
Dr Clifford Stott, from the
Security and Justice Research Group
at the University of Leeds, said: "For many, the crowd itself is a key part of the attraction. This is ground-breaking research in a number of ways but perhaps most importantly because it reshapes our understanding of why people participate in crowds.
"Being in crowded places is often uncomfortable but it can also be an intensely positive experience if we share a common identity with those around us. Where this happens – such as it does in football crowds - crowded places are actually joyous places. Our research suggests that this is because they provide us with a sense of community that people often struggle to find elsewhere"
The studies were led by the University of Sussex, with co-operation from Leeds and the University of St Andrews. Researcher Dr David Novelli, now at the University of Hertfordshire, surveyed a sample of participants and interviewed some of them.
Dr John Drury, of the University of Sussex, who supervised the research, said: "Some will remember the Big Beach Boutique of 2002 when 250,000 people packed onto Brighton beach to see Hove-based DJ Fatboy Slim.
"That was a very crowded event indeed. Yet, among our survey participants, the more they defined themselves as part of the crowd the less likely they were to report feeling too crowded."
The research was funded by a grant from the Leverhulme Trust to John Drury and Clifford Stott (University of Leeds) and by a grant from the Economic and Social Research Council (ESRC) for David Novelli's PhD studies.
The findings have been published in the open access journal PLOS ONE
Further information
Dr Clifford Stott is available for interview. Please contact Ben Jones on 0113 34 38059; email
B.P.Jones@leeds.ac.uk
"Crowdedness mediates the effect of social identification on positive emotion in a crowd: A survey of two crowd events", Drury, J., Novelli, D., Reicher, S. & Stott, C., PLOS ONE (13 Nov 2013).
http://dx.plos.org/10.1371/journal.pone.0078983