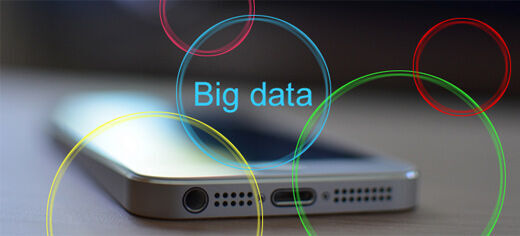 A multi-million pound centre for "big data" analytics at the University of Leeds will lead to unprecedented new insights into society, business and health in the UK.
The project, part of a £14 million big data initiative announced by Minister for Universities and Science David Willetts at the Royal Society today, will provide a secure environment in which academic researchers can study anonymised data to be provided by retail and commercial organisations.
The information could be used for a wide range of projects such as controlling the spread of epidemics and understanding exposure to crime. It could also help with other challenges like mapping ethical consumer trends and tracing relationships between shopping habits and health outcomes.
The funding is part of the Government's support for research that can drive economic growth. Big data analysis has been identified by ministers as one of "eight great technologies" in which the UK is internationally competitive.
Although final details are still being negotiated, the Leeds centre is expected to receive more than £6 million funding, with the government-funded Economic and Social Research Council (ESRC) providing approximately £5.8 million.
Professor Mark Birkin of the University of Leeds' School of Geography, who will lead the project, said: "The modern consumer environment is producing vast amounts of data that we are only just starting to get to grips with. These data sets can contain enormous volumes of information that, if analysed and studied in the right way, will offer valuable insights into our society. We will not look at individual pieces of data–this is about analysing large quantities of pooled, anonymous information to get the bigger picture."
He added: "The objective is to provide a safe setting founded on secure technologies and trust between researchers, data owners and the public that will allow us to combine and analyse these new data sets responsibly. The prize is a much more sophisticated approach to social as well as commercial policy formation."
Geospatial data from transport providers, for instance, could allow researchers to model the spread of an epidemic in a particular city by looking at where populations move and gather. Planners could then highlight areas with high risk of transmission and restrict access in a crisis in the future.
While existing crime records tell researchers where victims live and where crimes are committed, understanding the flow of a population through a city could help police to target street crime in a much more proactive and effective way in future.
"As a geographer, I am interested in patterns of movement in cities. A classic source of information about that is the census, but that only tells you whether people have moved in the last decade. In the future I believe that business and local government will provide much more detailed evidence on how populations move and how they act," Professor Birkin said.
A key part of the new project will be ensuring the security of data available in the centre, not only by anonymising individuals' information but also by regulating how information is accessed. Data will be stored in a secure facility at Leeds and the information will only be accessible from designated workstations. Projects will undergo rigorous ethical review before they are allowed to access the information.
Thirteen companies, including several major high street names, gave letters of support for the University of Leeds bid and the first phases of the project will be securing agreements to access the anonymised consumer data and building the infrastructure to hold it safely. The University's Faculty of Environment and Leeds University Business School will lead the research.
Professor Ian Kirkpatrick of Leeds University Business School said: "This is great news for the University, the city of Leeds and the north of England. The commercial sector is already generating vast quantities of data for its own use, but it is not being used for academic research or to inform public policy. This funding changes that, and the possibilities of combining different data sets are endless."
One research project involving researchers in the Business School and Faculty of Environment will use commercial data to look at ethical consumption trends. The aim will be to try to explore schemes to encourage the general public to recycle more and to buy and consume more ethical goods.
The University already has a strong reputation in Geographic Information Systems (GIS) training, offering undergraduate, postgraduate and distance learning programmes. As part of the new project, a new masters course in Geography and Business will be established in 2016. This will help address national skill shortages in big data analysis, both in academia and the commercial sector.
David Willetts MP told the Open Data Forum at the Royal Society: "Data is a huge priority for government as it has the potential to transform public and private sector organisations, drive research and development, increase productivity and innovation, and enable market-changing products and services. The UK must fully grasp the opportunities that data presents to ensure it is well placed to compete on a global scale."
Funding for the centre at Leeds was allocated by the ESRC under its Business and Local Government Data Research Centres programme.
Further information
Contact: Sarah Reed, Press Officer, University of Leeds; phone: +44 113 343 4196 or email:
s.j.reed@leeds.ac.uk
.