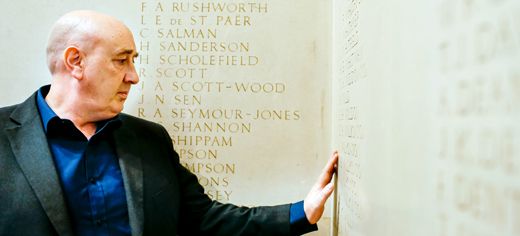 The names of twenty-five men from Leeds who served in the Great War are being added to the University of Leeds' Brotherton War Memorial.
The stories of the men, who all had connections to the University of Leeds, were uncovered by community researcher David Stowe, who has been working alongside academics to explore the 'Leeds Stories of the Great War', part of the University's Legacies of War project.
When researching the names currently on the memorial, David discovered a number of men who had not been included on the original roll of honour. The names of these men will now be added to a specially commissioned memorial and commemorated in a re-dedication ceremony, which will be held on Wednesday 22 October 2014.
The new names include Second Lieutenant Douglas Knowles Day, who had joined Leeds University Officers' Training Corps and was 21 years old when he died from wounds received at Gallipoli on 19 November 1915. Also listed is Alexander George Rosamond, of the Canadian Light Infantry, who was a student at Leeds and captained the University football team. He died leading his company into action on 15 September 1916.
David Stowe said: "It remains a mystery why these names were not included on the original roll of honour, but the stories that have unfolded are remarkable. They all served in the Great War, and whilst not all deaths were the result of action or active service, they are no less tragic following accounts of such bravery and courage. It's been both fascinating and a privilege to learn more about these men."
Sir Alan Langlands, Vice-Chancellor of the University of Leeds, said: "The discovery of several missing names has revealed a number of poignant and touching stories that we wish to mark and remember. Rededicating the roll of honour is a fitting way of commemorating these men, the Centenary of the First World War and all those who lost their lives."
The University of Leeds War Memorial is situated outside the entrance to the Brotherton Library in the iconic Parkinson Building. The memorial was originally installed in November 1951 when the Parkinson Building was opened, and consists of eighteen panels which bear the names of 328 men and officers with connections to the University. Many of the faculties are represented, along with past and present members of the Students' Union, Officers' Training Corps and Cadet Training School.
David Stowe used a variety of sources to research the men, from local newspapers and old University journals through to central databases such as the Commonwealth War Graves Commission register.
David continued: "We've managed to establish a more complete picture and gain some more insights into the part played by the University of Leeds in the Great War, which offers a sometimes grim but fascinating insight into a nation at war at the local level. This is also a special and distinctive memorial because of its sentiment of equality, in that no special treatment was conferred on the dead and no rank or status is given."
Professor Alison Fell, who leads the Legacies of War project, added: "Our research has revealed the diversity of the staff and students who lost their lives during the war. Like all those associated with the University today, they came from all walks of life and from all over the world."
The 'Leeds Stories of the Great War' project has explored the role of the University of Leeds in the war effort and the wide range of war work carried out, from training of men and women in agriculture and interpreting through to research into munitions production and chemical weapons development.
An exhibition of the findings will be displayed in the Parkinson Building in October, to coincide with the rededication ceremony.
Further information
Interviews
David Stowe and experts from the University's Legacies of War team are available for interview. Contact University of Leeds press office on 0113 3432060 or email pressoffice@leeds.ac.uk
MOOC
A look at how the First World War was memorialised in included in a new free online course created by the University of Leeds, in conjunction with the BBC. World War One: Changing Faces of Heroism, a three week course, begins on 27 October. Visit www.futurelearn.com/courses/ww1-heroism to find out more, view a trailer or sign up.
Below is a selection of names of the men from Leeds who served in the Great War, along with a summary of their connection with the University of Leeds.
Douglas Knowles Day
Date of Death: 19-11-1915
Age: 21
Educated at Wakefield Grammar School, Second Lieutenant Douglas Knowles Day joined the Leeds University Officers' Training Corps (LUOTC) shortly after the outbreak of war. He was Second Lieutenant for the 10th East Lancashire Regiment.
He died on 19 November of wounds received in Gallipoli.
Cyril Douglas McCourt
Date of Death: 08-10-1916
Age: 32
A background in chemistry, Second Lieutenant Cyril Douglas McCourt was chief chemist to the Morgan Crucible Company before collaborating with academics at the University of Leeds on the industrial applications of the new principle of incandescent surface combustion. This collaboration resulted in the many important inventions comprised under the "Bonnecourt" system of surface combustion. Shortly after the outbreak of war he abandoned research work and joined the Army. He was Second Lieutenant for the 21st London Regiment - First Surrey Rifles.
He was killed while leading an attack on 8 October 1916.
Alexander George Rosamond
Date of Death: 15-9-1916
Age: 43
Lieutenant Rosamond was the first resident pupil at Lyddon Hall, University of Leeds, and took a keen interest in sport, and at one time was the captain of the University football team. He enlisted in the Royal Fusiliers (1st Sportsman Battalion) on 28 October 1914, and was gazetted a Lieutenant in Canadian Light Infantry (Eastern Ontario Regiment) on 16 June 1915.
He was killed on 15 September 1916, leading his company into action.
James Fitz-Gaulfield Northcote
Date of Death: 09-10-1917
Age: 22
After attending Leeds Grammar School from 1912-1914, Second Lieutenant James Fitz-Gaulfield Northcote studied at Medical School at the University of Leeds. In 1915 he joined the Inns of Court Officers' Training Corps, obtained a commission in the 5th West Yorkshire Regiment and went over to France.
He was reported as missing on 9 October 1917 and it was later confirmed he had been killed on that date.
Charles Reginald Outram
Date of Death: 25-10-1918
Age: 22
Private Charles Reginald Outram came to Leeds Grammar School in 1907 and on
leaving in 1912, he went onto study at the University of Leeds as a law student. He then joined Messrs. Scatcherd, Hopkinson and Middleton, Solicitors, of Leeds. He enlisted in the Highland Light Infantry in 1915.
He was killed in action in Mesopotamia in October 1918.
Arthur Meurig Pryce
Date of Death: 21-02-1919
Age: 42
Captain Pryce held posts at various hospitals as house-surgeon and, when war broke out, was demonstrator in bacteriology at the University of Leeds. He joined the Royal Army Medical Corps early in the war and was appointed lieutenant in the 129th Field Ambulance.
In December 1916, he was appointed medical officer to the 14th Battalion Royal Welsh Fusiliers, with whom he served throughout the fighting on the Somme and in the Ypres salient.
A brother medical officer, writing of is conduct at Mametz Wood, said: "He stuck to his post under terrible fire and worked on, attending the wounded until all around him were either killed or wounded, with the greatest unconcern." Another officer writes: "I know he was put in for the M.C. three times, but very few honours came to the Welsh Division for that valorous mess. Still, he had won his place with us and he was universally respected by officers and men and was counted well in among the very select body of first-class regimental medical officers."
In 1918, he was appointed bacteriologist at the 35th General Hospital, Calais, where he worked till his death.
He died in hospital in Calais of broncho-pneumonia following influenza.
William Oliver Redman-King
Date of Death: 28-02-1919
Age: 32
Lieutenant William Oliver Redman-King joined the Zoological Department of the University of Leeds in 1912. On the outbreak of war, he threw himself into work with the Officers' Training Corps, but later took up expert work under the Medical Research Committee in connection with the diagnosis of amoebic dysentery at various military hospitals in England and France.
Influenza and pneumonia led to his death on 28 February 1919
Digby Arthur Pebody Clarke
Date of Death: 23-07-1921
Age: 32
Lieutenant Clarke was an old Leeds Grammar School boy. A Surgeon Lieutenant for the Royal Navy, he took part in many notable naval engagements during the war, including the Battle of Jutland, and was promoted to the rank of Surgeon Lieutenant Commander. Lieutenant Clarke was the grandson of Mr Charles Pebody, a former editor of the Yorkshire Post.
He died after the war, as the result of a motorcycle accident in Scotland.

The other names to be added are:
Clifford Hewson Abbott; William Crymble; John Ernest Dodgson; John Hepple; Albert Hodgson; Hubert Hollings; J S Jackson; Hugh Gavin Kyle; Walter Magson; Frederick Elias Mocatta; Edgar Geoffrey Sawer; William Alfred Rhodes Skirrow; Vernon Guy Sellers; J H Simpson; William Smart; Frank Meredith Tompson; Ernest Arthur Turner.