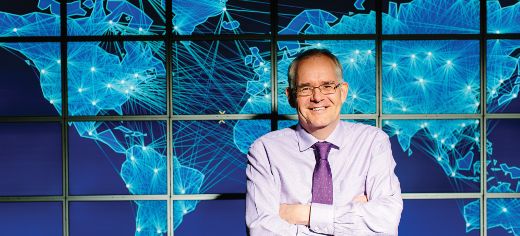 A new institute set up to help public and private sector organisations meet the challenges and opportunities of the Big Data revolution opens its doors today.
The Leeds Institute for Data Analytics (LIDA) offers state-of-the-art facilities in data analytics and will partner with researchers and organisations to help them make the most of the rapidly growing fields of consumer and medical data analysis.
Professor Mark Birkin, Director of LIDA, explained more about today's one-day event, the LIDA Research Forum. He said: "Today is all about making sure researchers and organisations know about LIDA and the expertise, support and resources we can offer.
"Using large and complex data sets presents huge challenges for organisations. They may be combining different data with their own sales data, analysing and integrating data from various sources, or simply thinking about diverse data sets that can be pulled together to reveal new insights.
"With all these challenges, there is a constant need for new techniques and tools, and to ensure organisations have the right data analytics capabilities. That's where LIDA comes in – we're a trusted partner that has developed world-class facilities under one roof, so we've raised the bar in standards of secure data storage, access and analysis."
Features of the LIDA facilities include:
Research project resources – academics or MSc/doctoral students are available for commissioned project work in line with an organisation's needs, either independently or working alongside existing teams within the organisation.
Working space – enabling the 'big data' community to come together in one place to work on new projects or enhance data skills through collaboration and interaction. It will offer safe and secure access for researchers to work on data.
Training – bespoke training or a range of data analytics programmes for academic and non-academic researchers are available. Tuition ranges from introductory courses for postgraduate students through to advanced training for data scientists and can be tailored to develop organisations' in-house data analytics capabilities.
Data visualisation suite – representing the spatial and temporal patterns in large and complete datasets of a very high resolution.
Data Services – the data services team can provide dedicated support and guidance to researchers and data partners, with expertise in systems and database administration, data management and software engineering.
High Performance Computing (HPC) – LIDA offers partners access to leading edge IT resources to undertake research for mutual benefit. The HPC facilities enable techniques such as computational simulation and modelling, and the storage and manipulation of large datasets to pursue research which otherwise could not be investigated.
Cllr James Lewis, Deputy Leader and Executive Member for Strategy and Resources at Leeds City Council, said: "Cities around the world are benefitting from new ways to capture, analyse and process data. Valuable real-world applications of this range from the intelligent routing of vehicles and design of energy efficient communities to optimising the provision of health and social care services.
"This is a key priority for the city as Leeds aims to maintain its position at the forefront of the Smart Cities revolution. We are recognised as a Pioneer in our approach to health and social care, and we lead the field in developing a single integrated social care record. The LIDA provides a unique opportunity for the city to bring together existing expertise and data from across a range of organisations to solve real problems for people and communities.
"Our partnership with the University is an important relationship for us – we congratulate the team on bringing this fantastic asset to fruition and look forward to working with it to secure a real and lasting impact in promoting a thriving third sector, vibrant economy and healthy communities."
Sir Alan Langlands, Vice-Chancellor of the University of Leeds, added: "LIDA brings together applied research groups and data scientists from mathematics and computer science, opening up new opportunities to understand health and human behaviour and to inform the action required to tackle a wide range of social and environmental problems.
"The new facilities are purpose built for handling data securely. Our researchers are highly trained to operate safe systems for managing and linking data and to observe the highest international standards of governance, professional practice and public engagement."
LIDA is home to two centres of research, the MRC Centre for Medical Bioinformatics and the ESRC Consumer Data Research Centre.
Further information
Professor Mark Birkin is available for interview. Contact the University of Leeds press office on 0113 343 4031 or email pressoffice@leeds.ac.uk
Photo: Professor Mark Birkin
Leeds Institute for Data Analytics
Big data and high performance computing are already changing approaches to research. The Leeds Institute for Data Analytics (LIDA) is bringing together applied research groups alongside data scientists in mathematics and computer science to open up unparalleled opportunities to understand health and human behaviour.
The Institute is home to two data centres:
MRC Medical Bioinformatics Centre
Funded by the Medical Research Council (MRC), the Centre develops new insights into the factors that drive disease, and provides indicators that inform treatment leading to better, more personalised and more effective medicine and healthcare.
It is part of the MRC's £90m commitment to support informatics research, infrastructure and scientists, with the aim of building a sustainable capability in health and biomedical informatics in the UK.
The Centre will collaborate with a wide range of partners including business organisations (e.g. IBM, TPP Ltd.), health care providers at a national level (e.g. The Farr Institute, Cancer Research UK) and locally (e.g. Leeds NIHR, Leeds Teaching Hospitals Trust).
The Consumer Data Research Centre (CDRC)
The Consumer Data Research Centre (CDRC) brings together world-class researchers at the University of Leeds, University College London, University of Liverpool and University of Oxford, to harness the potential of consumer-related data.
It has been funded with a £5 million investment from the Economic and Social Research Council (ESRC) as a Business and Local Government Research Centre.
It has a particular focus on data arising from transactional data between customers and commercial organisations or service providers.