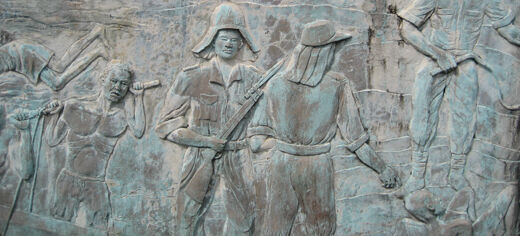 The suffering of prisoners of war and slave labourers forced to build the Thailand-Burma "Death" Railway amid appalling conditions was immortalised in The Bridge Over the River Kwai.
More recently, Colin Firth's role in The Railway Man shed fresh light on long-lasting psychological harm inflicted on POWs toiling on the huge engineering project by their Japanese military captors.
But there was another railway built elsewhere in occupied South-East Asia which is often overlooked – despite the fact more than 80,000 people perished during its construction, almost 700 of them POWs.
The last nail of the 200km Sumatra railway was hammered into place on 15 August 1945. It was the day Japan surrendered to Allied forces, bringing about the end of the Second World War.
But it would be several days before the POWs and slave labourers lined up in the jungle to watch the formal completion ceremony, would learn that the war was over.
Now, 70 years on, a University of Leeds researcher has painstakingly pieced together for the first time a roll call of the 855 British soldiers, sailors and airmen who laboured on the Indonesian island line.
Dr Lizzie Oliver's interest in the 'other railway' was sparked by the discovery that her grandfather had been forced to work on it when taken prisoner by the Japanese.
"He survived the experience, but I was horrified to discover that so many hundreds of thousands of servicemen and Asian slave labourers – romushas – did not," she said.
Their gruelling role in the railway's construction remains a little known story, but Dr Oliver has mined a wealth of material never before catalogued or extensively examined.
"'The Death Railway' has become a term synonymous with the construction of the Thailand-Burma railway during the 13 months from September 1942. But while it was the largest forced labour project of its kind in the Far East, it was one of four such tracks designed by Japanese engineers and constructed by POW and slave labour."
The other three were the Kra Isthmus line, also connecting Thailand and Burma, the Saketi-Bayeh railway on Java – and the Pakanbaroe railway on Sumatra.
Constructed by 5,000 Allied prisoners of war and 100,000 romushas in 1944 and 1945, the Sumatra railway stretched through the island's mountain ranges and thick jungle, swamps and marshes and across rivers between Pakanbaroe and Moeara.
The undernourished men who hacked out its path used only manual tools, wearing little more than loin-cloths.
Of the 5,000 POWs, the majority (4,000) were Dutch, with the remainder made up of 855 British, 200 Australian, 15 US merchant marines and a lone Norwegian.
Dr Oliver added: "During my research, which has focused on the stories of British former POWs who laboured on the railway, I have talked to former POWs and their relatives about this little known aspect of Far Eastern captivity.
"Unlike the Thai-Burma railway, these men undertook their unimaginably gruelling toil having already experienced two years of meagre rations and hard labour – they were already starving and brutalised."
Deplorable conditions, disease and starvation claimed the lives of tens of thousands of the men. Many more died on overcrowded ships while being transported to Sumatra: the Junyo Maru was tragically sunk by Allied submarine 'friendly' fire in September 1944, with the loss of 1,800 POWs and some 6,000 romushas. It also is a barely remembered footnote in the Far East conflict, despite being one of the deadliest maritime disasters in history.
Dr Oliver said: "Although some attempts to understand this history took place in the immediate post-war period, many families would live through the screaming nightmares and difficult silences that became part of the former POWs' existence."
Ill health and diseases related to poor nutrition and sanitation also left a legacy that dogged some survivors for the rest of their days.
"The 70th anniversary of VJ Day is likely to be one of the last major anniversaries of the Second World War marked by a parade of surviving veterans," added Dr Oliver. "The time left to listen to their memories is fading. With it, there is a need to look further than 'the' Death Railway to the many other stories that can be told of occupation and captivity across South East Asia."
On Saturday 15 August, Dr Oliver will take her place among veterans and former POWs and their relatives, as well as the Queen and other members of the royal family, at a commemorative service at St Martin in the Fields Church in Trafalgar Square. The service has been organised by the National FEPOW (Far East Prisoners of War) Fellowship Welfare Remembrance Association.
* Dr Oliver's PhD thesis, Breaking the Silence of a Forgotten Army, was made possible by an Arts and Humanities Research Council-funded Collaborative Doctoral Award between the Imperial War Museum and the University of Leeds. She is currently a Wellcome Trust postdoctoral research fellow in the Leeds Humanities Research Institute at the University.
Case study: the camp doctor
Imogen Holmes' father, Patrick Kirkwood, never talked of the time he spent as one of the main Medical Officers on the Sumatra railway. He performed miraculous work in such tough conditions. But the experience took its toll.
Mrs Holmes, 65, a former care home owner who lives near Truro in Cornwall, knew her father had been a prisoner as part of his many years of service in the East, but did not know about the railway. He did not speak about his experiences and she says she was conditioned by her mother not to ask. "How I wish I had," she adds.
"He did work as a GP on his return to England, but life wasn't the same for him again, and it was only in his later years that he felt comfortable in himself," recalls Mrs Holmes, who is preparing to make her third trip in as many years to retrace his steps on Sumatra and is involved in the work of the Malayan Volunteers Group.
On her latest visit, next month, she will visit an area of the island where Captain Kirkwood looked after POWs labouring on a road-building project. They were forced to walk across 81km in a non-stop 84-hour march, carrying their kit and meagre tools, as well as sick and injured comrades.
Her father died in 1993, aged 80, taking the horrors of his time on the Sumatra railway to his grave.
But Mrs Holmes, now a mother and grandmother herself, is pleased work by academics such as Dr Oliver is shedding new light on the experiences of her father and his fellow POWs.
"It raises awareness, and is especially helpful for people like me who are trying to come to terms with why things were as they were when they were growing up," she says.
On VJ Day, Mrs Holmes will attend a Malayan Volunteers Group memorial service at the National Memorial Arboretum in Staffordshire.
An unlikely hero
Among the POWs held captive on Sumatra at the same time was Judy, a pointer who served as a ship's dog before and during the war. It survived two sinkings, a crocodile attack and a death sentence imposed by Japanese guards. The dog is credited with saving several passengers from drowning, and for finding a source of water for a shipwrecked crew on a deserted island.
The only canine to be registered as a prisoner of war during the Second World War, it received a Dickin Medal – the animal equivalent of the Victoria Cross.
Further information
For images, or to arrange interviews, contact the University of Leeds Press Office on 0113 343 4031 or email pressoffice@leeds.ac.uk.
Image shows a detail from the Pakanbaroe Memorial on Sumatra. Credit: Amanda Farrell.