The significant impact of Leeds' research will be showcased before judges from the Biotechnology and Biological Sciences Research Council (BBSRC) this week.
The University is competing in the finals of a prestigious competition run by the BBSRC with a £500,000 prize.
The judging panel has already recognised the excellent standard of impact, by listing the University in the top 10 in the competition.
This builds on the results of the most recent Research Excellence Framework, which positioned Leeds as one of the top 10 universities in the UK for research and impact power.
During a visit to the Faculty of Biological Sciences, assessors from BBSRC's Excellence with Impact competition will learn how Leeds has strengthened its support for delivering impact, through investing in extra research and innovation staff across key areas.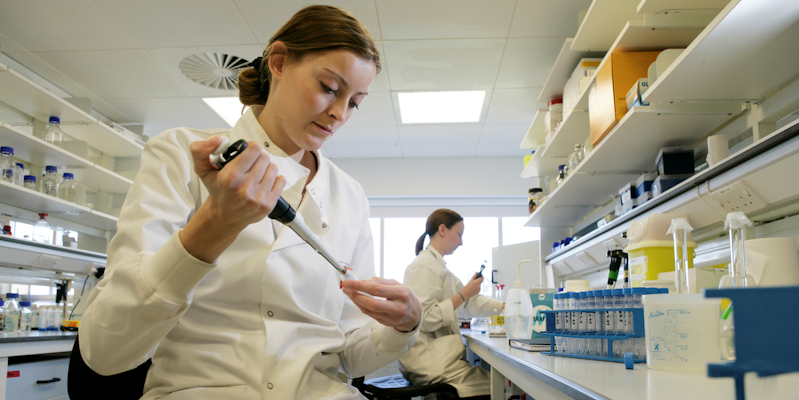 Multiple examples of how Leeds' research has had genuine influence will be presented to the assessors including:
Avacta Group which uses 'affimer' technology based on research from the University into a small protein that can be engineered to bind with high specificity and affinity to a wide range of protein targets. Avacta began commercialising these reagents in late 2014.
Blueberry Therapeutics which uses nanotechnology to tackle inflammation and infection issues.
Global Food Security Programme - Professor Tim Benton from the Faculty of Biological Sciences is the 'Champion' for the UK's Global Food Security Programme, facilitating knowledge exchange between research and stakeholders in government, industry and society.
In addition, information on the development of a robust framework for monitoring the drop in numbers of insect pollinators will be presented, alongside best practice principles created to measure the impact of new structures on bats' ability to use echo navigation.
A project explaining the decline of Caspian seals which led to industrialists and governments working together to evaluate the impact of industry on the environment will also be explained.
"Academic research must connect to people and organisations which can use it and we have made this aim the focus of our activities."
Professor Davies continued: "It is pleasing to be recognised already among the finalists of the Excellence with Impact competition. We will present a very convincing case to the assessors during their visit showing how we are driving forward real world improvement through our work."
Examples of the University's innovative outreach work will also be highlighted. The assessors will meet Frank, a cycling skeleton who was created to demonstrate the next generation of artificial joints – creating the link between scientific research and improving people's lives.
The results of the Excellence with Impact Competition will be announced during the BBSRC's Fostering Innovation event in London in mid-May.
Further information:
Contact Peter Le Riche, Media Relations Manager, 0113 343 2049 or p.leriche@leeds.ac.uk