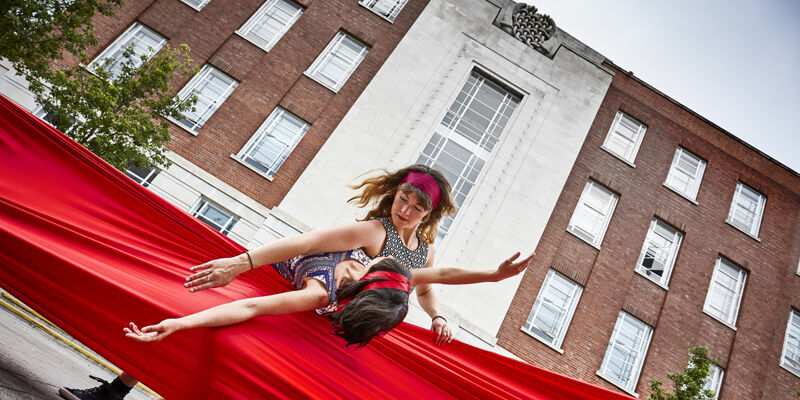 The Yorkshire Year of the Textile programme is a year-long artistic programme.
Events began in the summer of 2016 with celebrations to commemorate the 60th anniversary of Mitzi Cunliffe's monumental Man-Made Fibres sculpture, situated on the Clothworkers' South Building.
A number of artistic works have been commissioned in response to the newly-conserved sculpture, including a dynamic, site-specific dance by Turveyworld performed on the anniversary of the opening of the building, and a new public art pavement response Texta Texens by Sue Lawty, an artist who uses unconventional materials to create contemporary artwork.
Texta Texens is located in the walkway outside Clothworkers' South, developing a dialogue with Cunliffe's Man-Made Fibres above. It was created in collaboration with poet Helen Mort – Douglas Caster Cultural Fellow at the University 2014-2016 – and sculptor Dan Jones.
Engraved in the sculpture is Dr Mort's poem 'Texere', the words literally becoming part of the weft and weave of the stonework, exploring the link between text and textiles, weaving conversations about life and learning, research and education, people and place on campus.
Also inspired by the hands in Cunliffe's sculpture are the unique finger-knitted community canopy sculptures, which appeared on campus over several weeks. These have been created by hundreds of participants at artist-led 'knit/lit' workshops in villages and towns across Yorkshire from Halifax to Haworth, as well as on campus by groups such as BA Textile Design students and participants at workshops at The Stanley & Audrey Burton Gallery and ULITA – our archive of international textiles.
At these workshops, Elizabeth Gaston and Jane Scott, senior teaching fellows in the University's School of Design, taught participants to finger knit and weave their work into the final canopy.
A number of poets have led the literary element of these events, including Helen Mort and her fellow Douglas Caster Creative Fellow, Malika Booker.
They have encouraged reflections on the role of textiles in personal and family life, and how communities have been shaped by local textile heritage.
Join them to celebrate this strand with Public Poetry Please! at The Stanley & Audrey Burton Gallery on 7 December.
Yorkshire Year of the Textile also takes inspiration from the rich textile heritage of the wider region. These include a new intervention in the Gallery, responding to John Russell's pastel portraits of Leeds textile magnate John Marshall and his wife Jane, and a dance and sound response by SAA-uk to Bell's The Dreamer, entitled THREAD. The latter was performed on Leeds Light Night in October to more than 650 people in Clothworkers' Court.
The Etiquette required to keep Still Is Similar to Playing Dead, also at The Stanley and Audrey Burton Gallery, is a collaboration between three artists commissioned to respond to Russell's fine portraits and to new research uncovered by Laura Millward, Collections Assistant at the Gallery and Understanding British Portraits Professional Research Fellow 2016/17.
Laura's research focused on the relationship between Jane Marshall and Dorothy Wordsworth, sister of the Romantic poet William Wordsworth. A new poem by Malika Booker, 'There is an etiquette to everything', reflects on historical details from Jane Marshall's life, and her friendship with Dorothy Wordsworth.
Taking its title from Malika's poem, the collaborative intervention by two early career practitioners: textile artist Sarah-Joy Ford, and sound artist Alex De Little. Visitors to the Gallery can hear the seven minute sound piece every half hour, and view textile portrait installations placed in relation to the Marshall portraits. 'Mills and Mummies: John Marshall's Leeds Legacy' by Laura Millward uncovers the fascinating story of the textile industrialist through historic sites in Leeds.
Professor Ann Sumner, the University's Head of Cultural Engagement, said: "Cultural engagement on campus is a key programming strand for the Cultural Institute, which was launched in October. The Yorkshire Year of the Textile is an innovative, creative programme celebrating our rich textile history on campus and throughout the region. We have transformed our campus spaces and encouraged more visitors to campus to explore our cultural attractions and have organised a number of popular events and workshops."
The project features textile and public art interventions, literary and performance strands with textiles as their theme, with events aimed at all ages and open to all.
Other events as part of the Yorkshire Year of the Textile include:
· Until 31 December, discover 'From the Valley' at the Royal Pump Room Museum, Harrogate, a new installation by artist Charlotte Cullen, inspired by a blue Crimplene choir dress. The work is made up of tiles inspired by the Crimple Valley and the Turkish Baths of Harrogate to fit the octagonal Pump Room. Visitors will be able to interact with the piece by walking over the tiles.
The Yorkshire Year of the Textile reflects on the University's history.
Its origins lie partly in the Yorkshire College of Science, which was founded in 1874 amid concerns by the local wool and textile industries at the threat posed by new continental technologies.
Awarded £98,500 of Arts Council England funding through its National Lottery funded Grants for the Arts programme, Yorkshire Year of the Textile is partnering with a wide variety of organisations.
These include Calderdale Museums, Harrogate Borough Council, Harewood House Trust, Leeds Museums & Galleries, Marks & Spencer, South Asian Arts UK and the University of Huddersfield.
The project will feature textile and public art interventions, literary and performance strands with textiles as their theme, with events aimed at all ages and open to all.
The programme will include artistic responses across visual art, dance, music and sound as well as exhibitions, workshops, panel discussions, lectures and poetry readings. To find out more about these events, visit the project's Facebook page.
Professor Frank Finlay, Dean of the Faculty of Arts at Leeds, said: "It is hugely exciting to be commissioning an outstanding group of artists, poets and performers, who have all shown such enthusiasm for the project – a year-long celebration made possible by generous Arts Council funding."
Michelle Dickson, Director North, Arts Council England, said: "I am pleased that we have funded the Yorkshire Year of the Textile through our Grants for the Arts programme.
"It is an excellent example of how a partnership between the arts and cultural sector, local authorities, higher education and the private sector can come together to create a wide variety of experiences for both the local audience and visitors. I look forward to seeing how the work progresses."
Further information
For interviews, images or further information, contact Gareth Dant, University of Leeds press officer, on 0113 343 3996 or email g.j.dant@leeds.ac.uk.