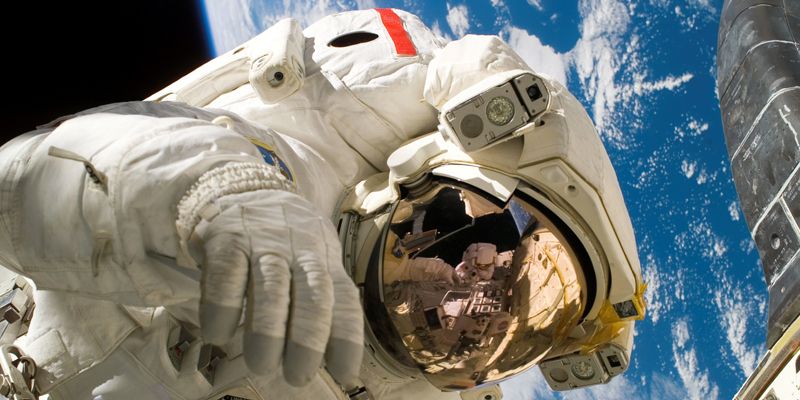 The launch of the Priestley International Centre for Climate saw astronaut Piers Sellers – a climate scientist and an alumnus of the University - supporting Leeds' investment.
The Priestley Centre is one of the University's flagship strategic investments, with more than £6 million being dedicated to the centre over the next five years.
The Centre aims to bring together world-leading expertise in all the key strands of climate change research, helping deliver research which underpins robust and timely climate solutions.
The Piers Sellers Prize
Piers Sellers gained a doctorate in biometeorology from the University in 1981 and was made an honorary Doctor of Science in 2007.
He is part of an elite group of people to have walked in space, offering a special perspective on how fragile our planet is.
Piers Sellers OBE sent a video message of support to those attending the launch of the Priestley Centre and discussed his time at Leeds
In honour of Dr Sellers' work as a renowned climate scientist and in raising public awareness of global warming, the Priestley Centre created two annual Piers Sellers Prizes in his name to recognise outstanding research in the field.
The Piers Sellers Prize for 'World leading contribution to solution-focused climate research' was awarded to Dr Joeri Rogelj, a research scholar at the International Institute for Applied Systems Analysis (IIASA), Austria.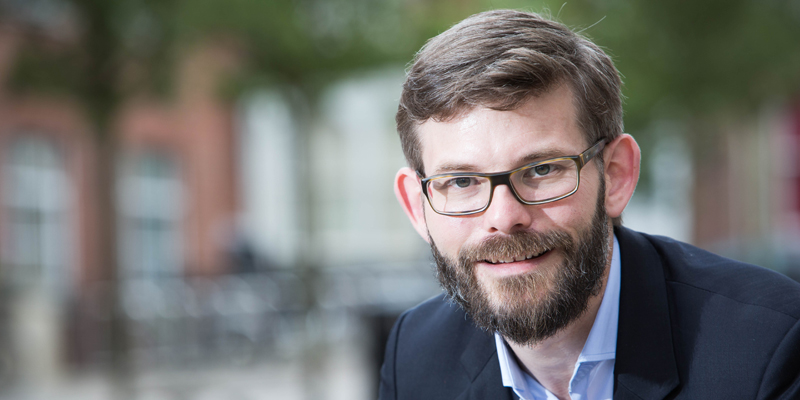 Dr Rogelj's research examines workable mitigation solutions and the effects of staying below different global temperature targets.
He was the only researcher before the United Nation's climate change talks held in Paris in late 2015 – the 21st Conference of the Parties (COP21) conference – to be actively publishing on how to limit global temperature rise to 1.5°C. His work played a central role in forming the evidence base behind the Paris Agreement.
Dr Rogelj said: "It's an honour to be selected for this Prize and a very big motivation for me to know that people appreciate my work and that it has an impact on society in finding solutions to climate change.
"The Priestley Centre comes at a timely moment, with the Paris Agreement the conversation has moved on from defining the problem to workable solutions."
The second prize, designed to reward and encourage current University of Leeds PhD students for undertaking excellent research to better understand or address climate change, went to Kate Scott from the University's School of Earth and Environment.
Receiving the prize for 'Exceptional PhD Research', Scott's research seeks to understand how environmental policies, consumption-side measures and industrial policies can be used to best effect in mitigating climate change.
Her research has been integrated into assessments of evidence by the Committee on Climate Change (an independent body that reports to Parliament on progress made in reducing greenhouse gas emissions) and has been presented to various Government departments.
Kate said: "I'm excited to be the first winner of the Piers Sellers prize for a PhD student and I'm very proud to have been nominated by my supervisors, not only based on my publications but also on the policy impact and for the solutions that came out of my PhD.
"There's real momentum to take that forward and further pursue that through – for example, a fellowship through the University – and build on the strengths and the networks that I've gained doing a PhD here at Leeds."
"The Priestley Centre is building a group of people here that can have momentum and impact, and that's a real strength."
Climate Question Time
The special Climate Question Time evening event, open to the public, addressed the question 'Are there achievable solutions for limiting climate impacts at 1.5°C level?', following the global climate deal that was agreed in Paris in December 2015 and adopted by 195 countries.
You can follow the debate on the Priestley Centre blog: http://climate.leeds.ac.uk/live-blog/
Speakers included Lord Deben and Laurie Goering (Climate Editor of Thomson Reuters Foundation News).
Panellists included four IPCC lead authors from the UK and Europe: Myles Allen (University of Oxford), Jo House (University of Bristol), Piers Forster (Priestley Centre director, University of Leeds) and Jan Fuglestvedt (CICERO, Oslo).
The debate was chaired by Leo Hickman, former Guardian journalist and director of Carbon Brief.
"The topic of the Climate Question Time is not only timely, but resonates with the vision for the Priestley Centre to be a world-leading centre for policy-relevant, solution-driven climate research."
Expertise in climate-change research
Sir Alan Langlands, Vice-Chancellor of the University, said: "The University receives one of the largest annual incomes in the UK for environmental research, including more than £20 million of funding for climate change research.
"The University is also one of the country's top institutions for climate research and we are proud to be leaders in facing the challenge of ensuring a healthier, more sustainable planet for future generations."
Further information
The Priestley Centre is named after Joseph Priestley, a British natural philosopher credited with the discovery of oxygen, who worked in Leeds from 1767-1773. While at Leeds he experimented with carbon dioxide from a local brewery, work which now feeds into models of how oceans are acting as carbon sinks.
For media enquiries, please contact Sarah Reed, Media Relations Officer at the University of Leeds, on 0113 343 4196 or s.j.reed@leeds.ac.uk
For other enquiries about the launch event, please contact Kate Lock, the Communication Officer for the Priestley Centre, on 0113 34 39767 or K.M.Lock@leeds.ac.uk