Work has started on a £5m University of Leeds sports development that will enhance facilities for cycling and triathlon in the region.
The project for a 1.6km (1 mile) outdoor cycling circuit and refurbished sports pavilion on the University's Bodington playing fields in North Leeds will provide a traffic-free environment for cycling.
The 6m-wide, Tarmac-surfaced circuit should be ready early next year for University students, staff and the wider community to use for all levels of cycling including recreation, coaching and competition.
The development comes just after some 8,000 people took part in the Leeds Sky Ride earlier this month, with part of the city centre closed to traffic for the two-wheeled enjoyment of all ages.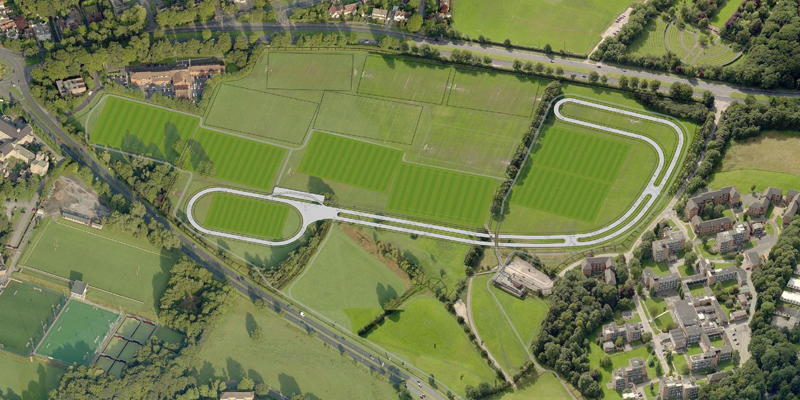 What's more, there are just days to go before the Rio 2016 games start. The city's Olympic competitors, including University of Leeds alumni Alistair and Jonny Brownlee and Gordon Benson, will have access to the new facilities at Bodington.
The pavilion will create a home for British Triathlon's world-leading Leeds Triathlon Centre, providing strength and conditioning training, physiotherapy and other support services.
The proposals, which are part of the University's sports and physical activity strategy, have been drawn up in partnership with British Cycling, British Triathlon, UK Sport and Leeds City Council.
Partnership funding from Sport England, British Cycling and UK Sport is contributing £1m to the project, with the remaining funding provided by the University.
Patrick Craig, the University's Assistant Head of Sport, said: "This is a success story for cycling in the city and beyond. It will ensure cyclists of all abilities in Yorkshire and across the north of England have some of the best facilities in the UK available close to home.
"We've already seen how the University's graduates have dominated top level sports cycling through the Triathlon World Series, an achievement which everyone in Leeds can be proud of. Opening this new track reinforces our vision of becoming the number one provider of higher education sport and physical activity experience in the UK.
"I'm also very pleased to say to competitive cyclists anywhere in the region that this circuit is available to them to train on. This is a University of Leeds facility which will be ready and waiting to help our students and graduates and everyone else to use to improve their performance."
Angie Foley, a volunteer at Leeds Mercury Cycling Club, said: "This is a really exciting time for cycling clubs across Leeds. Our club currently uses a car park for coaching young children, which is a huge barrier for progression, stopping many from cycling beyond the age of around 12.
"The new purpose-built facility at Bodington will help us to keep young people cycling through their teenage and well into their adult years."
"The new purpose-built facility at Bodington will help us keep young people cycling through their teenage and well into their adult years."
Charles Johnston, Sport England's Property Director, said: "Thanks to this new development, British triathletes will have access to the dedicated world-class training and support facilities they need to be the best. This includes the new mile-long off-road cycling circuit, physio room and strengthening and conditioning suite – creating excellent training facilities for our current and future champions.
"But it's not all about Olympians. When Sport England invests in facilities, we make sure everyone can benefit, regardless of ability. This centre is no different. I'm looking forward to seeing our top athletes and members of the community all using and enjoying these fantastic facilities for years to come."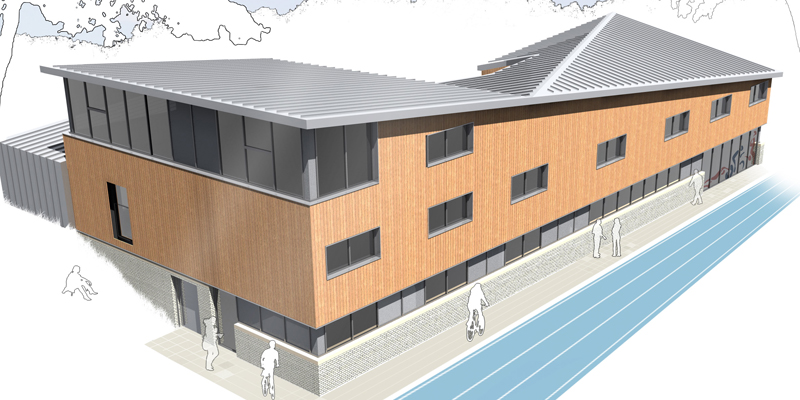 John Mills, Director of Coaching, Education and Development at British Cycling, said: "We're very pleased that the closed road circuit is now a step closer. We look forward to continuing to work with the University of Leeds on this exciting project, which will provide a traffic-free facility for Leeds residents to cycle on for both sport and recreation."
The Brownlee brothers' coach, Malcolm Brown MBE, a performance coach at Leeds Triathlon Centre, said:
"Leeds Triathlon Centre will shortly have a home in this exciting new development. We are very grateful to all the key partners who have contributed to enable us to put down roots in the city. We now have a platform for further expansion of the sport."
The improvements complement Sports Park Weetwood nearby, the University's flagship 100-acre facility used by students and members of the community for hockey, football, rugby, cricket, lacrosse, American football and more.
The Bodington site is currently used for grass sports including football and rugby. These uses will continue after the redevelopment.
Further information
For further information, contact University of Leeds Media Relations Manager Gareth Dant on 0113 3433996 or email g.j.dant@leeds.ac.uk.
Great Britain's Triathlon Olympic team
Five of the six athletes selected for Great Britain's Triathlon Olympic team train at the Leeds Triathlon Centre, which is a collaboration between the University of Leeds, British Triathlon, and Leeds Beckett University, offering elite training for top triathletes. The new cycling circuit will become part of this centre.
University of Leeds graduates claimed every place in the Team GB men's triathlon squad. They are Jonny Brownlee (BA History 2012), Alistair Brownlee (BSc Sports Science and Physiology 2009) and Gordon Benson, (BSc Nutrition 2016). All three continue to make regular use of training facilities at the University, including the pool at The Edge centre and will use the new circuit.
Vicky Holland and Non Stanford, also members of Leeds Triathlon Centre, are two of the three selected for the Olympic women's triathlon team.
Cycling and triathlon facts:
Triathlons consist of a swim, cycle and run, over varying distances, based on the level of competition.
University of Leeds graduates Alistair and Jonny Brownlee took first and second places in the World Triathlon Leeds event in June.
Leeds-based Vicky Holland finished third in a sprint finish in the women's contest.
Leeds Triathlon Centre currently supports about 90 athletes in their aspirations to become the best in the world, 14 of whom are part of an elite training squad.
Between 2009 and 2015, athletes from Leeds won 23 medals in Olympic, Commonwealth and ITU World Triathlon grand finals.
In addition to supporting individual students with potential to reach the pinnacle of their sport, University academic staff carry out research into the effects on triathlon competition on elite athletes, while the University's Sport and Physical Activity Service provides extensive support for students interested in triathlon sports.