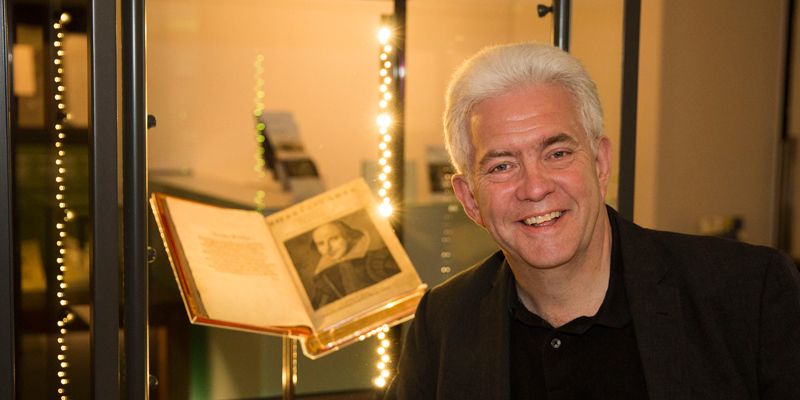 A new exhibition is celebrating the legacy of William Shakespeare with a display of rare items from the University of Leeds' Special Collections.
Poet Ian McMillan officially opened For All Time: Shakespeare in Yorkshire at the University's Treasures of the Brotherton Gallery today.
On show for the first time together in public is a rare set of Shakespeare's Folios – the earliest collections of his work.
Marking the 400th anniversary of the Bard's death, the exhibition also looks at how Shakespeare dramatised Yorkshire history and explores how today's theatre directors are still using his work to ask questions about regional identity.
It brings together the extraordinary material collected by Leeds University Library's greatest benefactor, Lord Brotherton of Wakefield, for the first time.
Other artefacts on display include A Yorkshire Tragedie, which tells a gruesome tale of a murder that took place in Calverley, near Leeds. This book had Shakespeare's name on the title page but was in fact by another writer.
Co-curator Kit Heyam said: "As a northern lad who loves Shakespeare, I was thrilled to be able to dig deep into his relationship with Yorkshire when curating this exhibition.
"So often when people talk about Shakespearean England, they really mean Shakespearean London – but as the exhibition shows, if we ignore the north we ignore some of the most interesting things about Shakespeare's plays and their legacy.
"So many of Shakespeare's most dramatic stories are stories of Yorkshire, and our county's actors and theatres have a longstanding love affair with his plays.
Special Collections has such an amazing collection of books and archive material which really brings this hidden relationship to light."
The rare set of the Four Folios were collected in just four years by Lord Brotherton (1856-1930).
The First Folio dates to 1623, only seven years after Shakespeare's death. The Second, Third and Fourth Folios date from 1632 to 1685, and demonstrate the development of language and printing aesthetics during the seventeenth century.
Dr Stella Butler, University Librarian and Keeper of the Brotherton Collection, said: "Just six months after opening the Treasures of the Brotherton Gallery we are very excited to be presenting For All Time: Shakespeare in Yorkshire as our next special exhibition.
"By bringing together this material for public display we are sharing Shakespeare's legacy with Yorkshire.
"As the title of the exhibition states, borrowed from Ben Jonson's tribute on Shakespeare's death, Shakespeare is 'not of an age, but for all time.'"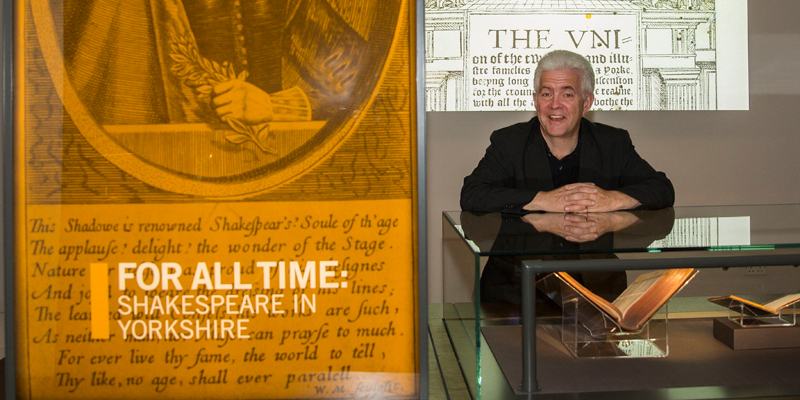 Introducing poet Ian McMillan, Dr Butler said: "There could be no one more appropriate than the Bard of Barnsley to open an exhibition about the Bard of Stratford."
Mr McMillan said: "This exhibition brings together two of my favourite words in the English language – one of which is Shakespeare and the other, Yorkshire."
Treasures of the Brotherton Gallery is open 10am-5pm Tuesday-Saturday and 1-5pm on Monday. Admission is free. It is closed on Sundays and University holidays (see library.leeds.ac.uk/treasures for full details). Parkinson Building, Woodhouse Lane, University of Leeds, LS2 9JT. Telephone 0113 343 9803 or email gallery@leeds.ac.uk
To find out more about how the University of Leeds is marking the 400th anniversary of Shakespeare's death, see leeds.ac.uk/shakespeare
Further information
Treasures of the Brotherton Gallery, situated beneath the iconic Parkinson tower, takes visitors on a journey through the University's renowned Special Collections.
Artefacts include a 4,500-year-old Babylonian clay tablet, a draft manuscript in the hand of a 14-year-old Felix Mendelssohn and a map and compass used by Bertie Ratcliffe, the first prisoner to escape back to Britain from Germany during the First World War.
The Gallery has been made possible thanks to players of the National Lottery – a grant of almost £1.4m from the Heritage Lottery Fund and a generous private donation from the Brotherton-Ratcliffe family have supported the University in showcasing the treasures.
Public events
A varied programme of public events will complement For All Time: Shakespeare in Yorkshire. Highlights include:
• 30 September, 1-2pm Free Lunchtime Talk: Notorious Kings and Yorkshire Tragedies – Co-curator Kit Heyam explores how English history was used - and abused - by early modern writers.
• 26 October, 1-2pm Free Lunchtime Talk: Re-reading and Collecting Shakespeare – a talk from the University of Leeds's Professor Brennan of the School of English and Dr Westgarth of the School of Fine Art, History of Art & Cultural Studies
Full details of the events programme can be found at library.leeds.ac.uk/treasures-events, or pick up a What's On leaflet.
Images of some of the items on display are available on request. For interview requests or to arrange a visit to the exhibition, contact University of Leeds Media Relations on pressoffice@leeds.ac.uk or 0113 343 4031.