Closer relations between two leading international universities have been confirmed this week following top-level meetings which will strengthen UK-China research and teaching opportunities.
The University of Leeds and Shanghai Jiao Tong University in China have signed a Memorandum of Understanding committing both organisations to increasing co-operation on joint research and publications, and organising joint activities such as research conferences and staff exchanges.
Students from both countries will also benefit from the relationship, with possibilities for joint courses and exchanges, adding to the student experience and international ethos of both universities.
Academic co-operation
Leeds is a member of the UK's Russell Group of research intensive universities, while Shanghai Jiao Tong University (SJTU) is part of the China 9 alliance of elite institutions.
This week's agreement enables both sides to expand their joint activities for mutual benefit and, in the spirit of academic co-operation and friendship, to achieve long term collaborations with global impact.
The two universities already co-operate in a number of areas, including student exchange with Leeds University Business School.
The new agreement, signed by Sir Alan Langlands, Vice-Chancellor of the University of Leeds, and Professor Jie Zhang, President of SJTU, recognises the common strengths of the universities across engineering and science and enables further collaborations in the humanities.
Academic staff in relevant schools at both universities will now work together to identify areas of mutual interest which could be developed into areas of collaboration in the near future.
World-leading universities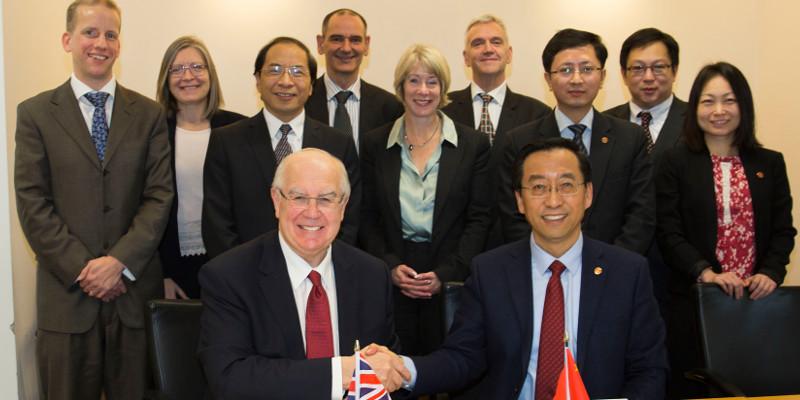 Sir Alan Langlands and Professor Jie Zhang with representatives from both universities.
The agreement was signed in Leeds this week following a visit by a delegation of senior SJTU staff to the University. It reciprocates a visit made to China in October by the University of Leeds' Pro-Vice-Chancellor: International, Professor Hai-Sui Yu, when he visited SJTU and met with Professor Zhang.
Professor Yu said: "Creating strategic partnerships with world-class universities around the globe is integral to enhancing Leeds' global outlook and international reputation.
"Building an environment where our respective academic staff can work more closely will lead to an improved education for all students and also to higher quality research programmes, contributing to our shared understanding and transformation of the world.
" I am pleased we have been able to further strengthen our relationship and deepen our collaboration."
"Shanghai Jiao Tong University is rapidly developing into a world-class university and we already collaborate on student exchanges and research activities so I am pleased we have been able to further strengthen our relationship and deepen our collaboration through this memorandum of understanding."
During the Chinese delegation's visit, Professor Zhang also gave a lecture to senior Leeds staff explaining how SJTU had evolved and developed during the last decade under his leadership.
He described how the university, as one of China's leaders, had inspired individual innovation and vigour, rooted in the academic pursuit of curiosity; enhanced collaborative innovation capacity and nurtured an innovative culture. His university was now full of vigour and vitality, and had made remarkable progress on its way to becoming a world-class innovative university, he said.
In addition to building relations in China, the University of Leeds has committed to increasing its international reach and opportunities for students from around the world. Among the current student body, almost 8,000 are from outside the UK including exchange, language and degree programme students.
Further information
Journalists requiring more information should email the University of Leeds press office at pressoffice@leeds.ac.uk.