A composer working with sounds below the limits of human hearing has been announced as the winner of the inaugural £15,000 DARE Art Prize by Opera North and the University's Cultural Institute.
Samuel Hertz will spend the next year in collaboration with researchers at the University and Opera North staff in the creation of groundbreaking new work.
Following a classical training, Hertz's practice has expanded to involve a wide variety of media including modified and self-designed instruments, sensor technology, movement and dance.
He currently divides his time between Berlin and San Francisco. Hertz aims to work with a scientist from the University on an electro-acoustic chamber piece, using transducers to produce low frequency sounds that can be felt rather than heard, and investigating the effects this might have on wellbeing and mood.
Aimed at challenging artists and scientists to work together on new approaches to the creative process, the launch of the annual Art Prize is part of a programme in celebration of the 10th anniversary of the DARE partnership between Opera North and the Cultural Institute at the University of Leeds, which has become a globally recognised model for collaborations between the arts and higher education.
Applications were received from artists in all media from around the world, and the five-strong shortlist included proposals for a whale choir, an investigation of cosmic bubbles, and a piece using slime mould as a model for creative activity.
The winning entry was selected by a panel comprising Opera North's Projects Director Dominic Gray, Professor John Ladbury, Executive Dean of the Faculty of Biological Sciences at the University, and Nicola Stephenson, Exhibitions and Projects Producer at Harewood House, Leeds.
"This year will be enlightening and productive both for my practice, and the practices of my collaborators in our joint expedition into the drama of the unheard realm of infrasound."
Samuel Hertz, winner of the first DARE Art Prize (pictured below), said: "I am honoured and excited by this opportunity to work with the University of Leeds and Opera North in an investigation of the sonic and bodily relations between humans and the environment.
"I expect this year will be enlightening and productive both for my practice, and the practices of my collaborators in our joint expedition into the drama of the unheard realm of infrasound. I'm very thankful for this opportunity to work with the people and resources from both institutions, and cannot wait to begin."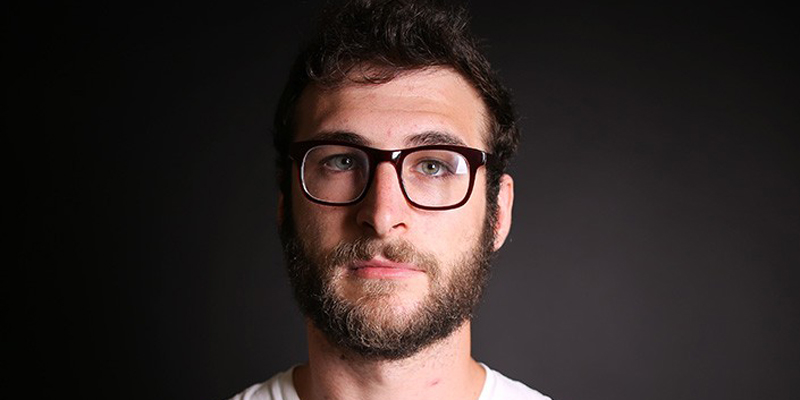 Professor Frank Finlay, Executive Dean of the University's Faculty of Arts, Humanities and Cultures, who leads the Cultural Institute, said: "The DARE Prize is the latest in a long line of innovative initiatives which have emanated from the pioneering partnership between the University of Leeds and Opera North. It is a wonderful way to mark the second decade of our exciting collaboration.
"Promoting radically interdisciplinary investigations is one of the aims of the University's new Cultural Institute: taking risks, catalysing connections and generating new knowledge. Samuel Hertz's proposal, I am sure, will take us on a fascinating voyage of discovery."
Dominic Gray added: "Opera North is really excited to be working with Samuel Hertz on what promises to be an amazing exploration. For an opera company there is something particularly intriguing about the potential impact of sounds that lie outside the limits of human hearing. What worlds might be there and what stories might unfold in this mysterious landscape?"
Nicola Stephenson, a former Public Art Project Officer at the University, said: "Sitting on the selection panel was stimulating, fun and thought-provoking. Every one of the shortlisted candidates challenged the panel to think in new and sometimes quite extraordinary ways about all sorts of subjects ranging from biology, technology, astronomy and non-human communication. All demonstrated a real thirst to learn from and collaborate with the University's scientists.
"The DARE Prize is both a leap of faith and imagination and a belief that extraordinary things can emerge when different disciplines provoke questions and insights which might otherwise lie dormant. I am excited to see what emerges."
The collaborative process will begin in the spring with a DARE 'Sandpit', bringing together a broad spectrum of academics, experts and artists around Samuel Hertz to present provocations and discuss related research, experience and opinion. The outcome of the year-long collaboration between artist and scientist will be revealed in March 2018.
For more information on the DARE Prize and the partnership, visit dareyou.org.uk
Further information
Image: Dominic Gray of Opera North announces Samuel Hertz as winner of the first DARE Arts Prize, at an event in the Howard Assembly Room, Leeds, on Monday 13 February 2017. Credit: Malcolm Johnson
For images and interviews, contact University of Leeds Media Relations Manager Gareth Dant on 0113 343 3996 or g.j.dant@leeds.ac.uk.
Samuel Hertz is a Berlin/San Francisco-based composer and performer who received his MFA at Mills College, studying composition and electronic music with Pauline Oliveros, Fred Frith, Zeena Parkins and others. Though classically trained, his studies in experimental literature and musical techniques steer his compositions and performances to include a wide variety of acoustic and electronic media such as sensor technology, prepared guitars, piano, electro-acoustic percussion instruments, instruments of his own design, electronically modified traditional instruments, and movement.
DARE is a unique collaboration between Opera North and the University of Leeds, the first partnership of its kind in the UK. Celebrating its 10th anniversary in 2017, DARE is a world leader in building collaborations between the arts and higher education.
Opera North is England's national opera company in the North and one of Europe's leading arts organisations. Opera North is a vibrant, lively organisation which actively challenges conventional perceptions of opera. Breathing new life into the classics, the Company is also a strong advocate of lesser-known works and a champion of musical theatre.
The work of Opera North Projects crosses conventional boundaries, bringing classical and contemporary arts together in an eclectic year-round programme of performance, visual arts commissions, literary events and artistic development. Projects take apart the elements of opera: words, music, visual arts and theatre, and put them back together in new ways.
The Cultural Institute at the University of Leeds has three main aims: to increase pioneering research collaborations with partners, to widen cultural engagement and participation and to create more opportunities to extend the knowledge and build the skills of students.
It is strengthening the University's position as a global centre of research and teaching excellence in culture, building sustainable partnerships in a city, region and nation rich in artistic innovation and cultural aspiration.