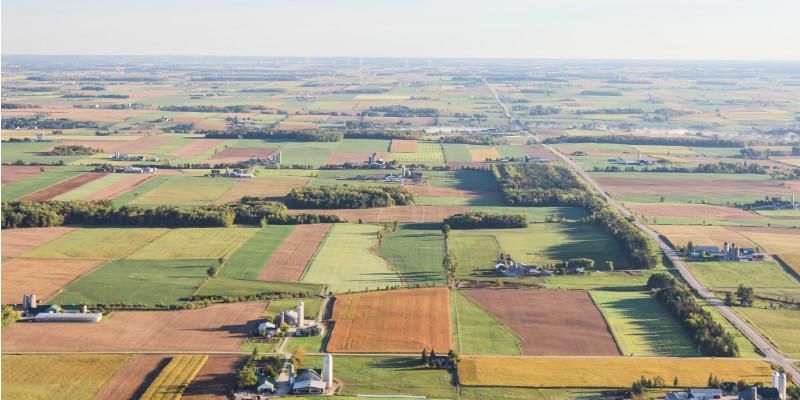 A new report is calling for the UK to be more self-sufficient in food production, in the wake of continued global uncertainty and reliance on food produced elsewhere in the world.
The report, funded and led by the University of Leeds, reveals that only half (52 per cent) of food eaten in this country comes from UK farmers.
The supermarket chain, Morrisons, which commissioned the independent report, is today launching its own campaign to recruit more than 200 new UK suppliers in a campaign called 'The Nation's Local Foodmakers'.
The report, British Food: What role should UK producers have in feeding the UK? reveals the rapid increase of global goods' trading over the past three decades, meaning we now export £18bn of food whilst importing £39bn. Food consumed in the UK is produced in 168 different countries.
Professor Tim Benton, lead author of the report and an expert on global food security, said: "It makes absolute sense to build up a stronger local food sector here in the UK and increase our resilience, meaning we could maintain access to a range of quality, locally produced goods.
"Global trade has a strong role to play in our economy and for our nation, especially because the UK can never be entirely self-sufficient, but producing and buying more food locally will increase our protection against risks.
"These risks, whether that be climate change or trade wars, could increase over time, but more importantly, we also need to recognise the benefits of supporting UK food making and production."
Benefits include:
Shorter supply chains which help create trust: with more local supply chains, there is scope for more 'farm-to-fork' integration. This would allow greater transparency and traceability of our food, as well as more chances to share good practice, reduce food waste and improve environmental footprints.
International trade is sometimes seen as producing food to the 'lowest common denominator': Locally produced food can be grown to standards of quality and welfare.
Supporting the local economy and maintaining a thriving agricultural sector.
Supporting the local land economy, as the countryside can be supported and shaped by ensuring there is a market for the goods that farmers produce.
Along with co-authors from the Universities of York, Oxford, Aberdeen, Reading, London and Rothamsted Research, the report indicates that historically, the UK farming sector was considerably more diverse, whereas modern agricultural economy has focussed on wheat, barley, rape, potatoes, oats, cattle, sheep pigs and chickens.
The report also states that whilst the UK has potential to grow a greater range of products and supply a variety of markets, it recognises the country does not have any spare land for food production.
Underinvestment in the UK productivity sector is highlighted and the authors say a national conversation about the wider attributes of consumption of UK-produced food is needed. They also acknowledge that while some produce would be impossible to produce in the UK due to environmental factors, in some areas, local capacity does not exist to produce more diverse foodstuffs.
Further information
Morrisons plans to recruit new suppliers in the next 12 months starts with a series of regional events in Yorkshire on 14 March. Suppliers can apply via www.morrisons.com/local.
Following his five year secondment as the UK's food security champion, Professor Benton is now Dean of Strategic Research Initiatives at the University of Leeds.