Two significant research projects have been awarded £16million to build resilience in African businesses and communities as part of the University's commitment to tackling the world's greatest issues.
The funding is from the Global Challenges Research Fund (GCRF), a £1.5billion Government programme to support research that addresses critical problems in developing countries across the world.
Announcing the funding, part of a £225million package to support research across the UK, Jo Johnson, Minister for Universities and Science, said: "At a time when the pace of scientific discovery and innovation is quickening, we are placing science and research at the heart of our Industrial Strategy to build on our strengths and maintain our status as a science powerhouse."
Exceptional breadth of research
Supporting two new high-profile Africa-based research projects, these latest awards position Leeds academics as among the most successful in the UK at securing funding from GCRF's multi-research council fund.
Sixteen other Leeds-led initiatives, worth £4.3million, have also received support from individual UK research councils through the GCRF programme, the highest number of any university.
Professor Lisa Roberts, Deputy Vice-Chancellor: Research and Innovation, said: "Our exceptional breadth of research and commitment to quality has enabled Leeds to create a research environment few other universities can match.
"Our researchers work together in powerful and impactful teams, and we have impressed international policy makers with how we operate across traditional disciplinary boundaries to tackle the major issues humanity faces.
"Our ability to build effective international, interdisciplinary networks can make a real and telling difference in helping improve lives."
"Our ability to build effective international, interdisciplinary networks can make a real and telling difference in helping improve lives, and at Leeds we have committed to doing this in the short and long term.
"We have committed to developing talented researchers and, over the last two years, have invested significantly in our 250 Great Minds programme to recruit the brightest early career researchers and support them with skills development and mentorship.
"I am pleased to see that these new awards have brought together world-leading professors with these University Academic Fellows, which creates a highly-sustainable environment for ongoing research success and development of future leaders."
Sustainable agricultural systems
Farmers in four African countries will be given the skills to develop their business and become more resilient through the GCRF-AFRICAP project.
Leading an international team, Professor Tim Benton, Dean of Strategic Research Initiatives, is focussed on creating evidence-based policy to develop sustainable, productive, agricultural systems.
His team's research aims to support smallholding farmers in Africa, to meet food security and economic development needs.
Key facts
Challenge: Improving farming resilience in Africa.
Project Name: GCRF-AFRICAP - Agricultural and Food-system Resilience: Increasing Capacity and Advising Policy.
Funding: £7,913,847 from GCRF cross-council Research Councils UK administered fund.
Principal investigator: Professor Tim Benton, Dean of Strategic Research Initiatives.
Country focus: Tanzania, Zambia, Malawi and South Africa.
Primary collaborators: The Met Office, Chatham House, University of Aberdeen, African Food, Agriculture and Natural Resources Policy Analysis Network (FANRPAN).
Dr Lindiwe Majele Sibanda, former Chief Executive at FANRPAN, the project's regional partner explains the objectives: "The partnership presents a unique opportunity for African and UK experts to develop a pathway for agricultural development that meets local needs, and creates an enabling policy environment.
"The ultimate objective is to increase the resilience of smallholder farmers in the face of changing climate and weather patterns."
The breadth of the University's research fields will underpin the project:
The Centre for Plant Sciences in the Faculty of Biological Sciences, has significant experience in root biology and how roots affect soil structure and health, knowledge lacking in Africa.
The University farm will lead training courses in bioinformatics and agronomic research methods and will provide training for UK and African agronomists.
The School of Food Science and Nutrition in the Faculty of Mathematics and Physical Sciences will develop cheap, innovative storage and processing methods to increase food availability throughout the year, improving food safety and security, and nutritional health.
The Faculty of Environment has also provided significant support and leadership to the project.
Agriculture plays a key role in the African continent's economy, employing millions but also impacting on the environment. The GCRF-AFRICAP project aims to make farming more productive and resilient to shocks to the system.
Professor Benton said: "This is about weather, climate, agriculture, economic growth, sustainability, livelihoods; with the end-game being how best to design policy for growth that is climate smart and sustainable.
"We will review what can be done better, given what we know now, and what challenges we will face in the future, and consider how we should prepare for them."
"We know within our team we have the breadth of knowledge, understanding of how to operate in these countries and the experience of delivering projects of this scale to be successful."
"We know within our team we have the breadth of knowledge, understanding of how to operate in these countries and the experience of delivering projects of this scale to be successful.
"It is these assets which helped us secure the Global Challenges funding in the first place."
Improving forecasting techniques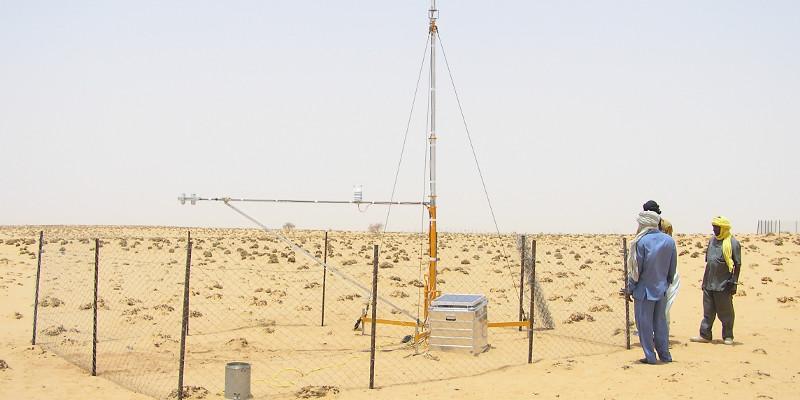 Improving forecasting techniques is a key feature of the GCRF African SWIFT project.
Developing greater weather forecasting precision, and creating more accurate longer-term forecasts could provide huge benefits to African businesses, small traders and society, strengthening their ability to respond to crises.
Weather-sensitive sectors including aviation, solar and hydro-power and agriculture could all grow as a result.
A four year programme to meet these aims has been developed by principal investigator Professor Alan Blyth from the University's Faculty of Environment and the National Centre for Atmospheric Science. Professor Doug Parker is its lead scientist.
Key facts
Challenge: Improving weather forecasting in Africa.
Project Name: GCRF African SWIFT – African Science for Weather Information and Forecasting Techniques.
Funding: GCRF: £7,814,568 from cross-council Research Councils UK administered fund.
Country focus: Senegal, Ghana, Nigeria, Kenya.
Principal Investigator: Professor Alan Blyth, Faculty of Environment and National Centre for Atmospheric Science. Lead scientist: Professor Doug Parker, the University's Met Office Professor of Meteorology.
Research areas: Tropical weather forecasting.
Key collaborators: World Meteorological Organisation, The Met Office, NERC Centre for Ecology and Hydrology, University of Reading, African Centre of Meteorological Applications for Development and the weather services of Senegal, Ghana, Nigeria, Kenya, ICPAC, and universities in Dakar, Kumasi, Akure and Nairobi

.
"The developed world has seen a revolution in the skill and impact of weather forecasts over the past decades," Professor Parker said.
"Delivering comparable benefits to people in Africa is a tough challenge which demands collaboration between mathematicians, scientists, forecasters and social scientists.
"The GCRF support will enable academic and operational teams to work together across Africa to improve forecasting skill and bring the benefits to ordinary people."
Charles Yorke, from the Ghana Meteorological Agency said vulnerable West African communities depended on natural resources for their livelihoods and reliable weather forecasts will make a critical difference to their ability to cope with unexpected climate variability.
The programme is intended to develop the skills and knowledge of both African and UK-based climate and forecasting researchers, providing long-term expertise and knowledge exchange in the field.
Creating new international research capability in computer-based forecasts of tropical high-impact weather and building tools to deliver accurate forecasts will be integral to its success.
Summer schools in Africa, training events, plus secondments and academic exchanges to share knowledge and to integrate research based teaching into the curriculum of African universities is part of the programme.
Professor Sir Mark Walport, Chief Executive designate of UK Research and Innovation, has spoken in support of the fund, and the research to be carried out. He said: "In the same way that facing global challenges requires a multi-national response, finding the solutions to them requires researchers from many disciplines to work together.
"The Global Challenges Research Fund makes that possible, and means that the UK's world-leading researchers are able to get on with the job of working with each other and partners across the globe to make the world and society more sustainable."
Global Challenges Research Fund
The 16 other programmes led by Leeds academics which have also received Global Challenges funding - delivered through the individual research councils - exemplify the scope of the University's research, commitment to quality, and having a genuine impact on the world.
They include:
Studying the conduct of journalism in nations which have received aid funding.
Assessing how mountainous regions of Asia can become more resilient to variations in water quality.
Tackling anti-microbial resistance in Bangladesh through community clinics.
Sourcing data to aid understanding of non-communicable diseases in Nepal, Bangladesh and Vietnam.
Improving orchard and crop ecosystems.
Developing tools to provide low-cost endoscopy screening for gastric cancer in China.
Leeds is committed to working across disciplines to help tackle global challenges, and is developing its research expertise in seven core areas. These are fields of research which cover cities, climate, culture, energy, food, health and water.
Read more about these research challenges here.