The University is hosting a free, family-friendly event on Saturday 17 March to showcase some of its world-leading research to members of the public.
Be Curious takes place from 10am-4pm at the University of Leeds' Parkinson Building and elsewhere on campus.
This year, there will be a focus on how research makes a difference to the lives of people all over the world. There will be stalls, talks and guided trails for all ages.
Highlights include:
Do you have 'selfitis?'
Can you spot the difference between a selfie and a self-portrait? Is the global selfie phenomenon a way of connecting with others across the world or a dangerous addiction based on inauthenticity, deception and self-obsession? Can selfie-taking actually damage our health and well-being? Join Dr Kat Rawling, Wellcome Trust Fellow in the School of History to find out more.
A taste of mindful eating
Have you ever tried eating a piece of chocolate with full attention and curiosity? Come along and join in the experience. Learn how mindful eating skills can help people eat more healthily and lose weight.
Design a cycle-friendly city
Work with Dr Robin Lovelace from the Leeds Institute for Transport Studies and take charge of a city's investment in its cycling infrastructure. For Leeds, or for any city in the world, you will decide what is built and where. In the process you'll learn how to prioritise investment for a zero carbon future internationally.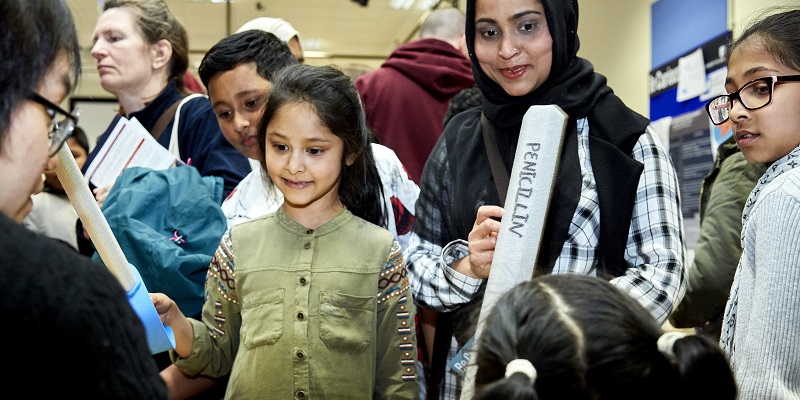 Play piano like a professional!
Do you play or are you learning to play the piano? Here's your chance to practice on our new Steinway concert grand in the University's Clothworkers' Centenary Concert Hall (without an audience!) Bring your own music and play for up to five minutes, (register for a slot on the day in the School of Music).
Do your weekly shop
Visit our international grocery store and learn how information on shopping habits is used to identify links between lifestyle and health and disease.
Poo, Farts, Burps and Rubbish
Dealing with waste is an international challenge. James McKay from the EPSRC Centre for Doctoral Training in Biodiversity asks if we could use it to generate energy. Help him put sewage and food waste into an anaerobic digestion plant which, like a cow's stomach, generates methane get "hands-on" with the demonstration cow!
Dr Charlotte Haigh, Academic Lead for Public Engagement at the University of Leeds, said:
"Be Curious is about inviting people to have fun and find out more about the world-leading research happening at the University. It's a great opportunity to explore our campus too, including the two galleries in the Parkinson Building, our public art trail and cafes.
"This year we're focusing on the relevance of our research to people across the world, with events for people of all ages."
"This year we're focusing on the relevance of our research to people across the world, with events for people of all ages."
Dr Haigh said more than 1,000 people were welcomed to campus for last year's Be Curious annual event.
"We had great comments from the public, and many of them were return visitors. People particularly enjoyed chatting to students and said that younger members of the family were inspired by the event. I hope even more people will come along this time and get 'hands on' with our work."
Be Curious is running as part of Leeds Festival of Science.
Visit www.leeds.ac.uk/becurious
For more details and a map of events, download the 'Be Curious' programme.
Parking is available in the multi-storey car park, payable by debit or credit card on exiting. Bus routes including 1, 6, 28, 97 all stop outside the Parkinson Building from H10 stop on The Headrow in the city centre.