Leeds has been recognised as one of the most international universities in a new ranking, which places the institution among the top 50 in the world.
Results published by the Times Higher Education, shows Leeds is ranked at number 47 in the most international universities in the world.
Professor Hai-Sui Yu, the University of Leeds' Pro-Vice-Chancellor: International, said: "The key to making Leeds a successful international university has been to attract the brightest international students and staff to Leeds and support world-class research collaborations and build strategic partnerships with leading international institutions.
"The importance of our growing student body from around the world is vital to ensure a vibrant mix of ideas and opinions on campus.
We are providing an international education that enables our graduates to address current and future global challenges as well as being a research powerhouse on the world stage.
Taken together all this has enriched the student experience and created the opportunities for our students to study and work abroad and our leading academics to develop world-changing research and innovations.
"We have worked hard at this and the results show the University of Leeds has developed significantly. We are providing an international education that enables our graduates to address current and future global challenges as well as being a research powerhouse on the world stage."
Independent data from academic publisher Elsevier shows that between 2012-2017, 48.8 per cent of the University's research outputs involved international collaborations with over 3,000 institutions from around the world.
Increased international outlook
The University has been successful in launching research and development programmes backed by the government's high profile Global Challenges Research Fund and the Newton Fund. These projects have increased awareness in multiple countries of the university's strength and breadth of academic excellence.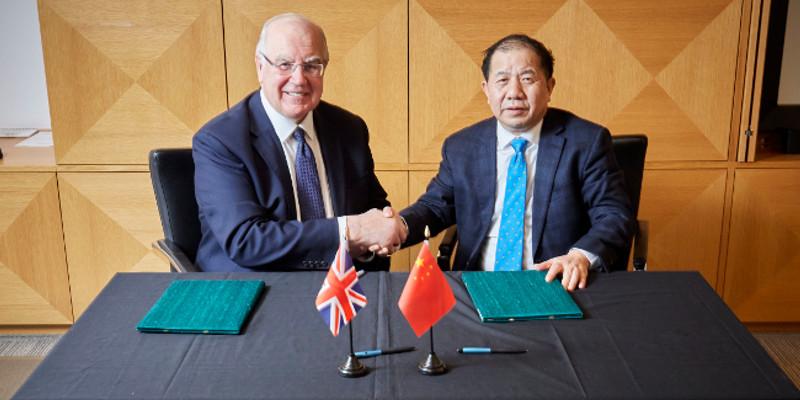 Sir Alan Langlands, the University's Vice-Chancellor signs the research agreement with ProfessorProfessor Zhongqin Lin from Shanghai Jiao Tong University.
Formal relationships have been signed with institutions from around the globe, including most recently Shanghai Jiao Tong University, resulting in closer alignment in research into atmospheric change, water pollution, transport and sustainable development. During the next 12 months, the two universities will work towards founding a joint institute for environmental research.
Further recent engagements with other leading universities in China, USA, Europe, Australia, India, Japan, Canada, Brazil, and Saudi Arabia have created closer partnerships, and given individual academic staff the support to develop productive working relationships with colleagues from around the world.
The university's joint engineering school, hosted at South West Jiao Tong University in Chengdu, China, is a leading example of how two high-achieving universities can work together to improve research, teaching and student experience opportunities.
Brightest students and staff
Among a number of activities aimed at embedding an international culture across the University, pro-deans for international have recently been appointed in all faculties and the university continues to focus on recruiting senior professors and early career researchers internationally.
In conjunction with building an international base of researchers, the brightest students from around the world are welcomed to Leeds, with support to help those coming from abroad.
The number of international students at Leeds has risen consistently in recent years with a total number now exceeding 8,000.
International scholarships are also available to encourage the brightest students worldwide, in addition to those available to students irrespective of their background.
The University also runs an international foundation year to help prepare undergraduate students for the demands of studying for a UK degree
The Times Higher Education league table was compiled using the international student score, international staff score, international co-authorship score and international reputation metrics collected for the Times Higher Education World University Rankings 2018.