A major report into the future of parks in Leeds has recommended the council gets them all up to Green Flag or equivalent standard, the national benchmark for high-quality recreational open spaces.
It said those parks which reached the standard provided a better visitor experience.
The city's seven major parks such as Roundhay Park and Temple Newsam already hold Green Flag status and 42 of the 63 smaller community parks reach an equivalent level known as the Leeds Quality Parks standard.
The report — by researchers at the University of Leeds and based on a survey of over 6,400 people across the city —called for future investment to be targeted at the busiest parks that currently fall below this benchmark.
The researchers estimated that there are approximately 45 million adult visits to Leeds parks each year.
Some 91 per cent of the city's population make at least one trip to a park per year and over half of those who visit do so at least once a week.
The average stay was between 30 minutes and two hours, with just over two-thirds of park-users (69 per cent) visiting their closest park most often. The others (31 per cent) usually travelled to more distant locations.
Often what is needed is not eye-catching spending projects: it might be that paths have to be levelled and flower beds tidied up.
Satisfaction with parks in Leeds was high with 90 per cent being either satisfied or very satisfied with the main park they visited.
Lead author Dr Anna Barker said: "Leeds, like many councils, has had to find funding for its parks out of a heavily-squeezed budget.
"We recommend targeting any available funds at community parks that do not yet reach quality standards.
"Our survey indicates that those public parks which meet quality standards are linked with enriched visitor experiences: people are more satisfied, feel safer and are more likely to say that spending time in parks is very important to their quality of life than people who usually visit a park that that was below the standard.
"Often what is needed is not eye-catching spending projects: it might be that paths have to be levelled and flower beds tidied up.
"But the public benefits from those basic improvements can be substantial."
People who visited a park that was below the Leeds Quality Parks standard were more likely to rate their experience as 'very dissatisfied' compared to people who had visited a park which met the standard (10 per cent compared to one per cent).
The report was the culmination of a two-year project funded by the Arts and Humanities Research Council exploring the history and future of the city's green spaces.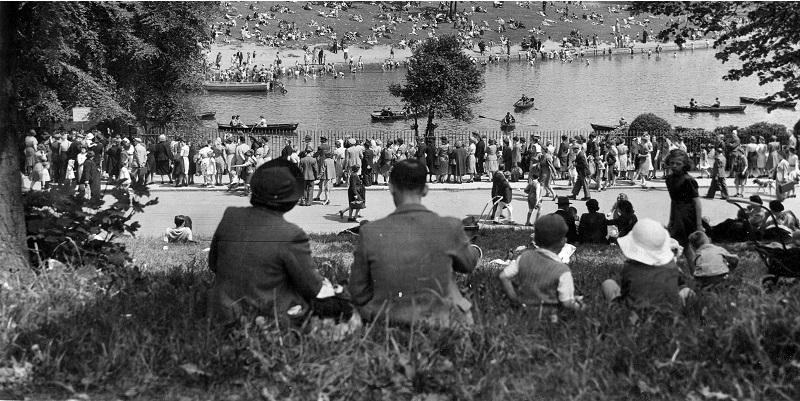 Picture: Crowds around the boating lake at Roundhay Park on Whit bank holiday in 1944.
The authors make 16 recommendations, including measures to improve accessibility for older people and those with disabilities who were significantly less likely to visit a park.
The study found that almost one third of people (29 per cent) who did not visit a park put this down to their poor health or disability.
Benefits of quality parks
Dr Barker said: "Our research highlights the importance of accessible, good quality parks and green spaces throughout the city; where people of all ages, cultures and abilities can enjoy the vital leisure, health and well-being benefits that parks afford."
Councillor Lucinda Yeadon, executive member for environment and sustainability at Leeds City Council said: "We are delighted that our parks are popular with such a large majority of residents in Leeds and that 90 per cent of people who visit them are satisfied or very satisfied with their quality.
"It's great that the findings from this research back our key objective to ensure all Leeds parks are up to the Green Flag standard. We will continue working hard to achieve that aim. We'd like to thank the University for undertaking this research; it will help us to develop our approach to managing Leeds parks in the future."
Further information
For media enquiries email the University of Leeds Press Office at pressoffice@leeds.ac.uk.