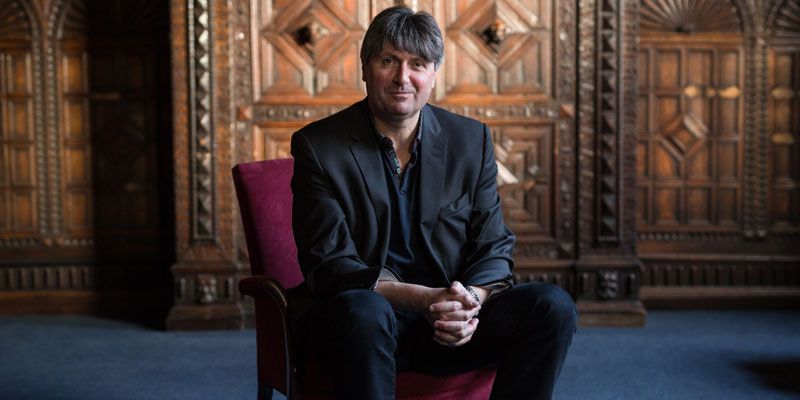 The North's oldest and largest literature festival begins tomorrow (Friday) with the University as its new principal partner.
Leeds academics will be showcasing their work and students across all disciplines are taking advantage of new opportunities to volunteer at the Festival and stage their own events.
"This new partnership will provide exciting opportunities for our audiences to connect with University staff and students in new ways."
Rachel Feldberg, Festival Director, said: "We are very proud to be working with the University of Leeds. This new partnership will provide exciting opportunities for our audiences to connect with University staff and students in new ways.
"The series of events we had with University of Leeds academics last year were very popular, and we are really looking forward to continuing to grow this strand of our programme."
Professor Frank Finlay, Director of the University's Cultural Institute and Executive Dean of its Faculty of Arts, Humanities and Cultures, said: "For many years, staff and students from the University have enjoyed attending – and participating in – fantastic events organised by the festival team.
"We're really pleased to herald a new era of collaboration, as part of this more formal arrangement of support. It's a perfect fit with the Cultural Institute's key aims of widening engagement and increasing partnerships across the region, as well as building the skills of our students."
Professor Finlay added that the School of English will be offering a new programme of creative writing for students from the autumn.
The University is hosting over 20 events both in Ilkley and on the campus. These include Poet Laureate Carol Ann Duffy on 14 October and popular music expert Dr Simon Warner discussing the Beat Generation on 6 October. A full programme of events hosted by the University can be found here.
As well as becoming Higher Education Partner for Ilkley Literature Festival the University is principal partner for its off-shoot Words in the City poetry and spoken word festival, which took place for the first time in Leeds this year in May.
The new partnership was marked by the University's Professor of Poetry Simon Armitage giving a free reading of his work.
The full Ilkley Literature Festival programme and information on how to book tickets for events can be found at www.ilkleyliteraturefestival.org.uk
Further information
For further details, contact Gareth Dant, University of Leeds Media Relations Manager, via g.j.dant@leeds.ac.uk or +44(0)113 3433996; or Alex Corwin, Head of Marketing, Ilkley Literature Festival, via alex@ilkleyliteraturefestival.org.uk.
Ilkley Literature Festival is nationally acknowledged for its artistic excellence and diverse programming. The Festival attracts audiences of more than 25,000, over 17 days each October, alongside a year-round programme of workshops, projects and author events in schools.
The Festival aims to bring literature and poetry of national and international significance to the widest possible audience and to showcase new work by emerging and mid-career writers. It has an enviable reputation for bringing high profile authors to Ilkley from across the world, for its work with young people and as one of the UK's most culturally diverse literature festivals.
Ilkley Literature Festival is an Arts Council National Portfolio Organisation.
www.ilkleyliteraturefestival.org.uk @ilkleylitfest #ilf18