Professor Dame Jane Francis has been officially installed as Chancellor of the University of Leeds.
The ceremony in the University's Great Hall on Monday 9 July was broadcast live here.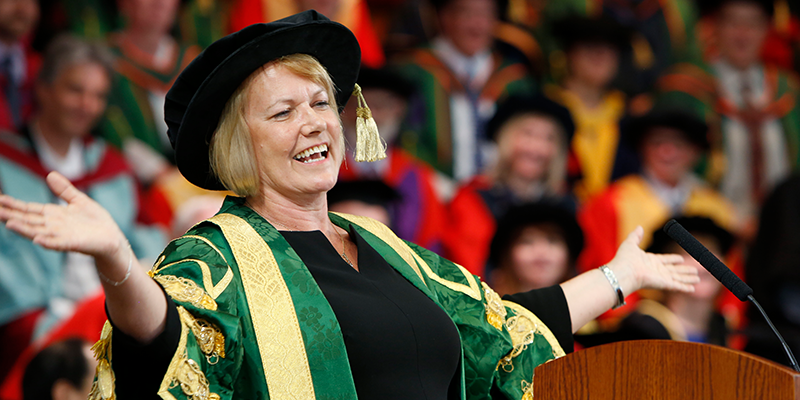 Dame Jane is a prominent polar scientist, who worked at Leeds for two decades until 2013, when she was appointed as Director of the British Antarctic Survey.
Distinguished honours
During the installation ceremony, six honorary degrees were conferred, to individuals all pre-eminent in their respective fields and, as a group, reflecting the new Chancellor's professional interests.
Professor Alice Roberts, writer, TV presenter and Professor of Public Engagement in Science, University of Birmingham
Kenton Cool, mountaineer and adventurer
Professor Mary Fowler, Master of Darwin College, Cambridge
Peter Gibbs, former BBC Weather forecaster
Professor Gabriele Hegerl, Professor of Climate System Science, University of Edinburgh
Jane Rumble, Head of Polar Regions Department, UK Foreign and Commonwealth Office
Recognising outstanding contributions
The installation is the beginning of the University's degree ceremony fortnight, which will mark the achievements of more than 4000 students.
A number of other distinguished individuals will be presented with honorary degrees during the fortnight in recognition of their outstanding contribution to their respective fields and to society.
These honorary degrees will be awarded to:
• Professor Wendy Burn, President of the Royal College of Psychiatrists
• Professor Dame Clare Marx, former President of the Royal College of Surgeons of England and Associate Medical Director at Ipswich Hospital
• Professor Iain Mattaj, Director General, European Molecular Biology Laboratory
• David Olusoga, British-Nigerian historian, TV presenter and producer
• Dame Anne Owers, Chair of the Independent Police Complaints Commission
• Professor Lord Robert Mair, President of the Institution of Civil Engineers
• Reverend Christopher Senyonjo, clergyman and campaigner for LGBT rights in Uganda
• Professor Leslie Valiant, Professor of Computer Science and Applied Mathematics, Harvard University
Sir Alan Langlands, the University's Vice-Chancellor, said: "It is a privilege to acknowledge and honour such distinguished individuals, all of whom have contributed great knowledge, understanding and expertise in the service of society. We are proud to celebrate their achievements.
"And of course, we are thrilled to welcome Jane as our new Chancellor. Jane will inspire our students and staff and Leeds alumni around the world with her unfailing commitment to academic excellence and as someone who has pushed the boundaries of human endeavour."
"Jane will inspire our students and staff and Leeds alumni around the world"
Our Chancellor, Professor Dame Jane Francis
Jane was announced as the University's Chancellor in December 2017. She succeeds Melvyn Bragg (Lord Bragg of Wigton) who stepped down after 17 years in office.
The Chancellor acts as an ambassadorial figurehead and advocate for the University.
Jane will preside over degree ceremonies and confer degrees, chair meetings of the University Court and support profile-raising events.
She has strong ties with the University, with a 22-year career at Leeds before joining the British Antarctic Survey.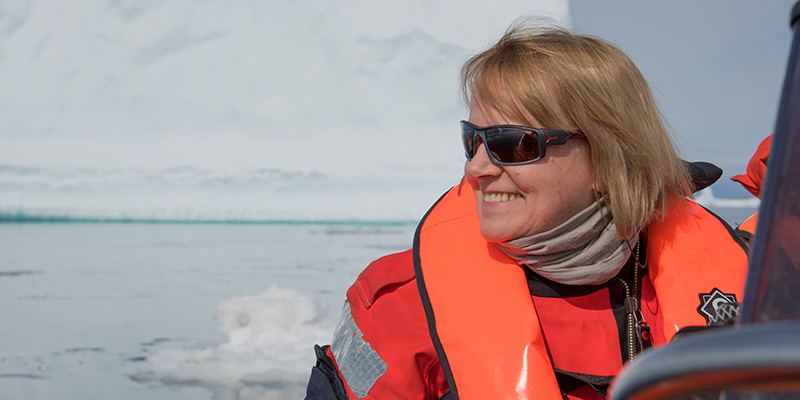 Speaking at the time of her appointment, Jane said: "I loved my time at Leeds and feel truly honoured to be back as Chancellor. Helping to inspire passion and achievement is what excites me in my work, and in this role I hope to be able to do just that.
"Leeds has grown from strength-to-strength in recent years, and I look forward to being able to give back and support the University in all its endeavours."
"I loved my time at Leeds and feel truly honoured to be back as Chancellor."
2018 honorary degrees
Monday 9 July
Kenton Cool - Doctor of Laws
A Leeds graduate, Kenton is one of the world's leading high-altitude climbers, an avid adventurer and also a highly engaging and inspiring motivational speaker. He has successfully climbed Mount Everest 13 times along with many other mountain peaks around the globe, and was the first person in history to complete the 'Everest Triple Crown', the peaks of Everest, Nuptse and Lhotse in one continuous push from base camp. He is the only Briton to ski down two 8,000m peaks and is an International Foundation Mountain Guide Association guide.
Professor Mary Fowler - Doctor of Science
Mary, a geophysicist, has been Master of Darwin College, Cambridge since October 2012. In addition to editorial and advisory roles, she has served on various Research Council, Royal Society, Leverhulme, RAE and REF panels, on the Councils of the Geological Society and the Royal Astronomical Society, as Chair of the Committee of Heads of UK Geoscience Departments and Vice-President of the Royal Astronomical Society. She is best known around the world for her book, The Solid Earth: An Introduction to Global Geophysics, for which she was awarded the Prestwich Medal by the Geological Society in 1996.
Peter Gibbs - Doctor of Laws
A weather forecaster by profession, Peter regularly chairs the popular Radio 4 show Gardeners' Question Time and has presented items for BBC TV's technology programme Click and the environment series Costing the Earth on Radio 4. After graduating from Newcastle University in 1979 he spent two years living and working in the Antarctic as a meteorologist with the British Antarctic Survey. Peter was responsible for weather observations and balloon soundings at Ice Station Halley on the Brunt Ice Shelf, where temperatures fell as low as -40C during the four months of winter darkness.
Professor Gabriele Hegerl - Doctor of Science
Gabi Hegerl is a climate scientist who focuses on identifying the drivers and mechanisms of observed climate change. Her work provides a critical underpinning to predictions of future changes; she pioneered a statistical method to separate cause and effect in climate studies; and she played a leading role in the last three Intergovernmental Panel on Climate Change reports (2001-2014). She published some of the first studies determining that recent warming is statistically different from climate variability, and pioneered a method that distinguishes between possible causes of climate change.
Professor Alice Roberts - Doctor of Science
Alice taught human anatomy as a university lecturer alongside researching human origins and disease in ancient skeletons. She made her television debut in 2001, as a human bone specialist on Channel 4's Time Team. She went on to present Coast on BBC2, and to write and present a range of television series for BBC2, including The Incredible Human Journey, Origins of Us and Ice Age Giants, as well as several Horizon programmes. Her book The Incredible Unlikeliness of Being was shortlisted for the Wellcome Book Prize in 2015. She has been Professor of Public Engagement with Science at the University of Birmingham since 2012.
Jane Rumble - Doctor of Science
Jane has been Head of FCO's Polar Regions Department since January 2007. She started her civil service career in the Department of Environment, where she undertook a range of environmental and corporate policy roles, including on health and safety and genetically modified crops. In 2000, she took on a broader spectrum of public health policy responsibilities. A geographer by background, Jane is a Fellow of the Royal Geographical Society. She merged her environmental and social policy interests in joining FCO to work on polar policy in 2003.
Tuesday 10 July
Professor Dame Clare Lucy Marx - Doctor of Medicine
Now an Associate Medical Director at Ipswich Hospital, as well as being a practising orthopaedic surgeon, Clare Marx was, formerly, the first woman President of the Royal College of Surgeons for England. She chaired the Trauma and Orthopaedic Specialist Advisory Committee and championed the patient safety agenda as well as taking steps to address the low percentage of women entering surgery.
Professor Wendy Burn - Doctor of Medicine
The current President of the Royal College of Psychiatrists, Wendy Burn has set a clear agenda for increasing mental health funding, promoting the integration of physical and mental health provision and the cutting of bureaucracy. She has spoken publicly about the damaging inconsistencies in psychiatric provision across the UK and is heavily involved in developing postgraduate training.
Wednesday 11 July
David Adetayo Olusoga – Doctor of Letters
David Olusoga has written and presented ground-breaking and award-winning BBC documentaries on black history, and has collaborated with academics, community groups and museums on numerous public engagement activities. He is a regular contributor to public debate on diversity in relation to history and has written about teaching the British Empire in schools and the importance of creating 'citizen historians' amongst diverse British communities.
Thursday 12 July
Professor Iain William Mattaj – Doctor of Science
Iain Mattaj is one of Europe's outstanding scientific leaders in the biological sciences. As Director General of the European Molecular Biology Laboratory (EMBL), he developed and guided its research strategy so that it sits today as one of the very top international research institutes. In bringing together the very best of young researchers from across the world, Professor Mattaj has embedded at EMBL an incredibly effective research ethos based on interdisciplinarity and collegiality.
Friday 13 July
Professor Leslie Gabriel Valiant - Doctor of Science (Engineering)
A former lecturer in the Centre for Computer Studies at Leeds, Leslie Valiant has contributed to the growth of almost every branch of theoretical computer science and has received numerous awards, including in 2010 the Turing Award for his lasting and major technical importance in the field. His research has opened new frontiers and has resulted in a transformation in our understanding of many areas of both natural and artificial phenomena.
Tuesday 17 July
The Reverend Christopher Senyonjo - Doctor of Laws
The Rev. Senyonjo has been one of the few religious leaders in Uganda, and indeed in Africa, who actively supports LGBT (lesbian, gay, bisexual and transgender) people and advocates for the recognition of their human rights, in a context of widespread and often violent homophobia. He has used a wide range of methods for his activism and advocacy, ranging from preaching, pastoral support and writing, to political lobbying. In 2012 he received the Clinton Global Citizenship award (from the Clinton Foundation) that honours outstanding individuals for their exemplary leadership and groundbreaking work that has effected positive, lasting social change.
Wednesday 18 July
Professor Lord (Robert) Mair - Doctor of Science (Engineering)
Lord (Robert) Mair is current President of the Institution of Civil Engineers and Emeritus Professor of Civil Engineering and Director of Research at Cambridge University; he is also a Fellow of the Royal Academy of Engineering (its Senior Vice-President 2008-2011), and a Fellow of the Royal Society. Throughout his career he has specialised principally in underground construction, providing advice on numerous projects world-wide. In the UK he has been closely involved with the design and construction of the Jubilee Line Extension for London Underground, and with the Channel Tunnel Rail Link (now HS1). He was awarded the Institution of Civil Engineers' Geotechnical Research Medal in 1994, its Gold Medal in 2004 and its President's Medal in 2013.
Thursday 19 July
Dame Anne Elizabeth Owers - Doctor of Laws
Chair of the Independent Police Complaints Commission, Anne Owers is a leading campaigner for human rights, and has spoken out, for example, against prison overcrowding and the use of prisons to house those who are mentally ill. Diversity and inclusiveness are values that run through all of her work as she strives to improve the lives of those on the margins of society. She was made a DBE in recognition of her services to the Criminal Justice System.
Further information
Since 1904, the University has conferred honorary awards on a host of individuals from the worlds of science, art, academia, industry, politics, medicine, entertainment and many other fields.
Learn more about our honorary graduates here.
For press enquiries, please call 0113 343 4031 or email pressoffice@leeds.ac.uk