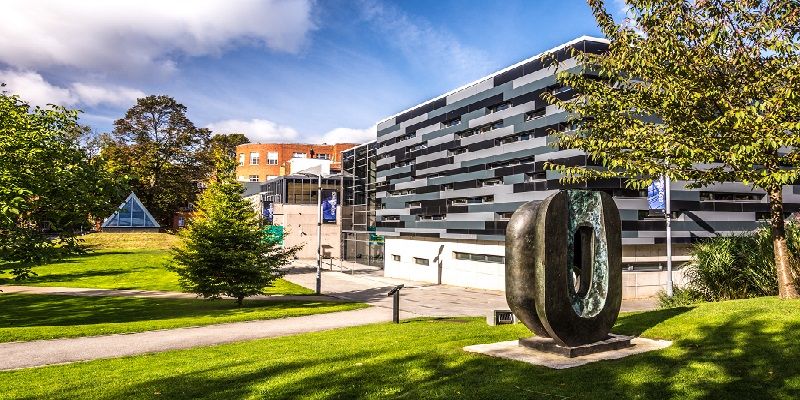 The University is backing a major new initiative that will celebrate Yorkshire's status as a leading destination for modern and contemporary sculpture.
Announced today, the first Yorkshire Sculpture International – the UK's largest event celebrating the art form – will take place from Saturday 22 June to Sunday 29 September next year.
Produced by a unique consortium of the Henry Moore Institute, The Hepworth Wakefield, Leeds Art Gallery and Yorkshire Sculpture Park, it will feature work by international artists across the four venues, as well as major new outdoor sculpture commissions across public spaces in Leeds and Wakefield, inviting visitors to interact with art in unexpected places in the cities.
All elements of the Yorkshire Sculpture International programme will be free to attend, encouraging new audiences to engage with sculpture.
The project has raised more than £1 million, including a National Lottery-funded Ambition for Excellence grant from Arts Council England, and regional investment from Leeds 2023, Wakefield Council, the University of Leeds and Leeds Beckett University.
Sir Nicholas Serota, Chair of Arts Council England, said: "We're delighted to be supporting the first edition of Yorkshire Sculpture International with investment from the Arts Council.
"The Yorkshire Sculpture Triangle is already considered the UK's home of sculpture, and this event will significantly strengthen the region's international profile as a cultural destination. I am looking forward to seeing contemporary sculpture in Leeds' and Wakefield's world-class galleries and also in the public realm."
"We are really excited about being involved with such a fantastic and ambitious project."
Professor Frank Finlay, Executive Dean of the University's Faculty of Arts, Humanities and Cultures, also heads up its Cultural Institute, which is developing the partnership with Yorkshire Sculpture International.
He said: "We already work closely with all four of the great Yorkshire arts institutions that are leading Yorkshire Sculpture International and are really excited about being involved with such a fantastic and ambitious project."
Sculpture for students
Yorkshire Sculpture International will be accompanied by an extensive engagement programme working with schools, universities, communities, and a talent development programme for artists based in the region.
The University will work in partnership with the initiative to support talent development and student engagement through a programme of professional practice and learning and skills development.
This will provide new opportunities for its students to gain direct experience of working on a large-scale project with the region's leading sculpture organisations.
The partnership will include:
Training and opportunities to help students support engagement projects such as schools outreach
Work placements for University of Leeds students across the partner organisations to work on activity including research, mentoring, talks and tours
A project to embed sculpture in a teaching module
Opportunities for students to be involved with Yorkshire Sculpture International's early career artist talent development programme.
Saturday art clubs for teenagers, events aimed at history of art teachers and an initiative to nurture enthusiasm for art history among pupils who do not usually have formal access to the subject at school will also form part of the University's outreach work related to Yorkshire Sculpture International.
Performances, talks, artists' visits and seminars will also be hosted on campus during the programme.
A rich history of sculpture
The region is the birthplace and home of sculptors including Barbara Hepworth, Henry Moore and Damien Hirst. Yorkshire Sculpture International will showcase the breadth and diversity of contemporary sculpture practice.
Invited to be the 'provocateur' for the first Yorkshire Sculpture International, renowned sculptor Phyllida Barlow has proposed a series of thought-provoking statements.
Phyllida Barlow with her installation Scree Stage for The Hepworth Prize for Sculpture 2016. Image: Press association
The 2019 event will explore one of the most compelling of these – Sculpture is the most anthropological of the art forms – responding to the idea that there is a basic human impulse to make and connect with objects.
She said: "Yorkshire Sculpture International is an imaginative initiative – the renowned institutions centred in Leeds and Wakefield, which already constitute an exceptional focus on sculpture, will provide a challenging and inspirational opportunity to give priority to what sculpture is now – who it is for, what it is, and where and how it is located."
Further information