A new work of public art has been unveiled at the University.
Converse Column, by British-American artist Liliane Lijn, has been installed outside the University's new Nexus innovation centre on Discovery Way.
The nine-metre-high revolving "poem machine" features two separate poems turning independently, one inside the other. Internal lighting will ensure the words are visible after dark.
The text evolved from phrases submitted by students and staff at the University, inspired by themes of communication, collaboration, innovation and impact.
Lijn is known for her work with moving text and is a pioneer in the interaction of art, science, technology and language.
Formally switching on her latest work on Wednesday with Dennis Hopper, the University's Director of Campus Development, she praised the team that had brought the project to life, saying the finished work's apparent simplicity belied some significant technical challenges.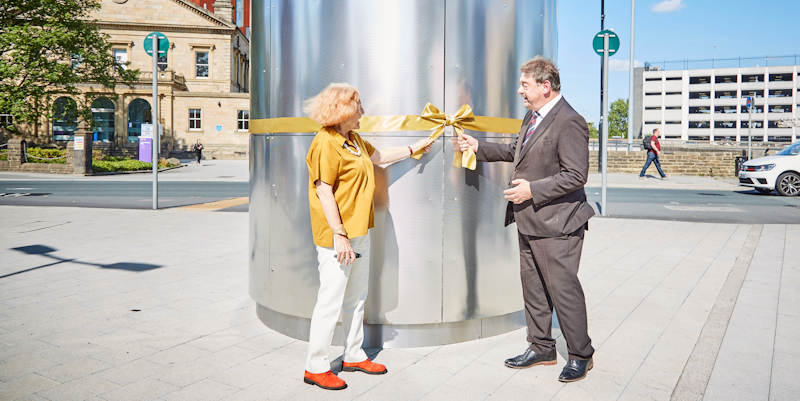 "I've so much enjoyed collaborating with the team who made this happen," she added.
The arrival of Converse Column coincides with Yorkshire Sculpture International – a 100-day festival of sculpture across Leeds and Wakefield and the UK's largest dedicated sculpture festival.
The University is a partner of Yorkshire Sculpture International and has helped organise a series of conversation events open to all, including one yesterday after the unveiling with Liliane Lijn and Nigel Walsh, Leeds Art Gallery's Curator of Modern and Contemporary Art.
Further conversation events take place through to September.
Mr Hopper said: "Yorkshire Sculpture International allows us to showcase the wonderful public art we have on campus."
Public art trail
Another important recent addition to the University's impressive range of public artwork – which is celebrated with a public art trail that guides visitors, staff and students around the collection – is Henry Moore's Three Piece Reclining Figure No.2: Bridge Prop.
On long-term loan from Leeds Art Fund, via Leeds Art Gallery, the 1963 work is now outside the Treasures of the Brotherton Gallery, inside the Parkinson Building.
It joins other sculptures on campus such as a Hubert Dalwood relief, Simon Fujiwara's A Spire, and Dual Form by the British sculptor, Barbara Hepworth, also on loan from Leeds Art Gallery.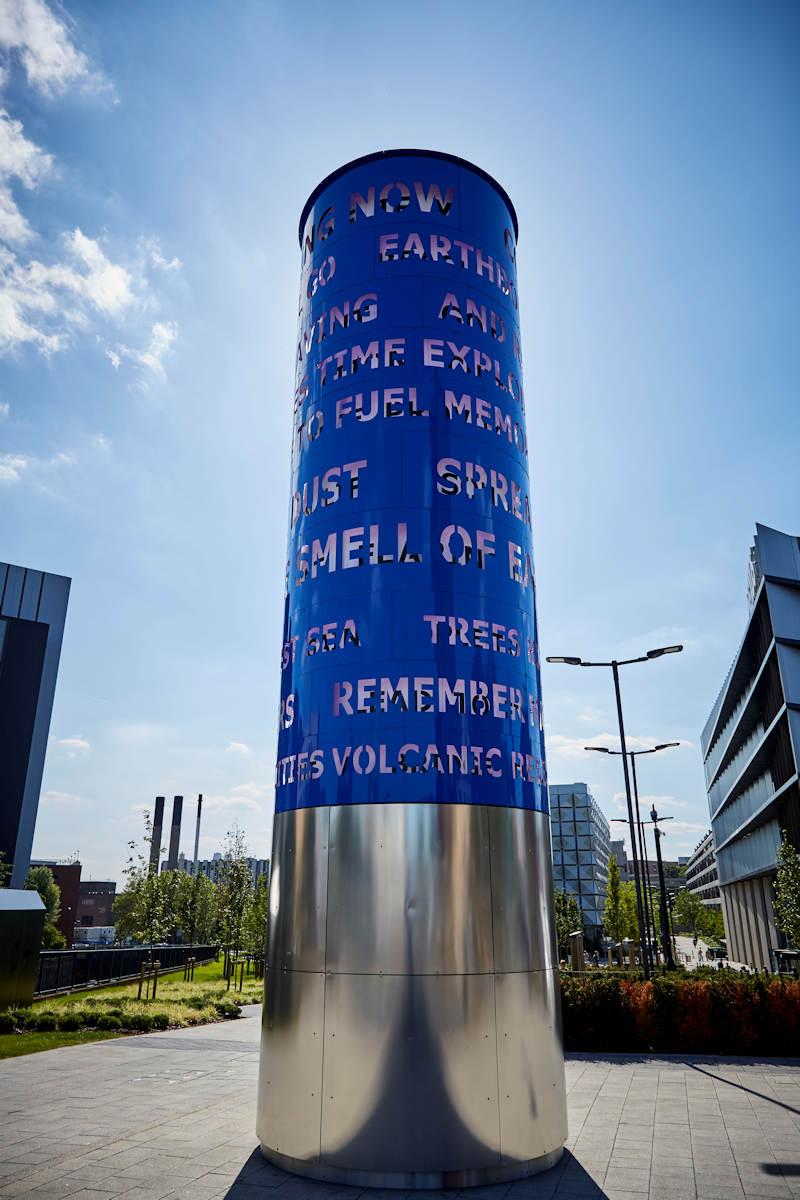 International reputation
Lijn has an international reputation developed over more than 50 years for exploring the relationship between art, science, technology and language.
Her work is represented in both private and public collections around the world. She has produced numerous major public commissions for hospitals, universities, local authorities and commercial companies.
Converse Column references Lijn's iconic early 1960's Poem Machines and, more recently, her Poemdrums that spin and disengage words from the composed text.
Born in New York in 1939, she has lived in London since the late 1960s.
She works across media – kinetic sculpture, film, text and performance – to explore language, mythology and the relationship between light and matter.
In 2005, Lijn was ACE NASA, Leonardo Network artist in residence at the Space Sciences Laboratory at UC, Berkeley. In 2013 she was shortlisted for the Fourth Plinth in Trafalgar Square.
Lijn's work has been collected by the Arts Council of Great Britain, the British Council, the British Museum, the Tate Collection, and the V&A Museum. Recent exhibitions include Koans and Poems, The Lobby, One Canada Square, Canary Wharf (2017), Beat Generation, Centre Pompidou (2016), City Sculpture Projects 1972, Henry Moore Institute (2016), a solo show at RCM Galerie, Paris (2015), Images Moving Out Onto Space, Tate St Ives (2015), Ecstatic Alphabets/Heaps of Language, and MOMA, New York (2012).
For more information on Lijn's work visit her website.
Further information
Contact University of Leeds Media Relations Manager Gareth Dant via +44(0)113 343996 or g.j.dant@leeds.ac.uk.