A small army of volunteers is to be recruited to help update the most comprehensive survey of England's dialects ever undertaken, thanks to an injection of funding.
The University's Dialect and Heritage project has been awarded £530,500 from The National Lottery Heritage Fund to open up the extensive Leeds Archive of Vernacular Culture (LAVC) to the public.
The archive includes the ground-breaking work of the Survey of English Dialects, carried out by nine intrepid fieldworkers in the 1950s and is held in Leeds University Library's Special Collections.
The survey will now be updated and made available online for the first time, with the help of volunteers recruited and trained as oral history and dialect fieldworkers and transcribers.
They will follow in the footsteps of the dialect pioneers who set out from Leeds 70 years ago to record and map dialects from all corners of the country. But unlike the original survey, they won't only be looking for "old men with good teeth".
"The project will preserve this invaluable cultural legacy for future generations."
Through a series of local community outreach events and working with five partner museums from across the country, the Dialect and Heritage project will invite people to get involved as a volunteer or by sharing their dialect – regardless of location, background, age or gender.
Researchers are also looking for descendants of the people who took part in the original Survey of English Dialects, which ran from 1946-1978, or with connections to the Institute of Dialect and Folk Life Studies, which was in operation between 1963 and 1983.
"If you, your parents, grandparents or other relatives have a connection to these historical dialect studies, the project would like to hear from you," said Dr Fiona Douglas, from Leeds' School of English, who is leading the project.
From January, a year will be spent digitising the notebooks, photographs, word maps and audio recordings from the original fieldwork. Further extensive fieldwork will then be undertaken from 2021-23, making new oral history recordings – some of them including descendants of the original survey interviewees.
Dr Douglas has already tracked down three of the original fieldworkers who travelled the country to painstakingly record dialect variations – initially in handwritten notebooks, later with cumbersome reel-to-reel audio recorders that were sometimes hooked up to car batteries because of a lack of mains electricity.
Others to have come forward include the children and grandchildren of original survey respondents, and those who remember Werner Kissling, the famous ethnographic photographer who worked for the project during the 1960s, capturing everything from sheep washing and wallops (a variant of skittles, pictured above), to luck stones and Bartle burning.
"These amazing memories allow us to touch history and reach into the past," added Dr Douglas.
"We have loved hearing from people with family or personal connections to the Survey of English Dialects or the Institute of Dialect and Folk Life Studies, and can't wait to speak to more of them.
"They give us fascinating first-hand accounts of what life was like and how these surveys were done. I've heard tell of fieldwork done in fishing boats in the middle of the night and dialect caravans touring the country.
"And stories told by survey interviewees who had seen Brunel's SS Great Eastern sail out of the Thames, and the hulks of old sailing ships used to house convicts before transportation to Australia."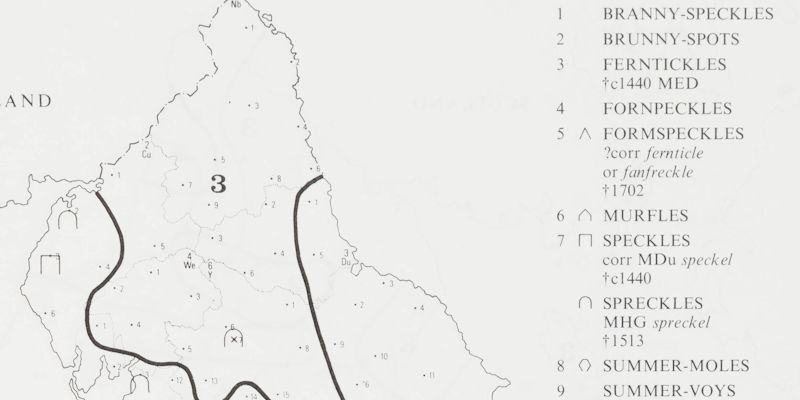 One of the original dialect maps showing geographical variants for 'freckles'
What's in a name?
Depending on where you live, do you have 'ferntickles', 'murfles', 'brannyspreckles', 'brunny-spots', 'vrackles' or 'frantittles' on your face, or freckles?
Are you 'cack-handed', 'cat-handed', 'coochy-pawed', 'gibble-fisted', 'left-kaggy, 'squippy' – or is it simply that you write with your left hand?
Do you call it a 'spelk', 'spell', 'shive', 'spill' or 'splinter'?
And would you take a 'bait', a 'jock', a 'snap' or a 'packed lunch' when going out for the day?
A roadshow, complete with pop-up dialect kit, will go on tour as part of the project's ongoing work with five partner museums –
Avoncroft Museum
of Historic Buildings in Worcestershire,
Dales Countryside Museum
and
Ryedale Folk Museum
in North Yorkshire, Suffolk's
Museum of East Anglian Life
, and
Weald and Downland Living Museum
in West Sussex.
Material from the Leeds Archive of Vernacular Culture will enrich these museums' important collections and bring together a rich national inheritance of dialect and vernacular heritage, the pieces of which are currently scattered.
The project was awarded initial development funding from The National Lottery Heritage Fund in 2017 to lay the ground work for the project's next, three-year phase.
"The first phase of Dialect and Heritage proved there is a huge appetite in the country to preserve an understanding of dialect," said Dr Douglas "The enthusiasm of visitors and volunteers at our museum partners is testament to that.
"The project will preserve this invaluable cultural legacy for future generations."
What the project will achieve:
Index, digitise and make publicly available the Leeds Archive of Vernacular Culture
Develop interpretation for permanent and temporary exhibition in partner museums
Create a pop-up dialect kit, complementary workshop materials and activities
Create a website specifically designed to engage a wide range of non-specialist users
Recruit and train up to 150 volunteers as oral history and dialect fieldworkers
Develop downloadable online learning resources for schools
Collect and transcribe new oral history/dialect recordings
The 21st century update of the survey will include input from everyone. The project team does not mind whether people can trace their ancestry to a particular place back for generations, if they have moved around from place to place, or settled in the UK more recently. The aim is to capture a snapshot of present-day dialect, in all its exciting diversity.
And where the focus of the original survey was on older participants, because they were thought most likely to provide a linguistic bridge to the past, the new project aims to reach younger participants too, through activities with families and schools.
"These amazing memories allow us to touch history and reach into the past."
As well as the National Lottery Heritage Fund £530,500 grant, the University of Leeds' Footsteps Fund and other alumni donations have contributed almost £110,000 to the project, plus up to £23,000 from the partner museums.
The University's Special Collections will be home to the new archive materials – just as it hosts the original Leeds Archive of Vernacular Culture.
A detail from one of the original fieldworker's notebooks, from 1951, showing phonetic variations for 'splinter'
Further information
For media inquiries about the Leeds Archive of Vernacular Culture, contact Gareth Dant, University of Leeds Communications Office, on 0113 343 3996 or g.j.dant@leeds.ac.uk.
Leeds Archive of Vernacular Culture contains records and artefacts relating to more than 300 English dialects and the traditions and lifestyles of their speakers. They were collected through some of the most extensive and detailed dialect work ever conducted.
The Survey of English Dialects was conducted between 1946 and 1978, with fieldworkers travelling the country and recording the language and lifestyles of hundreds of different people. Some of this took place before portable recording equipment was available, so evidence was meticulously recorded in notebooks, which still sit in the University's Special Collections.
Other gems held in the LAVC include audio recordings, photographs, newspaper cuttings, hand-drawn diagrams of tools and farming devices, pronunciations for thousands of dialectal terms, and word maps tracking boundaries for the use of different words.
The new project is continuing the work begun by Harold Orton and Eugen Dieth in the 1940s, recording present-day dialects, memories and cultural information from descendants of participants in the original survey.
Leeds University Library
Special Collections
holds more than 250,000 rare books and hundreds of thousands of manuscripts and archives. Five of the collections hold Arts Council England Designation status for outstanding national and international importance. Special Collections is also home to the Institutional Archive of the University.
About The National Lottery Heritage Fund
Using money raised by the National Lottery, we inspire, lead and resource the UK's heritage to create positive and lasting change for people and communities, now and in the future. www.heritagefund.org.uk.
Follow @HeritageFundUK on Twitter, Facebook and Instagram and use #NationalLotteryHeritageFund