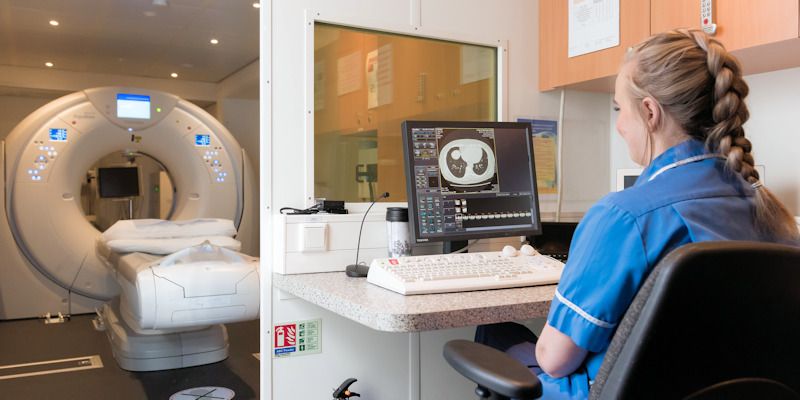 A lung cancer trial aiming to detect disease in higher risk patients before they show symptoms has caught dozens of cases early.
More than 100 lung cancers have been detected by the Leeds Lung Health Check, which has screened 5,600 people since its launch in November 2018.
Lung cancer, the most common cancer in Yorkshire, is frequently diagnosed at a late stage when treatment options are more limited and survival rates are lower.
But thanks to the screening, patients diagnosed at an early stage went on to receive surgery and curative radiotherapy.
The multimillion pound trial is a partnership between the University of Leeds, Leeds Teaching Hospitals NHS Trust and Leeds City Council, and is funded by Yorkshire Cancer Research.
It aims to test screening in community settings and provide information to improve the effectiveness and benefit of future lung screening programmes.
Appointments take place at a mobile unit that travels to locations across Leeds, including supermarket and shopping centre car parks, making it easier for people to take part.
"The study has the potential to benefit very many people in Leeds and beyond, into the future."
It was the first service of its kind in the UK to return to normal service following the first wave of the coronavirus pandemic.
After introducing COVID-secure measures, including social distancing and personal protective equipment, the research team was able to continue making appointments for the life-saving scans.
The service is continuing as normal through the current national restrictions in England, and members of the public are being urged to attend appointments if invited.
Richard Neal, Professor of Primary Care Oncology at Leeds and a GP in the city, said: "This is a unique collaboration between the University of Leeds and Leeds Teaching Hospitals Trust, and is a flagship study for the city and the region. It has the potential to benefit very many people in Leeds and beyond, into the future."
Professor Mat Callister from Leeds Teaching Hospitals said: "Early on in the pandemic, some of our hospital cancer services were affected. However, we quickly got things back up and running again and have been running a normal lung cancer service in Leeds Teaching Hospitals for many months now.
"The Leeds Lung Health Check was the first of the lung health check services in the country to get restarted. We altered the process on the unit to keep people safe and allow the team to continue this really important work. It's vital that people attend their appointments for these life-saving scans, even during the second lockdown. Members of the public are still allowed to leave their homes for medical purposes."
Dr Phil Wood, Leeds Teaching Hospitals NHS Trust Chief Medical Officer, said: "This is a really important study which addresses some crucial questions about the effectiveness of screening but also helps to address underlying issues of equality by working in areas of relative deprivation across Leeds."
Further information
Details about how participants are chosen for the study can be found on the Leeds Lung Health Check site.
For media enquiries, contact University of Leeds press officer Lauren Ballinger at l.ballinger@leeds.ac.uk.