Two new research programmes aimed at reducing the effects and transmission of COVID-19 have been announced.
In the first study, researchers will evaluate whether a simple blood test for bacterial infection could reduce the need to dispense antibiotics to patients with the virus.
The second trial will explore if wearable digital devices can help reduce COVID-19 infections and prevent deaths in care homes.
The trials are among nine awarded a total of £5.5m from the National Institute of Health Research (NIHR) as part of its COVID-19 Recovery and Learning call to manage current and future waves and investigate the long-term impacts of the pandemic on the health and care system.
Currently, three quarters of patients admitted to hospital with suspected or confirmed COVID-19 are given antibiotics because of concerns they may have secondary bacterial infections.
But antibiotics have no effect on viral infections – and published data shows low levels of bacterial infections in COVID-19 patients.
"This important project aims to reduce the harm done by unnecessary antibiotic use in patients admitted with COVID-19."
The 18-month study will determine whether the simple blood test, which detects the presence of biomarker procalcitonin, could be used to diagnose bacterial infections in COVID-19 patients by looking at UK hospital data from the first wave.
It is hoped the findings will inform care during subsequent waves of infection and lead to the development of recommendations for procalcitonin use in the NHS.
The researchers will also look at whether such testing impacts on length of hospital stays, intensive care unit admission, resistant infections and mortality.
The study, Procalcitonin: Evaluation of Antibiotic use in COVID-19 Hospitalised Patients (PEACH), is co-ordinated by the Centre for Trials Research at Cardiff University. It is led by Dr Jonathan Sandoe, from Leeds' School of Medicine, and Professor Enitan Carrol at the University of Liverpool.
Dr Sandoe said: "This important project aims to reduce the harm done by unnecessary use of antibiotics in patients admitted to hospital with COVID-19. We are very pleased to receive NIHR funding for this valuable study."
The second study will trial wearable digital devices in care homes to establish whether they can help reduce COVID-19 infections and prevent deaths.
Similar in size to a wristwatch, the devices register when wearers come into contact with each other. Residents, staff and visitors in 32 care homes across the country will wear them.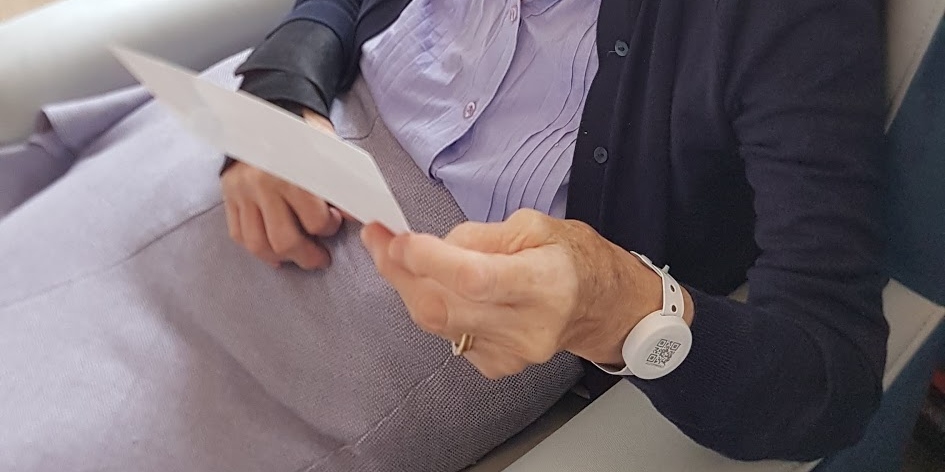 The data is automatically fed to a team of researchers at the University of Leeds, who can analyse it quickly and feed back results to care home leaders. It will identify infection trends, enabling care homes to adapt their procedures to manage infection.
It will be compared to another 32 homes not using the technology to determine whether it is more effective than other contact tracing methods.
The £1.6m CONTACT trial is run by Leeds' School of Healthcare, School of Engineering and Institute of Clinical Trials Research, in partnership with the University of Nottingham, data strategy company Microshare Inc, care home providers and local authority public health bodies.
It comes after infection rates of up to 80% and as many as 30,000 deaths were reported in care homes in the first wave of the coronavirus pandemic.
Lead researcher Carl Thompson, Professor of Applied Health Research at Leeds' School of Healthcare, said the devices would allow care homes to better manage the risk of infection and consider reopening to outside visits.
He said: "Contact tracing in care homes often starts and finishes at the front door. NHS Test and Trace or local public health team contact tracing can be difficult, expensive, and often results in homes simply being closed to visitors, and residents' freedoms restricted.
"The CONTACT trial will test whether wearable digital devices improve contact tracing in care homes, reduces COVID-19 infections and untimely deaths, and provides the possibility of homes opening up to family, community and healthcare professionals."
Further information
Inset picture: care home resident Betty wearing the contact tracing device. (Credit: Carl Thompson)
For media enquiries, contact University of Leeds press officer Lauren Ballinger via L.ballinger@leeds.ac.uk.