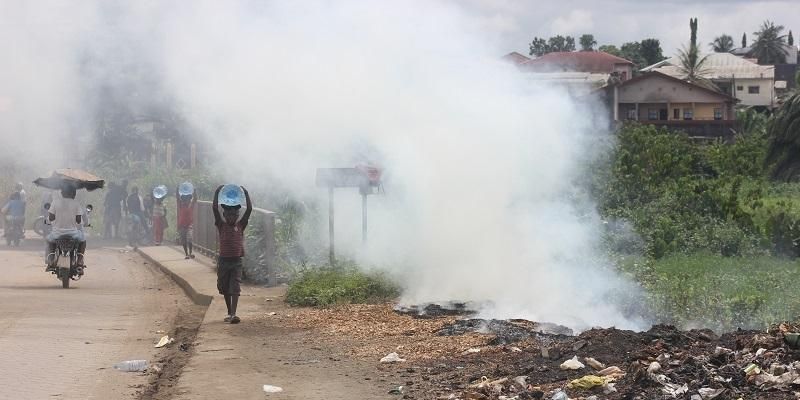 Up to one billion tonnes of solid waste is being openly burned worldwide each year and risks the health of "tens of millions of people", according to a review of the latest scientific evidence.
That amounts to about half of all the solid waste generated on earth.
Open burning produces a range of potentially toxic emissions which endangers people who live and work near to where material is being openly burned, often in low to middle income countries. That includes 11 million informal waste workers, known as 'waste pickers' – men, women and children - who play a pivotal role in collecting and recycling waste material.
The research was led by Dr Costas Velis and Ed Cook from the University of Leeds for Engineering X, a collaboration founded by the Royal Academy of Engineering and the Lloyd's Register Foundation to help solve some of the biggest problems facing humankind.
The review was carried out in partnership with specialist organisations, including the International Solid Waste Association.
The focus of the research was to investigate what happens to electronic devices, consumer goods, medical devices, machines and other man-made goods - so called engineered products - at the end of their useful life. The findings are published today (7 January) in the Global Review on Safer End of Engineered Life.
It reveals how discarded man-made waste feeds into the vast mountain of solid waste generated at a global level.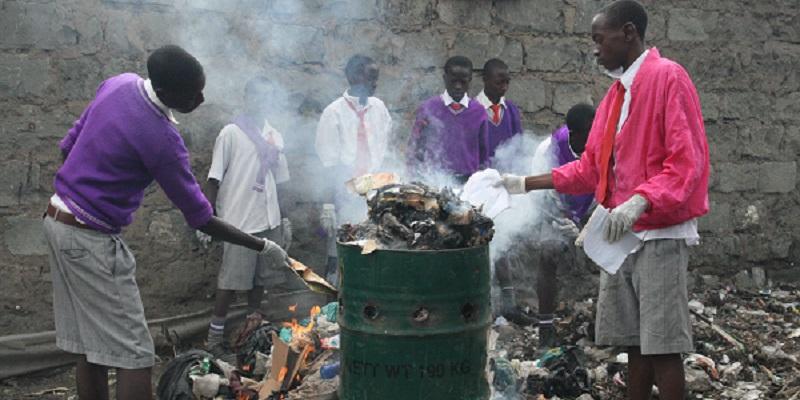 Picture: Courtesy of WasteAid
Although robust figures do not exist, top-end estimates suggest that around one billion tonnes of waste is being openly burned each year. The researchers call for more data analysis and research.
They believe there are several factors that result in the waste being burned: about two billion people do not have their waste collected; and about one quarter of the solid municipal waste that is collected is not disposed of properly - possibly being dumped inappropriately near homes or agricultural lands.
As a result, communities deal with the waste themselves and burn it - either in and around homes and workplaces, or in dumpsites.
'Hazardous cocktail of emissions'
Open burning, as opposed to controlled high-temperature incineration, increases the likelihood that a "hazardous cocktail of emissions" is generated.
For example, medical waste containing both PVC and potentially fatal pathogens is often burned. This avoids the risk of infection from blood-borne viruses but also releases dioxins from the PVC.
In today's report, the authors note: "This review finds evidence of emissions of several substances from open burning that are classed as persistent organic pollutants, as well as those which are carcinogenic, mutagenic, cause immunological and developmental impairments, and may lead to reproductive abnormalities."
Ed Cook, Research Fellow in the School of Civil Engineering and an expert in the management of waste materials, said: "There is an absolute need to move away from open burning, but we can't begin to work with communities to help them to do that without realising why they burn their waste in the first place.
"Many people don't have access to a waste collection service. Burning it stops the waste from smelling or attracting vermin. We can't just tell people to stop – we have to help communities implement alternative options."
The review makes recommendations for urgent action to mitigate harm, including reducing or replacing the use of some materials such as catalytic metals in products that are likely to be burned.
Research needed to understand the scale of open burning
Dr Costas Velis, Lecturer in Resource Efficiency Systems in the School of Civil Engineering, said: "Over the past 200 years or so, affluent countries have been able to develop sophisticated waste management systems.
"We need to remember that in parts of the world the disposal of man-made materials, products and structures once they become 'waste' at the end of their engineered life can still be a dangerous and harmful business for those involved in the process but much more research and robust data is needed to fully understand the scale of the problem.
"In particular, open burning is a huge public health challenge we cannot afford to keep ignoring."
Alongside the publication of the global review, the supporting research analysis is being made available in a pre-publication repository:
The research group led by Dr Velis published groundbreaking research last year which quantified the vast amount of plastic pollution due to flow into the oceans over the next two decades if the world did not act.
The top image is also courtesy of WasteAid.
For further details, please contact David Lewis in the press office at the University of Leeds: d.lewis@leeds.ac.uk