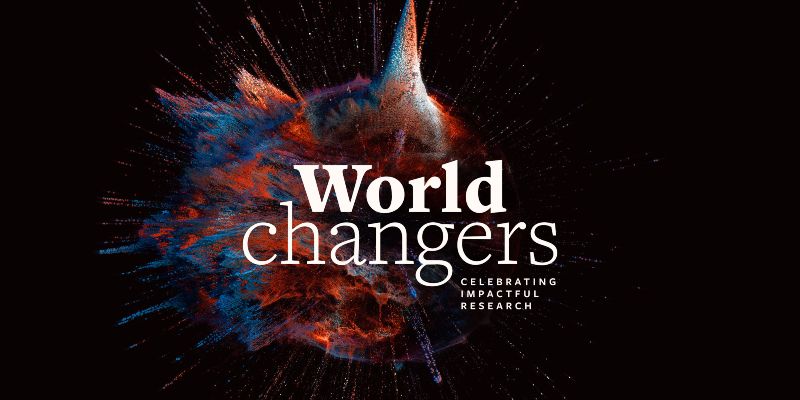 A collection of essays exploring how Leeds research is helping to change the world has been launched by the University's Vice-Chancellor. 
World Changers: Celebrating Impactful Research features writings by 13 early-career researchers working across an array of disciplines to make the world a fairer and more equitable place.
The collection has been curated by Vice-Chancellor Professor Simone Buitendijk.
Since joining the University, I have been constantly inspired by the passion and dedication shown by our research community, and I wanted to celebrate in particular the contribution of the next generation of research stars in addressing the pressing questions that face our society.
The authors' areas of expertise are wide-ranging and diverse: from the benefits of digital technology to working in partnership to transform end of life care; chemical pollution to inclusive arts education; the circular economy to how colour influences the way we live.
But the common thread tying this unique collection together is a vision of a better future for humanity, working together to tackle inequalities and create a fairer future for all, as set out in the University's 2020-2030 strategy: Universal Values, Global Change.
The essays
Dr Vien Cheung, an Associate Professor in Colour and Imaging Science, talks about the influence of colour and its impact on the way we live, from the rainbow as a symbol of hope, to the cultural significance of a white wedding dress; of purple royal regalia and of blue- and white-collar jobs in the United States.
Dr Bridgette Bewick, Associate Professor of Psychological Health, Wellbeing and Education, outlines her Compassionate Curriculum project, where her conversations with students and staff are helping Leeds become a compassionate campus with wellbeing embedded into University teaching.
Dr Jessica Mitchell, a Post-doctoral Research Fellow on the GCRF-funded project Community Engagement for Antimicrobial Resistance (CE4AMR), explores how we can change our behaviour to ensure we prevent catastrophic death tolls and economic shocks relating to antimicrobial resistance.
Dr Bronwen Swinnerton is a Senior Research Fellow in Digital Education and Deputy Director of Leeds' Centre for Research in Digital Education. She writes about how the 'digital divide' affects students in the UK and across the world, and what the University is doing to tackle these inequalities.
Since joining the University, I have been constantly inspired by the passion and dedication shown by our research community.
Dr Cristina Stefan is Associate Professor of International Relations and Founding Co-Director of the European Centre for the Responsibility to Protect (ECR2P). She asks why atrocities causing massive human suffering keep happening, and what it will take for the world to act together to prevent them.
Dr Elspeth Mitchell is a post-doctoral research fellow at the School of Performance and Cultural Industries, and Dr Gill Park is a lecturer in the School of Fine Art, History of Art and Cultural Studies. They present Art School for Rebel Girls, a space for girls to foster confidence, creativity and collaboration.
Dr Leah Henrickson is a Lecturer in Digital Media in the School of Media and Communication. She outlines the digital transformation at the heart of Leeds' vision of being a university that makes a difference.
Dr Anne Velenturf is a Senior Research Fellow in Circular Economy at the School of Civil Engineering, and Michael Howroyd is the deputy head of the Yorkshire Circular Lab. Their essay on the circular economy explains how making products for reuse, repair and recycle can address biodiversity loss, climate change and growing inequalities.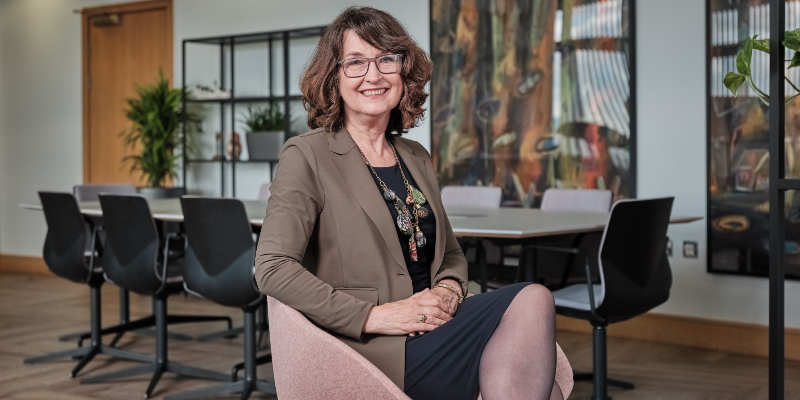 Dr Jade French is a Research Fellow based in the School of Fine Art, History of Art and Cultural Studies. She describes the ways her project with Leeds-based disability art studio Pyramid is investigating ways to better support the professional artistic development of people with learning disabilities.
Dr Lucy Ziegler, Associate Professor in Palliative Care, describes how the loss of her mum to breast cancer set her on a path to research ways of improving care for those nearing the end of their lives. Her work contributed to the designation of St Gemma's Hospice in Leeds as the world's first University Teaching Hospice.
Dr Laura Carter, a University Academic Fellow in the School of Geography, writes about the international network of academics, industry and regulators she is creating to share knowledge and design better ways to manage chemical pollution crises across the world.
Dr Jasjit Singh is Associate Professor in the School of Philosophy, Religion and the History of Science. He reflects on how universities can raise the profile of 'hardly reached' communities – and how they can make a difference to these communities beyond the university walls.
Dr Richard Tunstall, Associate Professor of Enterprise in Leeds University Business School, explains how connecting students to real-world experiences opens up their confidence as active problem solvers, and provides communities with a creative resource.
The essays are also available as an audiobook series via the University's SoundCloud page.
Further information
For media enquiries email University of Leeds Press Officer Lauren Ballinger at l.ballinger@leeds.ac.uk.