Named in the Forbes 30 under 30 Asia list, founder of LUÜNA Naturals Olivia Cotes-James (English Literature 2013) is improving lives across a continent.
When Olivia Cotes-James graduated from Leeds in 2013, she never imagined founding a female-led period care company in Asia.
Being named in the Forbes 30 under 30 list by April 2021 was an even more distant reality. But things look quite different today.
After realising how a lack of knowledge around menstruation was affecting lives, Olivia founded LUÜNA Naturals, specialising in sustainable period products. And access to a healthier, chemical-free brand wasn't enough.
"There was a need for education and transparency around a taboo subject, too," Olivia explains from her offices in Hong Kong. "And that's something we set out to address."
Asking the important questions
Olivia moved to Hong Kong after her graduation with a desire to connect with the place where her mother grew up. Following a trip back to the UK in 2015, Olivia arrived at the check-in desk with a suitcase over the weight limit.
"It's hard to access tampons in Hong Kong, so you stock up and bring a full suitcase back with you. I had to unpack that suitcase in front of a long queue of people, and it made me question two things. Firstly, why am I having to bring a basic menstrual health product back to a city like Hong Kong? And secondly, why am I so mortified that people have seen that I use tampons?"
It was puzzling to me how few seats at the table women have when it comes to products that are made for our own bodies.
In Hong Kong, Olivia searched for answers, running informal workshops with women from a range of communities and backgrounds. She discovered a universal apprehension, stigma and a lack of knowledge around menstrual health. In parts of Asia, the situation was further complicated by cultural barriers and misconceptions about tampons as a product.
Her research also led her to look at the products on the shelves. "The best-selling pads and tampons are made of conventional cotton, which is grown with carcinogenic pesticides and fertilizers and synthetics that not only are really harmful to our environment, but actually are increasingly linked to long-term hormonal health issues."
Olivia switched to using natural products, and discovered an immediate improvement in her own health. "The symptoms and health problems I'd blamed on my body for the last ten years were caused by the products I was using."
And that's when she decided something needed to change.
Enacting social change: rehearsals in Leeds
It wasn't the first time Olivia has tackled a taboo subject. Whilst studying at Leeds, Olivia saw her future in writing, and the University went on to fund the production of one of her plays.
"It was a satirical comedy called Dysfunktional about sexuality and class," Olivia says. "I enjoyed developing a platform to talk about taboo topics, and it's great that I can do that now in business."
But bringing a taboo topic to investors meant a tougher audience than those watching at Leeds. "I never shy away from an awkward pitch. Those challenges are what excites me more than anything. The real challenge was getting a meeting in the first place."
And after achieving that, Olivia launched LUÜNA Naturals in 2019. Two years down the line, it is the investors reaching out to them – some achievement for someone who describes themself as an "accidental entrepreneur".
More than a product
Founding a female-led organisation was important to Olivia, having entered an industry where so few female leaders play a part. "More women need to have a seat at the table, whatever the industry. But it was puzzling to me how few seats at the table women have when it comes to products that are made for our own bodies."
Olivia's first step was to create the product itself, using healthy materials that keep bodies safe without coming at the cost of the planet. A programme of workshops and education was designed in parallel, and Olivia collaborates with organizations, schools, and corporations to implement policies that support menstrual health and tackle stigma. The third step was a focus upon social impact: a portion of every sale funds the donation of products and education for vulnerable local communities.
As a result, LUÜNA contributes to four of the UN's Sustainable Development Goals: health and wellbeing, climate action, no poverty and conscious consumption.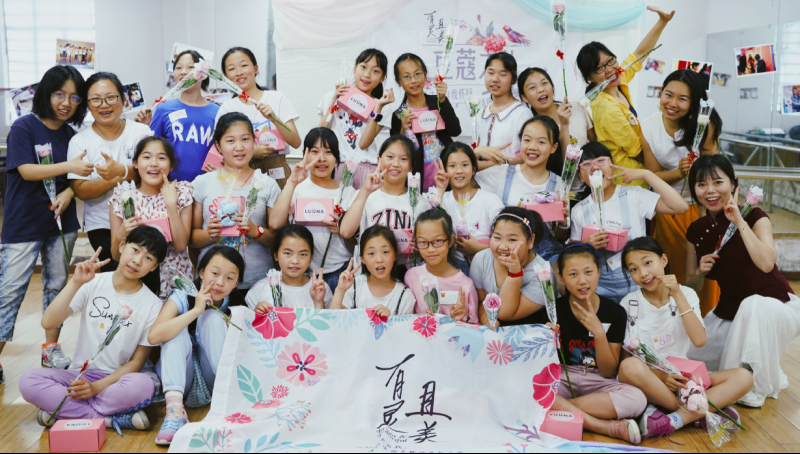 A world of difference
The ultimate question: are things changing?
"Attitudes have shifted dramatically since we started out, thanks to our work and global momentum, too. It definitely wasn't easy last year with COVID-19, but things are looking up again now."
Perhaps a signal of just how far things have come is Olivia's recent Forbes 30 under 30 accolade. Olivia said: "I think any accolade like that is exciting. It gives a platform to the brand, our team and the notion of talking about periods and healthy period products. I have to remind myself not to be awkward and British about it!"
Not that awkwardness has stopped Olivia's ambitions. She plans to expand LUÜNA's role to encompass hormonal health more broadly, which means further product development and online resources, both in English and Chinese.
"We want to roll out these impactful initiatives on a wider scale to alleviate period poverty, reduce plastic waste, and ensure better health and wellbeing for all."
Further information
For more information, contact Ed Newbould, Digital Communications Officer at the University of Leeds, by email on e.w.newbould@leeds.ac.uk.
Discover more about LUÜNA Naturals.
Olivia took the time to support budding entrepreneurs from Leeds at recent careers event in Shanghai. Find out more about volunteering to support Leeds students.