Cec Thompson's (Economics, 1968, Hon MA, 1994) remarkable rise on the rugby field is matched only by his achievements off it, as he pushed himself from illiteracy to graduation.
When Leeds alumnus Cec Thompson stepped onto a rugby field at the age of 22, he didn't know the rules of the game.
He had been asked to play in a workplace rugby tournament in Bramley, a break from the monotony of his role at the Yorkshire Copper Works.
Just three years later, he became just the second black rugby league player ever to be capped by Great Britain. This remarkable rise on the field is matched only by his achievements off it, as he pushed himself from illiteracy to graduation.
With an imposing height of over six foot and weighing 14 stone, Cec credited his early success in the sport to the fitness and strength he'd built while working as a labourer. Impressed by his power and energy, it took only two games before he was scouted by Hunslet to play professionally. He never saw himself as a natural talent, but he had the tools he needed to succeed.
Before that moment, Cec's life held no such advantages. Born in 1926, Cec's Trinidadian father died before his birth. His mother, a miner's daughter from County Durham, was unable to support her four children, and Cec spent an unhappy childhood moving from orphanage to orphanage. He was the victim of racist abuse and bullying, and left school at 14, shy, and unable to read or write. As Cec described in his autobiography, he was "desensitised and utterly unemployable".
Factory work in Leeds provided no respite, as Cec was targeted for the colour of his skin. He joined the navy for the last years of the war, but returning home afterwards, felt more alienated than ever. People wouldn't sit next to Cec in the cinema, or on the bus. As Cec wrote: "In those days there were very few black people away from the sea ports. Leeds is about as far from the sea as you can get and I felt as if I had walked out of a freak show."
Rugby proved his lifeline. On signing for Hunslet, he found companionship and purpose alongside his team-mates – his "siblings" – and he was called up for his first international against New Zealand in 1951. A breakthrough moment for representation in the sport, perhaps, but the newspaper headlines still remarked upon the colour of Cec's skin, a reminder of the challenges he faced each day.
His second test was the first televised international rugby league game, broadcasting his name further afield. Cec was signed by Workington, and he spent the next seven years at the Cumbrian club, playing in a Challenge Cup final at Wembley and a Championship final at Odsal.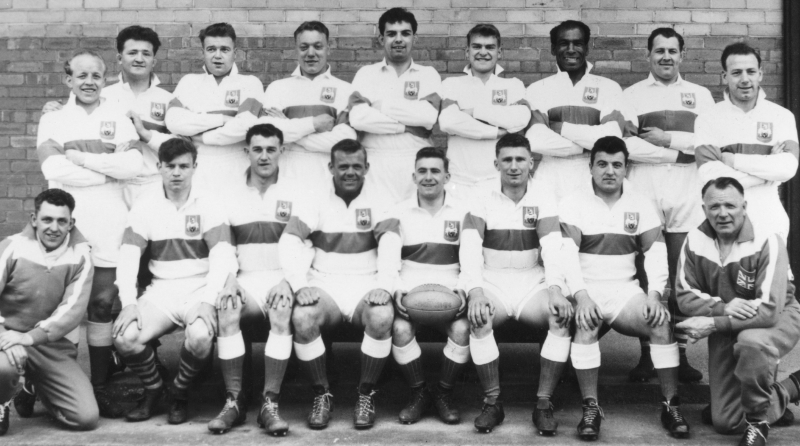 Even so, the strife of his childhood cast a shadow over Cec. He dreaded the moment autograph hunters stopped him and he struggled to sign his name. He sat on the bus to away games, learning as many new words as he could from Reader's Digest, knowing that his rugby career wouldn't last forever.
Cec ran a window cleaning business to supplement his salary, with the local school a regular client. He looked through the glass as he cleaned, a constant reminder of all he had missed, and he wondered what it would be like to work on the other side. When a recurring knee injury forced him to retire in 1961, with 294 games and 64 tries to his name, Cec decided to fill the gaps in his education.
Funded by his day job, he embarked upon the challenge with the same enthusiasm he took to the rugby field. He enrolled in night school to complete his O-Levels. He joined music and operatic societies, an art club, and once he was ready, advanced to Huddersfield Technical College. In 1965, aged 39, Cec returned to Leeds to study economics at the University.
His perspective of academia, and of Leeds itself, was far different to the vilified factory worker from all those years earlier. He worked hard on his studies, but didn't forget the sport that had helped to open the door. Whilst at Leeds, he formed the first student rugby league club, becoming the club coach and President, and co-founded the Student Rugby League.
Cec considered his academic success his finest accomplishment. On graduating from Leeds in 1968, he completed a diploma in education, and began teaching economics in South Yorkshire, progressing to become Head of Economics at Chesterfield Grammar School. He remained in the role for 17 years – and of course, took charge of rugby at the school. All the while, he developed the cleaning business that funded his path into education, and his successful enterprise grew to employ over 600 staff.
Cec passed away in 2011 at the age of 85, but not before his achievements were recognised. In 1994, Cec was awarded an honorary degree by the University. An annual rugby prize – the Cec Thompson University Player of the Year Award – is given in his honour.
On the tenth anniversary of his death, Cec's perseverance to overcome the formidable barriers placed before him will continue to inspire on the rugby field, in the classroom, and in society for years to come.
Further information
For more information, contact Ed Newbould, Digital Communications Officer at the University of Leeds, by email on at e.w.newbould@leeds.ac.uk.
Make sure to explore the full schedule of celebrations and acknowledgement taking place at the University this Black History Month.