Claire Cashmore MBE (Linguistics and Phonetics, 2011; Hon LLD, 2013) goes into her fifth Paralympic Games facing a whole new challenge.
Claire boasts a medal haul of four bronze, three silver and one gold from racing in the pool. But this will be her first Paralympics since making the switch to paratriathlon after Rio 2016.
"I'm excited, but I'm also trying to calm myself because you don't want to use up that energy too soon," Claire says. "Every Games is unique and really special because it's what we've been working towards, but this is an even more alien experience to what I've had before."
Add in the release of her first children's book, Splash, and this has been a year like no other for Claire.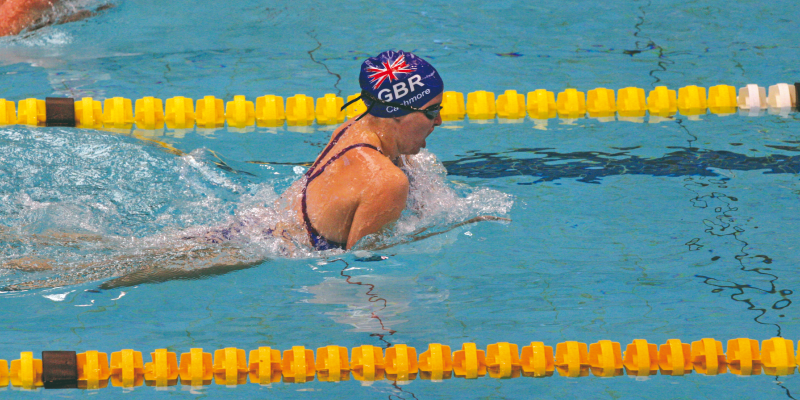 We speak during a gap between training sessions; Claire has already completed an hour and a half swim in a hot pool (a simulation for the Tokyo waters), an hour in the gym, and she will head for a long run in the heat chamber after our interview. It's clear the team is leaving no stone unturned in preparation for Tokyo.
"In the heat chamber, we cycle and run with our core temperature up to 38.4 degrees (your body generally starts around 37). It's a fine balance between getting hot enough to simulate Tokyo conditions and being safe. Team GB's performance at the Olympics showed that what we're doing is working and we're following the same guidelines."
That team included fellow Leeds alum, Jonny Brownlee (History, 2012), who took a gold medal in the team relay event. Claire and Jonny did cross paths during their time at Leeds, but only at the pool: "It's typical, I was in the home of triathlon, but didn't take up the sport until after I'd gone."
All you can control is your race and the process to get there. If you do that, the outcome takes care of itself.
When Claire arrived at Leeds in 2008, she had just won a bronze medal in the Beijing Paralympics. Fresher's Week was a blur of post-event emotions, jetlag, new faces, and – one might expect – requests to hold the medal? "I didn't really mention it!" Claire laughs. "It was great to take a bit of time off to meet people and immerse myself in the Leeds experience. I could separate the two lives, which gave me that really positive balance."
Claire recalls heading out the door at 4am for early morning swims, just as housemates arrived home from a night out. "They would ask me where I was going because the party had finished! That could be hard, at times, but the team within the sports department were absolutely brilliant at supporting me."
The hard work paid off, with further medals at London and Rio, before Claire decided it was time for a change. "I had quite a few tough years in swimming, and I just wasn't improving. I took a break.
"Sport can become your identity and sometimes you have to step away to figure out there's more to you than being an athlete. I decided it was time to make the switch."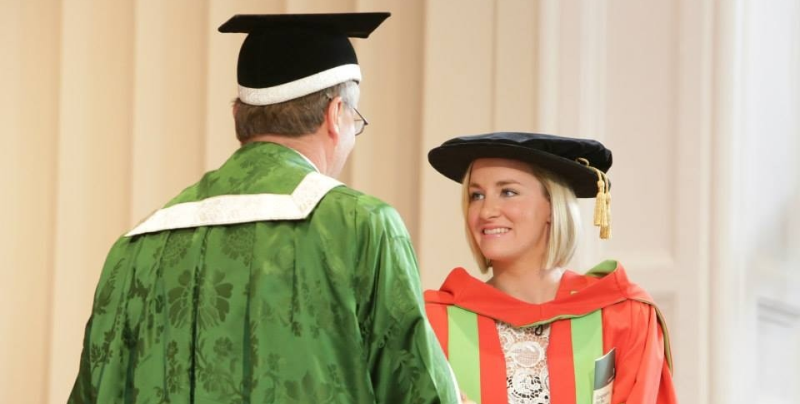 Claire soon established herself as one of the leading athletes in the paratriathlon PTS5 class (which includes athletes with mild impairment), and was the 2019 ITU World Champion in the event – a 750m swim, 20km bike ride and 5km run. "Triathlon is completely different. It's a longer race with more time to process everything, and that means there's a less intense pressure to it. I love the variety in the training, and the social aspect to the cycling. It was the best decision."
The delayed Paralympics gave Claire more time to adapt to her new sport. She also took the opportunity to reflect upon how she could use her position as a professional athlete to make a positive change beyond the sporting arena. "There's a lack of representation in the media of those with disabilities. I considered my nephew's book collection, and none of the children's books feature characters with disabilities. I wrote to a few publishers to see what might be done about it."
A children's book followed, and alumni have the chance to win a signed edition by completing the form below. Splash is based on Claire's real-life experience – the protagonist was also born without a left forearm, and overcomes a fear of water. "I wrote it to help normalize disability. The disability isn't mentioned in the book, it simply exists, and I think that's quite a powerful message to kids: it's there, and it's normal.
"So far it's been really well received."
Claire's ability to find a balance between sport and everyday life has come with experience, and it means she heads to Tokyo in a good frame of mind. "I spent a lot of my career focusing and fixating on that gold medal and the outcome – I'm very good at beating myself up. It's taken me quite a long time to realize that you can't control that outcome, all you can control is your race and the process to get there. If you do that, the outcome takes care of itself."
As one of the pre-race favourites, Claire will hope that outcome is gold in Tokyo. Things are far from certain however, as witnessed during the World Triathlon Para Series in Roundhay Park, Leeds, this June. Claire outsprinted US athlete Grace Norman to take silver behind fellow GB athlete Lauren Steadman. "It's always quite a battle between us girls which is exciting.
"We flew out on 13 August to allow us to train and acclimatise to the humidity in Tokyo. For me, it's the Paralympics, and you've just got to enjoy every second. What we've seen with the Olympics this year is that it's brought everybody together. It's been a pretty tough time, and we were able to witness the power of sports in lifting spirits.
"Let's hope for more of the same this month."
Further information
For further details, contact Ed Newbould, Communications Executive, University of Leeds at e.w.newbould@leeds.ac.uk.