A new University of Leeds building named in honour of an heroic graduate who helped countless refugee academics is to be officially opened on International Women's Day.
Esther Simpson graduated from the University of Leeds in 1924 with first class honours in French and German, going on to spend much of her life helping scholars flee totalitarian regimes.
She played a leading role in helping some 1,500 academics flee Nazi Germany and, among the refuge seekers she helped throughout her career, she could count 74 Fellows of The Royal Society, 34 fellows of the British Academy and 16 Nobel Prize winners.
Esther Simpson's achievements were truly incredible. We are so pleased to be able to honour her, an alumna of the University of Leeds, on International Women's Day.
Vice-Chancellor Professor Simone Buitendijk will unveil a Leeds Civic Trust blue plaque at a ceremony today [Tuesday 8 March].
She said: "Esther Simpson's achievements were truly incredible. We are so pleased to be able to honour her, an alumna of the University of Leeds, on International Women's Day.
"Her commitment to helping academics, wherever they were in the world, find refuge and keep sharing knowledge will continue to be a source of inspiration for future generations at the University of Leeds."
International Women's Day, held annually on 8 March, celebrates women's achievements and increases their visibility, while calling out inequality.
Colleagues from around the University will be involved in marking the day with a series of events. The Parkinson Building will also be lit up in the suffragette colours of green, white and purple to mark the occasion.
Marking the opening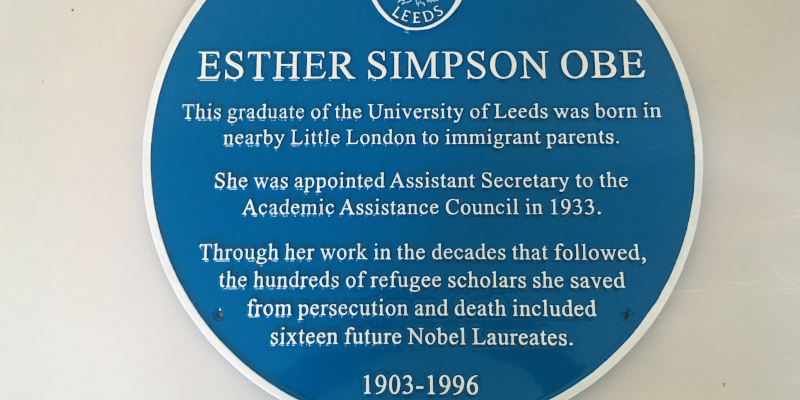 The blue plaque follows the unveiling of another last December – honouring Fanny Passavant, the University's first librarian – and marks Esther's achievements, as well as her lasting impact on UK academia.
The timing is fitting, given her efforts in helping refuge-seeking academics, and International Women's Day's mission to celebrate noteworthy achievements.
The plaque reads:
ESTHER SIMPSON OBE
This graduate of the University of Leeds was born in nearby Little London to immigrant parents.
She was appointed Assistant Secretary to the Academic Assistance Council in 1933.
Through her work in the decades that followed, the hundreds of refugee scholars she saved from persecution and death included sixteen future Nobel Laureates.
1903-1996
Martin Hamilton, Leeds Civic Trust Director, said: "It is no exaggeration to say that without Esther's work, human knowledge would not be where it is today.
"Scholars from Nazi occupied Europe were able to continue their work in safety in the UK and the US. After the war, many others from war torn locations across the world were able to escape persecution.
"The work she did to protect scholars from around the world is perhaps the academic equivalent of the 'kindertransport' programme. We are honoured to support this blue plaque unveiling."
Esther worked across a number of organisations over the years, including the Academic Assistance Council (AAC), the Society for the Protection of Science and Learning, and the Society for Visiting Scientists.
In 1966, she returned as a volunteer to the Council for At-Risk Academics – a direct descendent of the AAC. Over the years she brought academics out of Czechoslovakia, Greece, South Africa, Nigeria, Bangladesh and more.
The University of Leeds awarded her an honorary doctorate for her work in 1989. The legacy of her achievements continues with the naming of a major new building on campus in her name.
Supporting those seeking sanctuary
Since 2018, the University has run a successful Sanctuary Scholarships scheme, which offers undergraduate, postgraduate and research degree scholarships for forced migrants to the UK.
To mark the opening of the building, and to continue to celebrate Esther's achievements, an additional Sanctuary Scholarship will be awarded through donations from the University's alumni community.
The University will also look to build on the outstanding work happening around our community to support refugees – from the Lifelong Learning Centre's work with asylum seeker organisations, to networks such as Leeds University Union's student society, Student Action for Refugees – by becoming a supporting organisation of the City of Sanctuary vision.
This network provides support, dignity and welcome to refugees and people seeking sanctuary, and signing up to their pledge will reinforce the University's commitment to supporting both staff and student refugees and asylum seekers.
Building on the strategy
Construction of the Esther Simpson Building was completed for Leeds University Business School and the School of Law last September.
In line with both the University's determination to build a fairer future for all and to redefine the curriculum, it houses transformative and flexible teaching spaces that are designed help to better equip students for working collaboratively.
One of the latest additions to the collection of public artwork on campus – 'To Leaf is to Learn', created by Juanjo Novella in collaboration with Poet Laureate and Leeds' Professor of Poetry, Simon Armitage – can be found just outside the building.
Further information
Find out more about Esther Simpson on the University of Leeds' Alumni website and Medium blog.
For media enquiries, email the University of Leeds Press Office at pressoffice@leeds.ac.uk.