PR and Marketing Communications expert Annalise Coady has launched and transformed brands all around the world.
This means she understands the importance of diversity in the workplace.
"I remember early in my career one challenge was explaining the benefits of texting when people didn't know there was a need," Annalise (Materials Science and Engineering 1992) says. "It's a constantly changing world, and that means every day is a challenge in PR, but that's when you produce your best work."
For Annalise, that work has seen her support the launch of mobile phones, the internet, search engines, smart phones, and more recently, COVID-19 vaccines. As one of the most recognised faces in the industry – Annalise was named one of the world's most influential PR professionals in PRWeek's Global Power Book, and a "Champion of PR" in PRWeek's Hall of Femme – she has had a front row seat in a world of technological and healthcare change.
It has also seen her become a key figure in conversations around diversity. Annalise is now Group President, International, at Real Chemistry, a health innovation business providing marketing and communications for healthcare companies. Inclusivity is an area of focus with both her clients and her own staff.
"Equality and diversity can't be a tick box," says Annalise. "You have to have these challenging conversations, and you have to keep having them."
An engineer at heart
When she moved to Leeds to study engineering, Annalise was headed on a different trajectory. She followed her father into the career, only to find it wasn't for her. "I loved my time at Leeds. From the start I was attracted by the energy of the place, and that carried on during my time there. I remember socialising in the Bricklayers Arms and the union; I met some really great people who are still my friends today.
"But I knew by my final year that I needed a change. I enjoyed the group work, but didn't like being the sole contributor at a bench."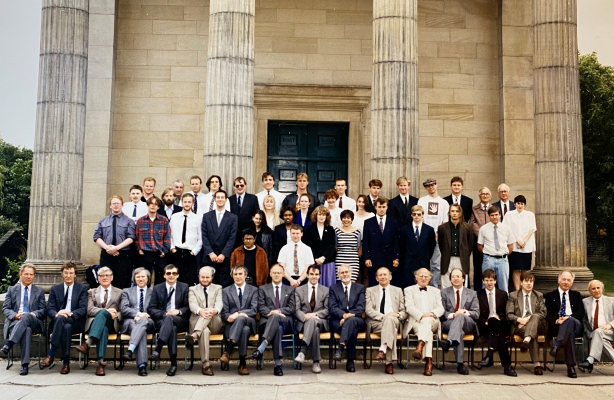 Moving into tech PR proved the perfect fit, allowing her to use her scientific knowledge in a different way. "My Leeds degree got me my first job for a magazine called Advanced Materials. That background really helped give me an edge, it gave me a huge amount of confidence to ask the right questions and break down complex ideas. From there I was able to move to agencies or in-house positions, initially in technology."
It also proved useful in a male-dominated tech industry. The demographic was nothing new, having graduated from a course with very few women on it.
"I remember at a university open day, one parent asked me 'what's nice girl like you wanting to do engineering for?'. Then in my career, there was a presumption that as I woman I didn't understand the technicalities. But I did. I have an engineering degree."
Creating a level playing field
Annalise uses her position to help level the playing field for women and minority groups. She has responsibility for business outside of the US, a key part of which is a focus on diversity, equity and inclusion. "One of the things that we've really been looking at is making sure people can see where they might go in the future. I want us to have a management team, whether it's male or female, that is reflective of the people that are in our company.
"We're in a position of power to do something, so we've got the opportunity to change the environment in which we work."
Annalise is also central to diversity, equity and inclusive initiatives for Real Chemistry employees in Europe such as Business Resource Groups and Lean in Circles, which provide support networks for those in similar situations – including circles for those caring for elderly relatives, menopausal women, and those who have actively chosen not to have a family.
As a professional, Annalise has transformed businesses all around the globe and helped bring in a new digital age. But it is this recent work, alongside launching healthcare campaigns, which she is most proud of. "We've grown drastically, and I'm proud of where we've come to.
"We were a key part of Pfizer's vaccine confidence project, and campaigns to address areas such as vaccine hesitancy and acceptance." Annalise chaired key panel discussions – such as one on Repairing the Damage Done by Fake News in Vaccine Confidence – and has supported the World Health Organisation in its vaccination rollout communications.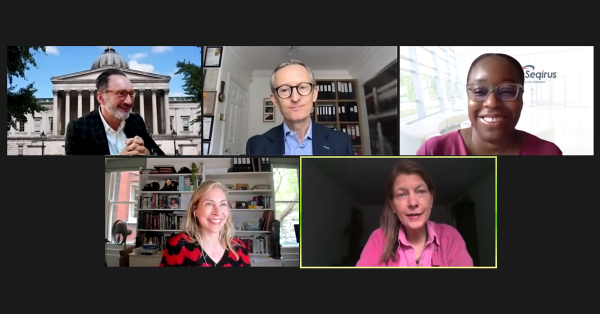 It is long way from where an 18-year-old Annalise might have imagined her career might end up when she arrived in Leeds. So if she had the chance to do it again, would she choose a more conventional route?
"I would tell myself that no mistake is a mistake as long as you learn from it. You don't have to take the straight path from A to B – be flexible, and take every opportunity."
For more information, contact Ed Newbould, Digital Communications Officer at the University of Leeds, by email on e.w.newbould@leeds.ac.uk.