Theo Youds has always dreamt of going to space. Since forming the first ever rocketry association at Leeds and leading two successful rocket flights, he's set his sights on the Spaceport America Cup.
"Ever since I was a child, I've been obsessed," says Theo, third year mechanical engineering student. "But space travel has always been one of those things you see in the movies. By building rockets, understanding how things work, I realised it's all possible and other Leeds students are seeing it too."
Leeds University Rocketry Association (LURA) is a student-led, multi-discipline engineering team capable of designing, building and flying sub-orbital rockets. Their mission is simple: "We want to prepare the Mars generation. In the next 10 years Mars will happen and we want to make sure Leeds is a part of it."
Theo's aspirations follow in the footsteps of Leeds alum and astronaut Matthias Maurer (Materials Science Erasmus Scheme 1993), who began a six-month mission aboard the International Space Station (ISS) in November 2021 – you can read all about the role Leeds played in his journey to space in our recent magazine feature.
Understanding rocket science
A first year disrupted by COVID-19 restrictions proved the catalyst Theo needed to pursue his passion. In the summer, he applied for the coveted European Space Agency programme and was one of 24 undergraduates selected from across Europe: "I met people doing amazing things. It changed my perspective and I decided to stop waiting for opportunities to come to me.
"The course demystified things for me. I learnt how rockets worked and brought it back to Leeds."
At the start of the new term, Theo got to work on his goal: to design and build a rocket to compete in the most prestigious student rocketry competition in the world, the Spaceport America Cup. "It was ambitious," Theo admits, "the equivalent of picking a new sport and heading straight to the Olympics."
He published a website, developed a social media platform and recruited like-minded students –there are now 30 people on board. "We ran interviews and hired the right people for each job, which ranged from roles in engineering to marketing.
"We've had great support from the Faculty. They've given us our own workshop so we can actually work on the rocket. In addition, the UK Rocketry Association have leant us support and advice, as have Space Hub Yorkshire.
"Mainly, though, we've taught ourselves, we use trial and error and we problem solve." Thanks to alumni donor support, Theo also undertook a summer internship within the School of Mechanical Engineering, which allowed him to focus on the development of fin designs for the rocket.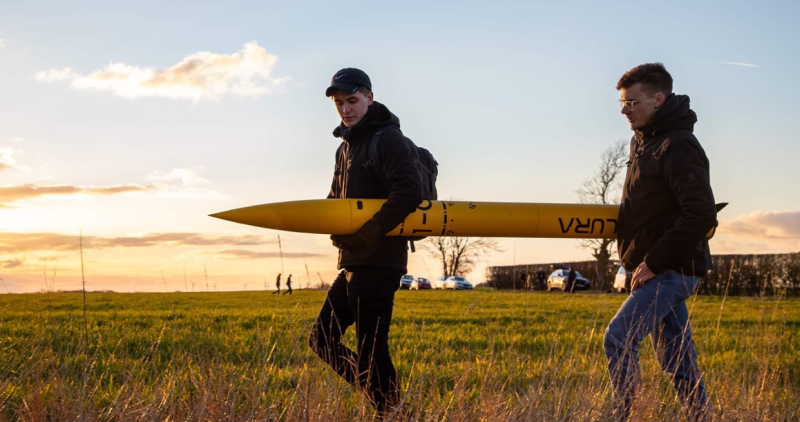 Lift off
The team raised finances through sponsorship, crowdfunding, faculty support and the University's business start-up service, Spark. Theo's Spark scholarship was funded by Leeds alum Professor Adam Beaumont and his company aql. At the beginning of March 2022, just 12 months after starting out, Theo watched the team's first test rocket (Gryphon I-C) fly to 2,500 feet.
"The launch is straightforward – relatively speaking. But the recovery system, which includes the parachute release, is complicated and it really needs to go smoothly. We watched videos of Jeff Bezos's rocket and decided to model our descent speed on that.
"It was a proud moment as it all came off and I just broke into a smile. There have been so many ups and downs, a lot of late nights, so many times we nearly quit."
The team then launched their full-scale Gryphon I rocket in Scotland to 8,000ft. That was the final flight before New Mexico and the Spaceport America Cup for a launch to 10,000 feet – providing they reach fundraising targets: "We aren't there yet. We're still searching for sponsors and support, but hopefully we'll get it across the line."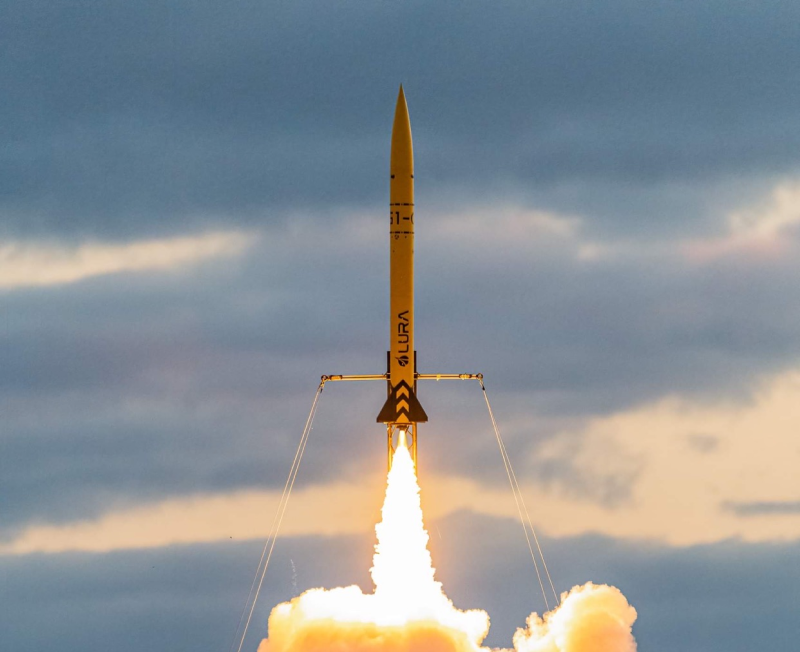 Theo's own role in the team has changed over time. Although he likes to keep his eye in on the engineering side, he can often be found within the operations division, pitching for and finding sponsorship. "I've learnt that the business and people side of things is something I love, and there are so many opportunities in the sector for that. It's not just engineers."
When he eventually leaves Leeds, Theo hopes to hand the reins to someone who shares his passion, who will keep inspiring students to pursue their dreams in the space sector. One of the key goals will be to develop the technology and infrastructure to regularly launch scientific experiments aboard student-built sounding rockets, making Leeds the only university in the UK to do this.
And for Theo, whether he makes it to space or not, he plans to continue pushing the frontiers. "There's just something awe-inspiring about taking people off earth," Theo says. "Whether I'm flying or working behind the scenes, I want to be part of it."
LURA are looking to connect with sponsors, research companies and alumni within the aerospace sector. Email launch@leedsrocketry.co.uk to speak to the team.
For more information, contact Ed Newbould, Digital Communications Officer at the University of Leeds, by email on e.w.newbould@leeds.ac.uk.