Former Leeds Gryphon Ice Hockey Club captain Nina Brown (Healthcare Science 2018) has led GB women's bandy team to a world championship silver medal, helping to resurrect a historic sport in the UK.
"Bandy is played on ice and is a cross between ice hockey, field hockey and football," says Nina. "It was our first tournament so just to make history by fielding the first GB women's bandy team was fantastic – coming home with a silver was something else."
The name is taken from the verb "to bandy", or strike back and forth. Not derived – as this naïve interviewer speculated – from the story of a certain deer who struggled to stand on the ice. Far from it, GB's bandy team were selected for their skating ability from top level ice hockey players.
Nina, for example, captained the Leeds Gryphons team and played in the GB University squad: "Ice hockey was such an integral part of my Leeds experience. I didn't expect it to lead me to bandy, but when I got the call I leapt at the opportunity!"
British origins and royal intervention
Bandy originated in the Cambridgeshire Fens in the 19th Century when football and hockey games were disrupted by frozen fields, so people pulled their ice skates on instead. "It's a bigger pitch than an ice hockey rink," says Nina. "There are 11 players and we use field hockey style sticks, a ball, and we adhere to football rules."
Bandy participation waned in the UK following an increased interest in ice hockey – although it remained popular in Scandinavia. Following a trip to Sweden in 2018, the Duke and Duchess of Cambridge tried their hands at the sport. When the Duchess expressed a desire to see a women's team founded back home, the wheels were put in motion.
A passion nurtured in Leeds
"Originally, I wasn't going to come to Leeds because it didn't have an ice hockey team, but I realised I couldn't base my decision on that alone." Perhaps it was meant to be; it just so happened that the University's first ice hockey team, Leeds Gryphons, formed in Nina's first year.
"I was part of the original team and able to watch it grow. We had a real range of abilities – from top Canadian players on a year abroad to complete beginners."
"It was a huge part of my Leeds experience. We trained at Bradford, carrying all our kit on the train, but now Leeds has a rink too. I loved that routine: Thursday night training, weekend matches and then socials."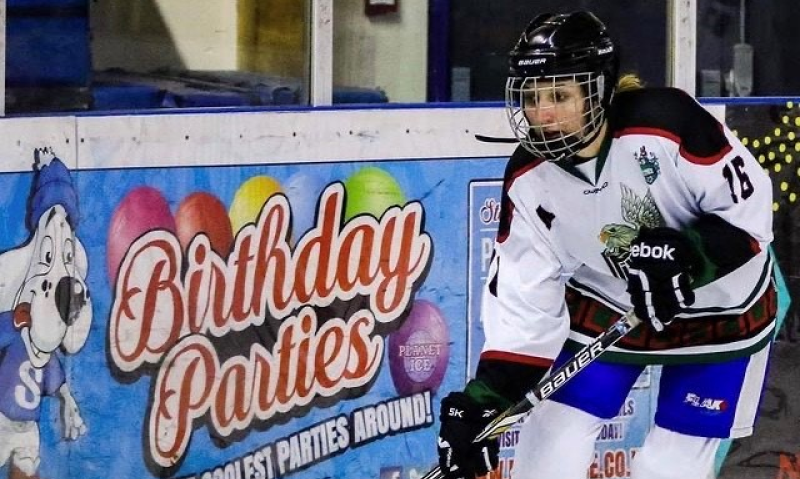 Nina was selected to play GB universities ice hockey in Finland in third year. She captained the Leeds team in her final year and represented Team GB in roller hockey in 2016. When the bandy association formed, she proved the perfect candidate: "They scouted players such as myself who had played at that higher level before. We had to commit 100 per cent, so they didn't just want GB ice hockey players who had other priorities. I was selected as captain, which was a real honour."
And as a full-time paediatric audiologist in the NHS, Nina must fit her training around a busy work life. "We trained together once a month up in Sheffield on the ice hockey rink, then every other week closer to the tournament. There are no big bandy rinks in the UK, which makes things more challenging. We went to Sweden for the World Championships with no expectations, because it was new to everyone involved."
The Bandy World Championships
Nina and the team surprised themselves – and their opponents – by winning all their group games and a semi-final to face the Netherlands for the gold medal. "It was 0-0 at full time in a really tense game, so we went to ten minutes of sudden death play," Nina says. "Unfortunately the Netherlands scored about five minutes into this which ended the game."
Although hard to take at the time, with some perspective Nina knows it was a job well done: "It was heart-breaking having got so close to the gold, but we're proud to come away with a silver medal. It's been a fantastic experience, it's such a fun sport."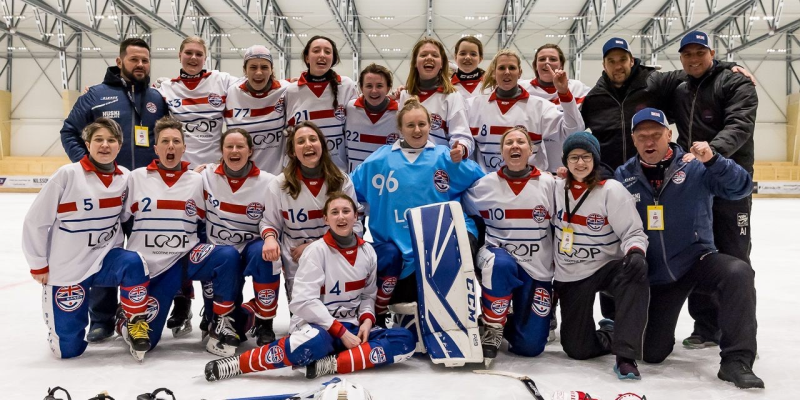 After such a grand finale, it may seem strange to consider this just the beginning for the sport in the UK – and for Nina. "There are plans for training camps and regional competitions going forward. Hopefully we can get some grass roots involvement in the near future and help the sport to grow here, where it all began.
"I love it, so I'll keep playing. I also still play a lot of roller hockey, so it'd be great to gain selection for Team GB again with that."
Even more so, perhaps, because roller hockey is being considered for selection in the 2028 Olympics? "Never say never," Nina laughs.
To follow the progress of the GB bandy team, follow the Great Britain Bandy Association on Facebook.
For more information, contact Ed Newbould, Digital Communications Officer at the University of Leeds, by email at e.w.newbould@leeds.ac.uk.