BAFTA award-winning producer Trevor Klein (Political Studies 2006) explains how his time in Leeds Student Television society changed his career, as he launches another hit TV show.
When Trevor Klein (Political Studies 2006) enrolled at Leeds, a career in television hadn't crossed his mind. But joining the Leeds Student Television (LSTV) society changed all that, and now the BAFTA award-winning and Emmy-nominated producer has launched another hit TV show.
Trevor is series producer on CBBC's Silverpoint, a new sci-fi drama series which follows four children whose lives spiral out of control following a strange discovery in the woods. "It's a little bit like Close Encounters meets Stranger Things," Trevor says. "I have special memories of those shows you can sit down and watch as a family. It's a privilege to create something that will help other people make those memories too."
Broadcasting from a broom cupboard
"When I was a teenager I made a 90-minute horror film," Trevor says. "But that was it, my school was very academically focussed. When I came to Leeds, I enjoyed my course, but my plan was convert to law after my degree.
"That's when I got chatting to a friend who encouraged me to come along to LSTV, and everything changed."
Once in the society, Trevor tried his hand at scripting, writing and directing. "We worked from what was pretty much a broom cupboard next to Old Bar," Trevor laughs. "Although I hear they have a really nice studio now." Meeting deadlines for a live weekly broadcast aired in the Leeds University Union taught valuable lessons – although he jokes that "nobody ever actually watched it" – and making lifelong friends with students who went on to work in television proved more important than Trevor could have known.
The most significant of these friendships was Sophie Klein (née Parker) (Social Policy 2008), who later become Trevor's wife. "We met in the Old Bar during a society social and bonded over this fantastic shared interest.
"You mucked in with everything which was the beauty of it. You really began to understand the fundamentals of how to make stuff. Instead of just spending money on nights out we'd be spending it on equipment and costumes and props. Crucially, it was before YouTube and nobody can look back on the quality of what we made!"
And even more importantly for Trevor, his experiences at LSTV helped him realise he could "do that kind of thing as a job".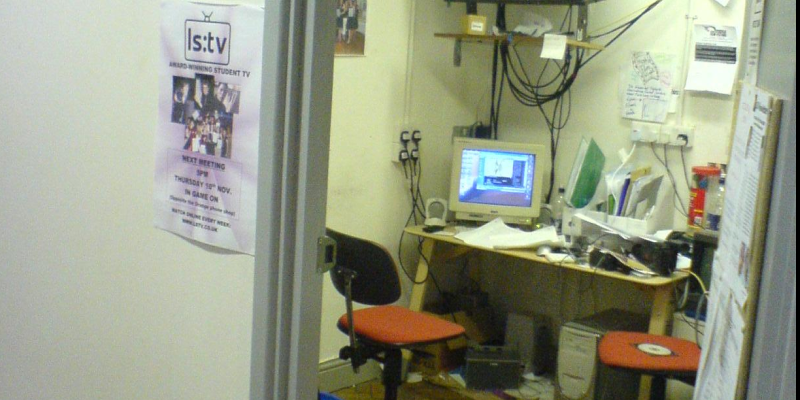 A foot in the door
On graduating, Trevor moved in with some LSTV friends in London to try and find opportunities. "A friend helped me to get a job as a logger, filtering through dashcam footage on Traffic Cops. Once you have your foot in the door, you can go from there."
Work followed at BBC Slink (soon absorbed into BBC Switch), an online magazine for teenage girls, and Somethin' Else, a content design and creation company, where Trevor worked on apps and video games as Head of Development – a change in direction, but one to which Trevor was suited: "I realised that at Leeds I was producing. I was bringing people together with a shared purpose and helping everyone to do their part. That was what I enjoyed, and it transferred very well to creating apps and games."
This versatility gave Trevor a niche and once he went freelance in 2014, it was this experience that landed him his biggest success to date: Secret Life of Boys.
"I was asked by production company Zodiak Kids to bring TV and interactivity together on the show, which was just my dream challenge. For the first series the budget was small and we filmed it all on location in a real house, so there wasn't a lot of room. I did a lot of my work on set at a desk in one of the character's bedrooms – it felt very student TV, actually!"
Secret Life of Boys ran for five series on CBBC, during which Trevor also worked as producer and executive producer, and in 2016 the show was named winner of BAFTA for Interactive: Original. "It was a brilliant show to work on: you would have all this fun making giant hamster wheels, catapults launching cuddly toys, using so much gunge, and yet we were also telling meaningful stories.
"The cast went from being young kids to adults and we worked with largely the same crew, so we forged strong bonds. It was very special.
"The fantastic thing about kids TV is that you can impact positively upon children growing up. We have all been shaped by the TV shows we watch, and now I'm able to be a part of that process."
A future in Yorkshire
Trevor has now worked as series producer on Silverpoint for two years, a time that has seen him and the industry adapt during Covid-19: "Zodiak Kids film the show in Northern Ireland and were just gearing up to start production, but of course work had to pause because of the pandemic.
"Thankfully, the nice thing about the creative industry is people are creative! We put together protocols on how we could film safely and although we had to delay the start of our shoot, we were able to get back up and running in 2021.
"It's such a brilliant show, we're really proud of it. I'd encourage adults and kids alike to watch it."
Trevor and Sophie recently made the move back to Yorkshire to build their own creative business, focussing on developing new TV and digital projects. They are excited about contributing to the thriving media community in the North: "The pandemic has normalised remote working and so with less of a pressure to be permanently in London, we decided it was a good time to move.
"Given it's where it all began, of course we chose to head back to Yorkshire."
Further information
To discuss creative project opportunities with Trevor and Sophie, visit the Fully Novel website.
Catch Silverpoint any time on BBC iPlayer, on Hulu (in the US) or watch live on CBBC at 5.05pm on Sundays.
For more information, contact Ed Newbould, Digital Communications Officer at the University of Leeds, by email on e.w.newbould@leeds.ac.uk.