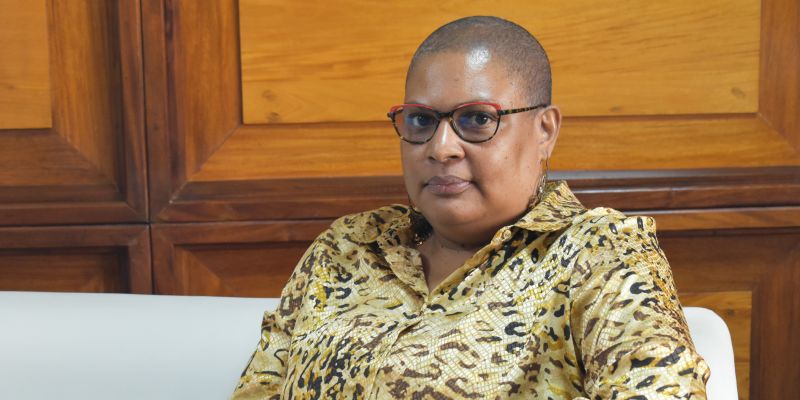 As Governor of the Central Bank of Seychelles (CBS), Caroline Abel (Economics Studies 1999) is one of the most influential figures in a country navigating extraordinary global events.
What began as a childhood love for mathematics has culminated in the Global Women Achievers Award at the 2022 World Women Leadership Congress Awards in Mumbai.
"Covid-19 has been our biggest challenge since the Bank was established four decades ago," Caroline says. "The shutdown of the tourism sector, which has a direct contribution of around 30% of our gross domestic product, caused the economy to come a standstill.
"I don't see challenges as negatives, though. I see them as opportunities to do new and different things each day."
This mind-set, adopted during Caroline's time at Leeds, has proven effective ever since – as well as the recent accolade, Caroline was presented with the Africa's Woman Leaders Award and named Central Bank Governor of the Year in 2020.
Most importantly for her, however, is that Seychelles has emerged from the pandemic in a healthier financial position than anticipated.
Learning from the Father of Seychelles Literature
Caroline traces her approach back to her upbringing and lessons taught by her father, Antoine Abel – a man described as the Father of Seychelles Literature for bringing his country's culture and language to the world stage. "Whenever I had a problem, he never gave me an answer, but he asked more questions. He wanted me to understand that you have to look at problems from different angles.
"This principle still helps me every day – I have to make a lot of decisions and I have to look at all the policy implications."
Where Antoine found his calling in words, Caroline was drawn to numbers: "I loved mathematics and my father thought I should become an accountant, but the career didn't appeal to me. I decided to go straight into work from school to gain experience, and that's where it all started for me to eventually become a central banker."
Caroline worked at the Social Security Fund for four months before joining CBS in 1994 – quickly realising she enjoyed the challenge and variety. "I spent two years working in various departments and was fortunate enough to gain a place at Leeds through our CBS scholarship programme.
"That was really critical for me. I wouldn't be where I am now without that time at Leeds."
A global lesson
"It was my first time outside of Seychelles, so of course I was a bit apprehensive, but when I got to Leeds I discovered a friendly community both at the University and in the city. Everywhere you went, people would welcome and help you. In fact, I even stayed in Leeds during the holidays to enjoy the countryside and other parts of the UK.
"The teaching was excellent. The University community was so diverse, a place where cultures converged and learned from one another, and that was very special."
Following in Caroline's footsteps, CBS continues to sponsor young professionals to study at Leeds University Business School. Education, for Caroline, is the key area that aspiring finance students cannot neglect: "Training is the most important thing. You need a good grounding, then you must continue to develop because the world of finance is very competitive and it's always changing.
"It's getting even more diverse and requires expertise beyond people with financial backgrounds to tackle emerging issues, such as climate change. We didn't speak about it in the world of finance when I started, but now environmentalists play a big role."
Her growing experience and expertise saw Caroline appointed Deputy Governor in 2010, and in 2012 she was called on by the President of Seychelles to become the first female Governor in the country's history. "It was a great honour," she says – although where others mentioned it, gender didn't really cross her mind. "I think CBS leads on that front. We don't look at gender, we look at ability and performance."
That doesn't mean there weren't challenges given the global nature of her work, where the gender gap was more notable. "In international meetings I was often the only woman in the room, and that's still the case. More can be done – at CBS, for example, we knew that family commitments were often compromising women's progression. We've provided more flexible working for employees, so we were home-working long before Covid-19. We help to ensure women can go as far as they want to go."
Caroline was re-appointed after her first six-year term and has worked under three presidents of Seychelles. Her responsibilities – keeping the cost of living stable, monitoring the financial system and ensuring banks are run well – became more challenging during Covid-19, but the recent awards acknowledge her success. In particular, she is credited with developing transparency, supporting digitisation and collaborating across ministries.
"We improved communication. We are talking more to the public and particularly during the pandemic, we helped the population understand what was going on and how they would be impacted. It's helped us to understand concerns much better, which helps us to improve. We designed new policies to support the private sector, and thankfully now tourism has quickly recovered.
"Now we move onto the next challenge: the increase in the cost of living."
Caroline acknowledges the "hard work" and "long hours" involved in the job, but it is a role she relishes – and for which she has been duly recognised. "Every day there is something new to get to grips with.
"I walk around the building once a week and talk to staff to understand issues, then we make decisions. The awards are for their work and the work of CBS. This is a team effort."
Further information
For more information, contact Ed Newbould, Digital Communications Officer at the University of Leeds, by email on e.w.newbould@leeds.ac.uk.