From the Leeds marathon to 24 hour ultra racing, ahead of Birmingham 2022, John Pares (Chemical Engineering 1987) describes his journey to claim a Commonwealth Championship gold.
"You're in the best shape of your life on the start line, and the worst shape of your life at the finish," says John Pares (Chemical Engineering 1987). "That's ultra running."
And John would know. When he took gold for Wales in the 2011 Commonwealth Mountain and Ultra Distance Championships 24 hour race, he had to be carried onto the podium. He'd covered a staggering 244.335km, and his legs had nothing left to give. "But I think all ultra-marathon runners enjoy the suffering in a way. It's what defines us."
The premise is simple. A short lap of just over a kilometre. You have 24 hours to cover more laps than your competitors. "I managed 237 laps on the day," John recalls. "The mental challenge is as big as the physical when you're running round and round a circuit like that."
But pushing himself beyond his limit is somewhat a trademark of John's running career. When studying at Leeds, he ventured onto the running scene by completing the Leeds marathon. He "enjoyed it" and entered the Bradford marathon a year after. Years on the rugby field put paid to racing for a while, but on his return, John knew he could go further. One weekend, he decided to try three consecutive marathons in a row. "It was Eastbourne Marathon on the Saturday, Snowdonia Marathon on the Sunday, and Dublin Marathon on the Monday. The thing was, I found it surprisingly easy to do them all. I started to think, 'what's next?'.
"I enjoy the mental and physical discipline. At its best, you can get into an effortless rhythm and everything seems to flow. At its worst, there's a voice in your head begging you to stop, and you hit that wall over and over. It becomes a problem solving exercise in your head – what do I need to eat? What do I need to drink? How can I keep going?
"And the thing is, ultra races never go to plan. Never ever. You need to deal with that."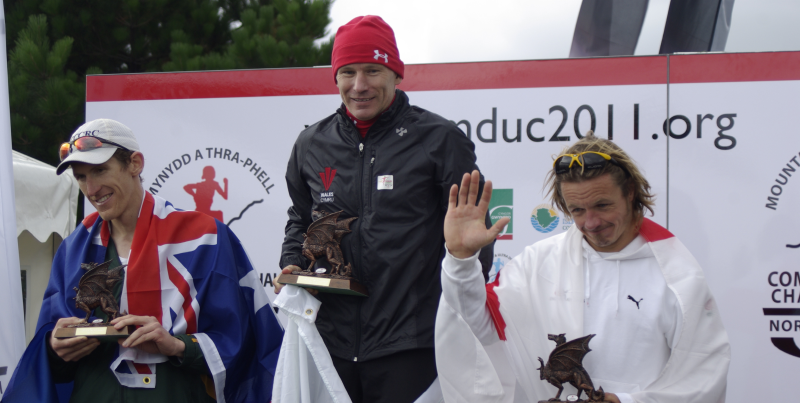 After completing the 54 mile London to Brighton race, John entered his first ever 24 hour challenge around Tooting Bec, London. "I did it for charity. I won the race, and at the end someone came over and said, 'do you know you've hit the qualifying distance for Team GB?'." John smiles: "I didn't even know there was a Team GB doing 24 hour ultras!"
Training began in earnest, and for John it was something he was able to fit into his life without trouble – as someone who "never needed much sleep", John could be out the door and back home from a run before his family woke up. "I'd run six days a week, and three of those days I'd do two runs a day."
John represented Team GB for the first time at the World Championships in Canada in 2007. He raced the Commonwealth Championship in 2009, collecting a bronze. Then, returning to the Worlds in 2010, he placed 8th. When the Commonwealth Championship came around again, hosted in Llandudno, north Wales, Welshman and home favourite John had one thing on his mind. "It was a little bold, but I said at the press conference before that I was going to win. I put everything into that race."
Fuelled by homemade rice balls (a mixture of pudding rice, coconut milk, sugar and fruit to "make it bearable") and flat coke, John pulled away from and beat his nearest rival, Australian David Kennedy, by seven laps. Pausing only for food and physio treatment, he ran smoothly all the way to the finish. "But when I stopped, my mental barriers came down, and suddenly I couldn't walk. I knew I'd given it everything."
What he didn't know, however, was that it would prove the final time the Commonwealth Mountain and Ultra Distance Championships were held. John laughs: "It means I'm reigning champion, so perhaps it was worth it."
Further information
For further details, contact Ed Newbould, Digital Communications Officer at the University of Leeds, by email on e.w.newbould@leeds.ac.uk.