Kathy Fairclough, Donor Relations Officer in the University Advancement Team, explains what it takes to officiate at the Commonwealth Games.
Having played and officiated netball for most of her life, Kathy dedicates her time to the sport she loves.
Following years of work at the highest level of the sport, Kathy has been selected as part of the team of officials who'll be making the important calls at Birmingham 2022. We asked her more about the part she'll play in the upcoming tournament.
What will you be doing at the Games?
I'm going to be a Netball Technical Official.
What does that involve?
I work alongside the on-court umpires to ensure the score is correctly recorded, the match time is accurate (seconds matter in netball as we saw in the 2018 gold medal match between England versus Australia) and the statistics for the game are recorded and shared with the media broadcasters and team managers.
Wait, what happened in the 2018 gold medal match?
With just two seconds to go the score was tied at 51 all. As the clock ticked down to zero, the Australia goal keeper gave away a penalty. England goal shooter, Helen Housby, stepped up and scored! England won 52-51. It was a historic win – the first time ever that England had won the Commonwealth gold medal and they did it by beating Australia on Australian soil.
That win had a tremendous impact on netball in England. In fact, England Netball recorded that it inspired 130,700 people to start playing or get involved in netball.
Here's to hoping for more of the same at the Games. Tell us about how you got involved in officiating.
I was already playing and umpiring netball in my local league in York when I saw a course advertised. I went on the course in 2011 and then spent the next 18 months travelling all over Yorkshire getting enough experience to be awarded my Technical Official qualification by England Netball in March 2013.
Since then I've progressed to become an internationally qualified Technical Official and that's led to some brilliant opportunities – including officiating the Netball World Cup in Liverpool in 2019.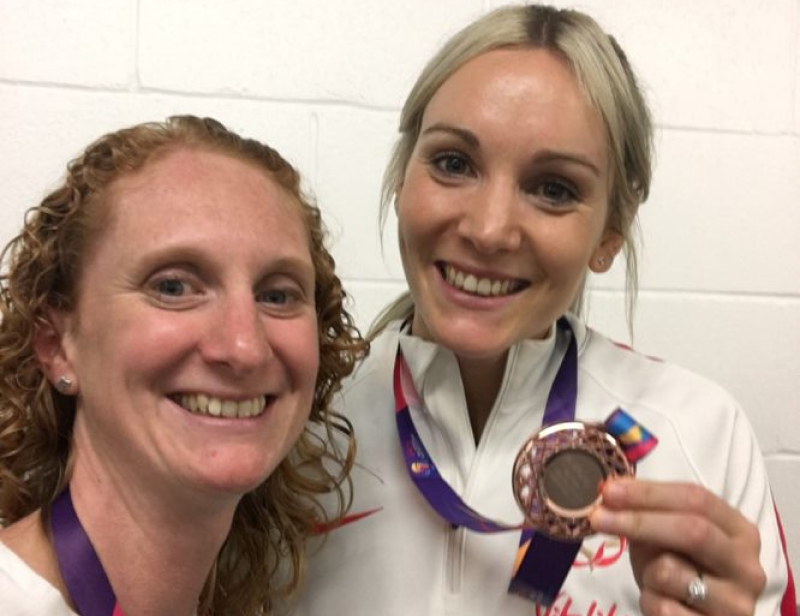 How did you gain a place at the Commonwealth Games?
I completed an application form listing my experience over the past three years. I also provided a personal statement showing that I had the skills and expertise needed to be a Technical Official at the Commonwealth Games. I wrote and rewrote that personal statement so many times trying to get across just how passionate I am about netball. I guess what I wrote must have been ok!
What do you love most about the role?
It's an incredible team to be a part of. I also get a buzz from the atmosphere and a real adrenaline rush, which also keeps you sharp and your mind focussed on the role in hand.
What would you say is the most important skill for an official?
Concentration – you have to be focussed the entire time.
In the 2019 Netball World Cup I was a Technical Official for the semi-final between England and New Zealand, and I was so focussed on calling the game and all the action that it wasn't until the end of the game I realised that England had lost. I saw the England players, heads dropped, consoling each other and I realised that their campaign to win the Word Cup has just ended in bitter defeat. But that's the level of focus that's needed.
How are you preparing for the tournament?
The Vitality Netball Superleague 2022 season has been used to ensure that all Technical Officials had the opportunity to officiate and fine tune our skills.
In addition, we've been training at home using match recordings. That means online calls and chatting across a WhatsApp group, calling everything that happens.
We're also working hard to make sure we're familiar with the teams and the players. We need to know them by sight so substitutions and team changes are logged and the correct statistics are recorded against the correct players. You never want a scenario where goals are recorded against a shooter who has been subbed off and is now sitting on the team bench!
And finally, the big question: Who do you think will win netball gold?
Whilst I'd love to think that England could retain their gold medal and win it in front of their own home fans, the Australians have won the Commonwealth gold more than any other team and are such a strong and determined side. They'll want to avenge their 2018 defeat so I think perhaps Australia might take gold this year.
Further information
For more information, contact Ed Newbould, Digital Communications Officer at the University of Leeds, by email on e.w.newbould@leeds.ac.uk.