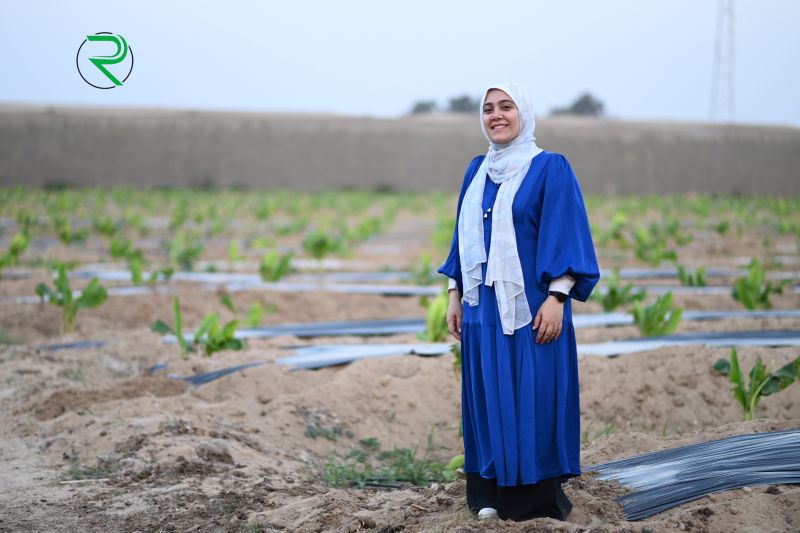 When growing up in Cairo, plastic pollutants had a devastating impact upon Aya Al-Sharqawy and her family. It was the motivation she needed to tackle the crisis head on after Leeds.
"As a child growing up in a slum area of Cairo, I remember piles of waste in the street," says Aya Al-Sharqawy (MSc Environment and Development 2020). "The air, the water, the ground; everything was polluted."
The recent death of Aya's father made those impacts even more stark: "The doctor told us the likely cause of his tumour was the microplastic and pollutants in his lungs.
"It motivated me to do more."
So much so that Aya has overcome countless challenges – from fighting gender discrimination to battling each day with serious illness – to make a difference with her start-up business Recyclizer.
She travelled to the COP27 conference in her home nation of Egypt with responsibility for the Youth and Future Generations Day.
You can hear Aya's journey in our special episode of My Climate Story.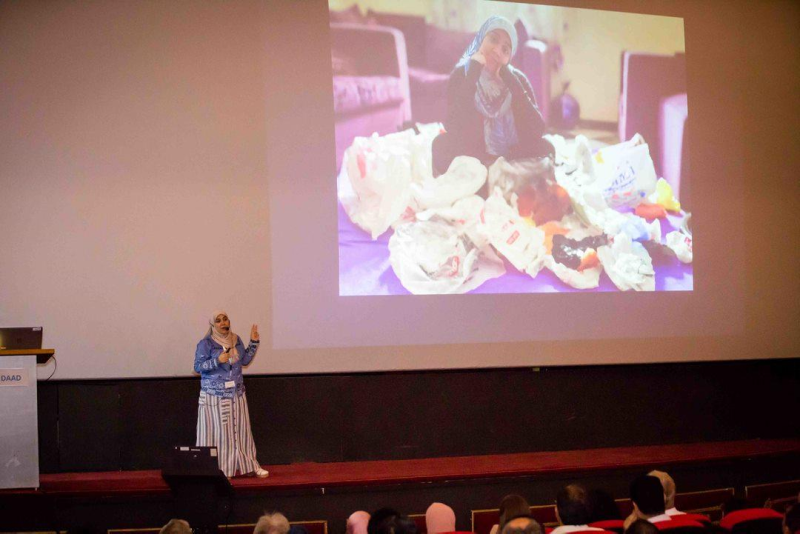 In order to help her community, Aya set her sights on Leeds. "I studied environmental science in Egypt, then worked as an environmental researcher and a translator in a number of national and international organisations. But I needed to delve back into academia to learn more.
"Leeds was recognised in the field of environment and climate change, so I applied for a Chevening Scholarship to study there."
Of 14,000 applicants to the fully funded master's scholarship, Aya was successful. "It was the second time I'd ever travelled outside of Egypt," Aya says. "It was a childhood dream to move to the UK. I visited museums and castles and I took a lot of photos, which my social media followers enjoyed." And there are plenty of those; Aya's account, from which she shares posts about her journey to the UK and her work, inspires many people around the world.
That is partly due to an additional challenge she faces each day. Aya has suffered from rheumatic fever, an autoimmune disease that targets the immune system and the heart, since childhood. She uses her platform to raise awareness. "It is not easy to study, to travel, to do anything in everyday life with this illness. I look like a normal person, but internally, I'm suffering.
"I want to show people that you can overcome the challenges of this ilness and live a normal life. I want to inspire my child, who can see me overcoming difficulties and becoming a leader of my own company."
An entrepreneurial solution
With seed funding from the British Embassy in Cairo, Aya founded Recyclizer in 2018. She set out to address the mismanagement of solid waste in her neighbourhood, where there was no home collection system for domestic rubbish. By taking plastic waste from the streets and recycling it into mulch film, farmers use the product to protect agricultural crops.
"First, the film keeps humidity around the plant by reducing evaporation and therefore water loss. Second, it helps eliminate food insecurity by reducing crop losses. And finally, the manufacturing process is 88% lower in energy use than conventional methods, reducing emissions in manufacturing."
Aya now has plans to start a regular collection system for plastic waste, but progress is not without its challenges. "There is a lack of awareness around the environment and recycling. As a female leader in the field, I am in a minority, and it was a huge challenge to change mindsets and start conversations.
"When we were trying to collect people's waste, they would ask how they were going to benefit – some even asked if we were going to pay them for the waste."
Regardless, Aya has overseen steady growth and expansion of business. "I enhanced my network by taking a year out to study at Leeds. I also added to my skills and knowledge, which really helped with developing the company.
"In particular, I learnt how international relations could be effective in environmental governance and decision making. My knowledge was a key factor in the decision to give me responsibility for Youth and Future Generations Day at COP27."
Aya travelled to the conference to represent both Recyclizer and the University. "I'm a very proud Egyptian. We gave Africa a voice by hosting the conference. For me, COP27 was about the impact of Egyptian and African youth, showcasing their work, and making sure their voices were heard during and after the conference.
"The most vulnerable communities, like my own, need help. We have low emissions at the international level, yet we're the most vulnerable continent. We need to have our say, and we need effective action."
Further information
Discover more about the University's role at COP27 and read all about Aya's work at the conference.
For further details, email University of Leeds Digital Communications Officer Ed Newbould at e.w.newbould@leeds.ac.uk.