The 2020s have been described as the critical decade for climate change.
The COP27 climate talks in Sharm El Sheikh in Egypt will help determine whether global warming can be kept within the critical 1.5 degree centigrade target set in Paris in 2015.
Even keeping within an average of 1.5 degrees centigrade rise in warming will have an impact on people and on biodiversity, already evident with an increase in extreme weather events such as heatwaves, storms, flooding and drought.
But scientists warn that even a small increase in warming above that target will result in more devastating and extreme weather events.
For the next nine days, an eight-strong delegation of researchers from Leeds will be at COP27 to raise awareness of the work they are doing to reduce the impact of climate change.
Professor Richard Beardsworth, an expert in the politics of climate change and Head of the School of Politics and International Studies, said: "The delegates will play a role as key ambassadors for the University on an issue that affects everyone on the planet.
"They are at COP27 to share the findings of their research and where they can, to help shape policy that will reduce the impact of climate change and the global injustice it causes. But I am hoping they will also have opportunities to meet other researchers and activists from around the world with whom they can collaborate on future research into climate change and its ever-increasing impacts."
Leeds at COP27
These are some of the activities that the delegates at COP27 will be involved with:
Congo peatlands: Professor Simon Lewis, from the School of Geography, has published research in Nature which reveals how vulnerable the peatlands of the Congo Basin are to drought. During drying conditions 5,000 years ago, the peatlands switched from being a carbon store to emitting carbon dioxide before eventually switching back to storing carbon about 2,000 years ago.
If modern-day climate change causes the Congo Basin to become dryer, then the peatlands could once again emit carbon dioxide, a potent greenhouse gas. That could have a devastating impact on climate change.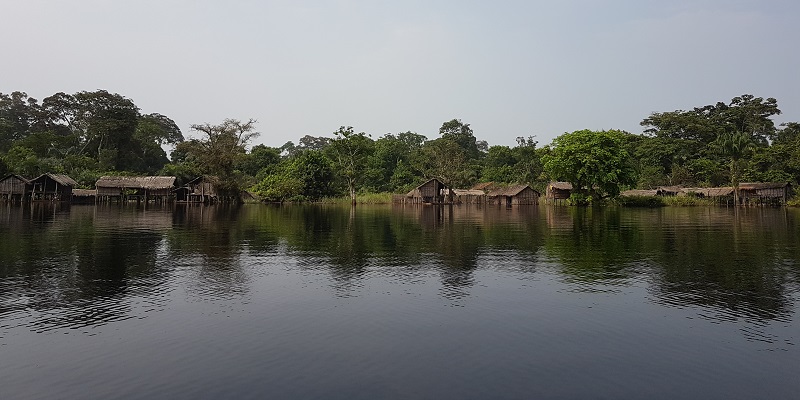 Image: the Congo peatlands. Credit: Bart Crezee, University of Leeds
The peatlands hold around 30 billion tonnes of carbon dioxide: that is equivalent to the global emissions from burning fossil fuels for three years.
At COP27, Professor Lewis is involved in talks and discussions to raise awarness about the vulnerability of the Congo Peatlands and how they can be protected.
Climate co-benefits tool: climate action can often have benefits that go beyond reducing the risks of climate change. For example, climate policies may have wider benefits in terms of promoting better health, reducing pollution, or creating jobs. And of course, there are climate policies that require a trade-off.
An online portal has been developed by the University and the UK's Met Office that will enable policymakers to identify the wider benefits and trade-offs of different climate policies. Dr Bianca van Bavel, Postdoctoral Research Fellow in Climate Change and Health, showcased the online portal at COP27. The launch of the online tool was streamed on the UK Government YouTube channel.

Just transformation: Rebecca Sarku, Research Fellow in Climate Change and Food Systems, has been involved in research analysing ways to ensure that policies adopted under the Paris Agreement at COP21 in 2015 can be applied to the agricultural sector in such a way so as not to see a repeat of historical injustices where people were the victims of land grabs or were denied workers' rights. Rebecca was presenting her research in the Food System Pavilion at COP27.
COP27 at Leeds
Artist and University manager James Mckay has painted a large mural on campus with his vision of what a greener and cleaner Leeds - a zero carbon city - would look like.
His mural can be found near the benches on the path linking the social sciences building with side entrance to the students' union building. Simon Jenkins, from the University's engagement team, used a time-lapse camera to capture the artwork being created.

At Leeds, researchers and academics are providing expert insight and commentary on the progress of COP27 through media interviews and blogs. Professor Beardsworth set the scene for COP27 with an analysis of how political leaders need to square the circle of the transition to a net-zero carbon economy while ensuring short-term energy security.
Ask a researcher: the Priestley International Centre for Climate has also produced a series of videos addressing some of the key issues surrounding COP27. In each short video, an experts answers questions including 'What is COP?' and 'What are the links between climate change and gender?'
'Who Ya Gonna Call?' On Wednesday, a one-man show called "Who ya gonna call?" by Steve Scott-Bottoms asked why more has not already been done given the scale of the climate challenge facing the world. Hosted by Stage@Leeds, the show drew on research with sustainability officers, flood risk managers and others. The performance was one of the outcomes from Steve's research project which saw him embedded with the flood risk management team at Leeds City Council and Yorkshire and Humber Climate Commission's adaptation and resilience panel.
Water security: On Monday (Nov14) Water@Leeds is hosting an online seminar to discuss the six important themes that should help guide research into water and sanitation and water security. The online seminar takes place between 13.00 and 15.00 and tickets are available from Eventbrite.
Full details about events being held at Leeds around COP27 are available on the Priestley International Centre for Climate website.
Further information
For more details, contact David Lewis in the Press Office at the University of Leeds by email on d.lewis@leeds.ac.uk.