Two Leeds alumni have been recognised in India's 75 years of independence celebrations.
Serial entrepreneur Anu Shah (MBA 2012) and professional squash player Saurav Ghosal (Economics and Management 2008) were given awards for excellence in their fields, and for inspiring and encouraging others to dream and achieve.
They are two of the 75 Indian students and alumni who studied in the UK to be honoured.
Saurav received his award in the Arts, Culture, Entertainment and Sports category. He was the first Indian squash player to break into the top 10 in the world, and counts a record 13 Indian national titles, 10 Professional Squash Association tour titles, Commonwealth Games silver and bronze, Asian Games gold and a World Championship title to his name.
Anu was successful in the Business and Entrepreneurship category. Since leaving Leeds, Anu has sold businesses for millions of dollars, but she has bucked the trend and donated her fortune – and skillset – to those in need.
Selected by a panel of judges – including Vivienne Stern MBE, chief executive of Universities UK, and iconic Indian singer Sonu Nigam – the 75 at 75 honours were formally bestowed at the India UK Achievers Honours Ceremony on 25 January 2023, the eve of India's seventy-fourth Republic Day.
Going for gold
Saurav Ghosal honed his skills whilst studying at Leeds, leading to a professional career spanning 17 years.
Last year proved one of his most successful to date, as Saurav added Commonwealth Games bronze to his trophy cabinet. He was also named Sportsperson of the Year by the Calcutta Sports Journalists Club.
Saurav grew up in Kolkata, India, taking up squash at the age of 13 and thriving on the national scene, before making the decision to move to Leeds.
"I was 16 at my first World Junior competition in Chennai in 2002," Saurav explained. "I watched an English player named James Willstrop play. His father Malcolm was his coach. I decided I wanted to play like James and train under Malcolm. I found out they were based at Pontefract Squash and Leisure Club near Leeds."
Saurav enrolled to study at Leeds at the same time because of its "excellent economics course". Whilst studying at the University, he trained with Malcolm at Pontefract and remained within the setup for more than seven years.
"Those were great days, and every time I pass the Parkinson steps it brings back a lot of memories. I loved the chaos of it all – catching the bus from Oxley Residence, the lectures, eating in the refectory, straight to training, trips abroad for tournaments. I fell in love with the city of Leeds, and I stayed there for some time after graduating.
"Those years made me the player I am today."
And even after such an extensive career, Saurav has no plans to hang his racket up any time soon. "It's a question of whether I'm physically and mentally willing to keep pushing. Right now, I certainly am."
Read more about Saurav's sporting journey.
Giving back to others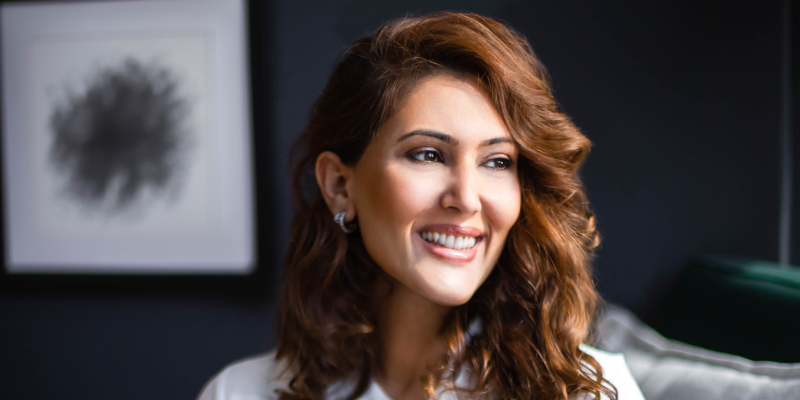 Anu Shah sold her first tech startup – EFI Hub, a virtual accelerator which supports fledgling businesses in Asia and Africa – for $10 million. She went on to donate the proceeds to the United Nations High Commissioner for Refugees.
Her business success, combined with her philanthropic generosity, has gained recognition across the globe. As well as her most recent award, in 2021 Anu became the first Leeds winner of the British Council Global Entrepreneur Award.
Anu traces her accomplishments back to her time at Leeds, where she entered business competitions, joined societies, and learned Spanish "in case the opportunity came along to work in Europe".
"I made the most of my time at Leeds," Anu said. "Succeeding as an immigrant there gave me so much confidence." It set the foundation for roles at Ernst & Young, AT Kearney and Acorn Capital in Singapore, Dubai, and London. Anu went on to study at Harvard, where her business ideas took shape.
After selling her first business, she replicated her entrepreneurial success with two further start-ups, alongside volunteer roles at the UN supporting youth gender equality and women in developing countries.
Now a product manager at Facebook, Anu continues to give time to support fellow female entrepreneurs on various programmes by mentoring, delivering seminars and consulting.
Read more about Anu's journey.
Further information
Read more about the India UK Achievers Honours.
For further details, email University of Leeds Digital Communications Officer Ed Newbould at e.w.newbould@leeds.ac.uk.