Charlie Jardine (Design 2013) started his first company when studying at Leeds. Ten years on, the CEO and Founder of EO Charging is creating the infrastructure for a transport revolution.
For Charlie, it was all a matter of timing – arriving at Leeds as the University developed its award-winning programme to nurture entrepreneurial talent; entering the electric vehicle industry during a global transformation in the way we travel; and starting a business when space became available in his grandfather's pig shed.
EO Charging manufactures and provides charging solutions for electric vehicles, with a particular focus on the commercial fleet market. Since Charlie founded the company in a barn in Suffolk in 2014, the electric vehicle market has grown at 300 per cent each year. "The industry changed before my eyes," Charlie said. "And there aren't many times in your life that is going to happen."
With clients now including Amazon, Sainsbury's, Tesco, GoAhead London and Uber, Charlie was named in Forbes 30-under-30 list in 2019 and won the Rising Sustainability Star award at Sustainability Leaders Awards in 2019. He is well placed on his mission to make EO Charging the number one electric vehicle charging solutions provider globally by 2025 – and help fight the climate crisis in the process.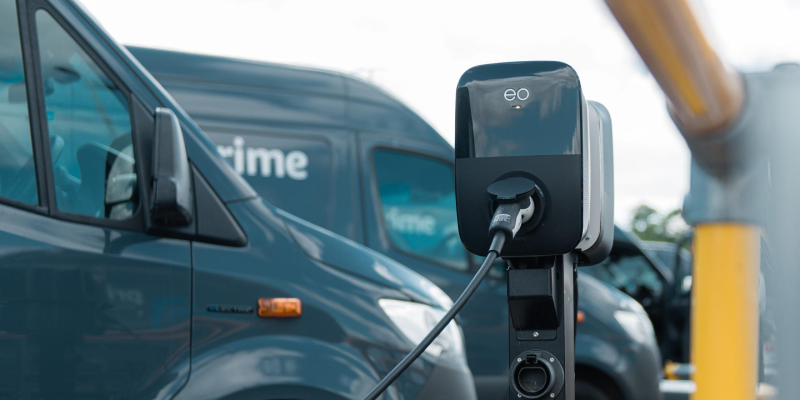 For Charlie, his passion for the latter keeps him motivated. "I couldn't do something if it was just for monetary gain. The climate crisis is the greatest challenge of all. I have to wake up on a morning knowing I am making a difference."
But when Charlie arrived at Leeds, he was still looking for that driver. "I had no interest in academia at school – I just didn't see the point. I was always creative, though, and I enjoyed designing things. I'm also very competitive." It was the perfect combination to get involved with SPARK, the University's business start-up service. He entered the business plan competition, which gives students the opportunity to pitch a business idea to gain funding and support – and Charlie was successful.
"My idea was to create waterproof style onesies that were both warm and practical at festivals," he said. "We called it Rusty Can Ltd. The problem was, I had no idea how to start a business."
"The enterprise scheme at Leeds taught me how things were done."
An alumni-funded enterprise scholarship meant Charlie received advice, mentoring, and tailored business support from experts. "That was incredibly important to me," Charlie said. "Rusty Can didn't work out in the end, the enterprise scheme at Leeds taught me how things were done."
On graduating, Charlie worked for Pod Point, a manufacturer of electric vehicle charging stations based in London – a job that made him "very passionate" about the industry. After two years, Charlie decided to take matters into his own hands. "Everyone in my family is a business owner, and I'd learnt a lot during my time at Leeds. It was definitely time."
In 2014, Charlie set to work designing his first charger on his grandfather's farm, before launching the product in 2016. Although cars dominated electric vehicle sales, Charlie recognised an opportunity to be one of the first in the market charging commercial vehicle fleets.
"People were sceptical of electric vehicles when we started. But now, with the UK ending the sale of new petrol and diesel vehicles from 2030, and the recent rapid increase in the cost of fuel, the transition to electric is exponential."
EO Charging has developed a wide range of electric vehicle charging stations and cloud-based software for fleets and homes. They install charging points, and develop and manage the software that operates them. And that's more than just plugging in, as Charlie explained: "Our software collects data from the fleet and the building, and works out the cheapest and most effective time to charge.
"We are also working on a vehicle-to-grid system. Once available, that will enable you to take power out of your car and put it into your home or back into the grid in exchange for money."
This innovative functionality and constant refinement is rooted in Charlie's passion for design and sustainability. As well as driving a greener future through their products, EO Charging reduce their own carbon footprint by manufacturing in Suffolk and using a UK supply chain.
Charlie's team has now grown to over 200 people, with over 80,000 charge points installed across 35 countries. Perhaps, we might suggest, EO Charging is already well on the way to becoming a world leader in the industry?
Charlie smiled. "We're just getting started."
Further information
For further details, email Ed Newbould, Digital Communications Officer at e.w.newbould@leeds.ac.uk.