Hind Hassan broadcasts from the most hostile environments in the world – from the conflict in Ukraine, to the devastating earthquake in Turkey and Syria – elevating the voices of those unheard.
Last year award-winning VICE News journalist Hind Hassan (Medicinal Chemistry 2007) found herself at the centre of an armed bank raid. She spent 16 hours broadcasting the siege in Lebanon to thousands of followers online, filming the antagonists with guns, Molotov cocktails, and gasoline. The difference between this raid and others was the armed depositors were not stealing, they were trying to get their own money out of the bank.
As a result of the 2019 financial crisis in Lebanon, banks began prohibiting normal people from withdrawing more than $400 (£336) a month. This has caused untold anguish to families with medical bills, school fees, and issues just making ends meet.
"For me, journalism is about elevating the voices of those with less power," Hind said. "Yes, it's often dangerous, and you're often seeing a lot of trauma and pain – those people were being denied access to savings, and they needed them to pay for medicine for family members, for education. But I have an opportunity to tell those stories.
"I want to ask the viewer, what would you do if it was you?"
Working for Sky News for eight years, and then seven years with VICE News, Hind's work has seen her report from across the globe.
Listen to Hind's experience of warzones, natural disasters and humanitarian crises on our Leeds Voices podcast.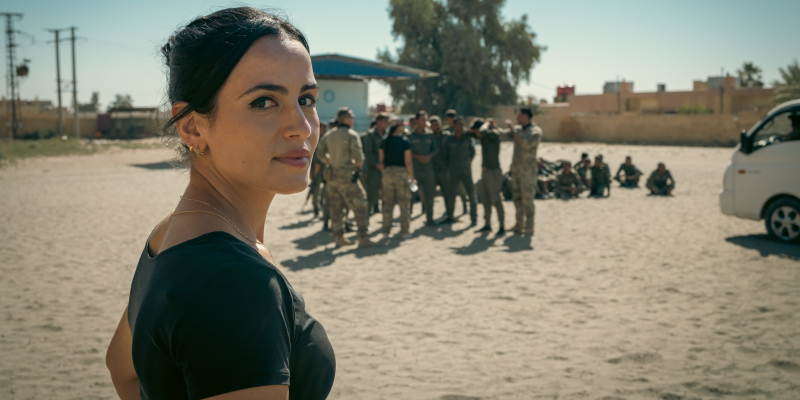 Such a career had not crossed Hind's mind when she arrived in Leeds. Born in Iraq, her family moved to the UK when her father gained a scholarship to study at the University of Hull. "We were a family of scientists, and that's the career path I was expected to follow."
But once here, Hind began working for Leeds Student – the student newspaper – and her connection to Iraq attracted her towards the career. "I could see these injustices taking place in Iraq, and I wanted to elevate the voices of those victims – the people being displaced, experiencing abuses and atrocities. I just didn't know how to do it. When I started working on the newspaper, I realised there was a way. I soon became more involved in the union than I did with my course – not that my parents were very happy about it."
After a year as Equality and Diversity Officer at Leeds University Union, Hind gained a scholarship for her master's in Broadcast Journalism. On graduating, a role followed at Sky News – where she cut her teeth as a young journalist. "Those were long days, 10 or 11-hour shifts producing news reports. It wasn't how I imagined journalism would be, but I never thought of quitting, because I had an aim to work on a certain type of story. I wanted the international news.
"Journalism remains elitist, and as well as issues around the focus on a woman's appearance, we also need greater diversity in class, birthplace, and accents. Journalism is about telling stories, and that is more effective if you're from those communities."
Hind's upbringing in Iraq played a role in one particular deployment – and the chance to report from her country of birth. "There was a large offensive against ISIS in Mosul," she said. "I said to the bosses, I'm from Iraq, I speak Arabic, I understand the region. Let me go.
"I'm grateful they said yes."
Hind has gained a reputation for insightful reporting on the lives of those impacted by tragedy. Her role at VICE has allowed her to produce longer reports, visiting interviewees multiple times, allowing viewers to immerse themselves in the stories. She embedded with the Taliban months before the group's takeover of Kabul, and was on the ground in Jerusalem and Gaza ahead of the military offensive on the Strip in 2021.
Most recently, she travelled to Turkey and Syria following the devastating earthquake.
"We interviewed a Brazilian rescue worker," Hind said. "She'd literally woken up, heard about the earthquake, and flown out to Turkey. She was rescuing lives from the rubble – we saw two people get pulled out. Every single story, there are incredible people like that. Their kindness stays with you."
But with it comes the agony. In Turkey, Hind witnessed the international teams flying out to support the injured. In Syria, there was no such operation. "We spoke with a woman who'd been under the rubble for 60 hours. She'd dug herself out and her hands were marked from it. She then found out her daughter had been killed.
"The Syrians had accepted there was no help coming. They could only help each other."
Such tragedy leaves a mark on Hind, as she describes the "guilt" she feels at being able to walk away. There is also an inherent risk – whilst reporting from Ukraine, the building next to Hind's hotel was destroyed by three missiles in the night.
"But ultimately, these people need to be heard. I'm grateful to have the opportunity to do what I always wanted to do."
Discover more Leeds alumni features on International Women's Day 2023, as we celebrate inspiring women in the global Leeds community.
Further information
For further details, email Ed Newbould, Digital Communications Officer, University of Leeds at e.w.newbould@leeds.ac.uk.