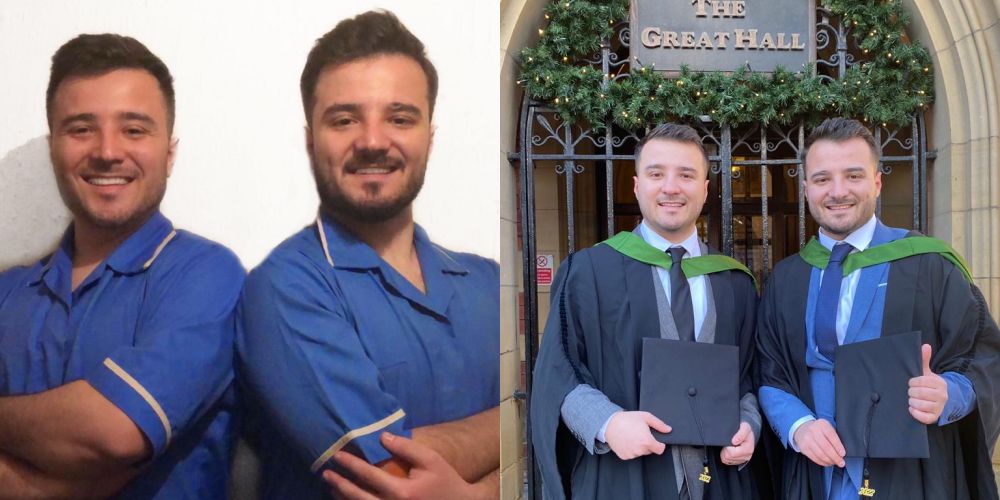 During their studies, nurses Dhionis and Marineo Llanaj worked on intensive care, saving the lives of Covid-19 patients. As the NHS turns 75, a global award nomination recognises their contributions.
"It was difficult," says Dhionis (Medical Sciences 2022). "We were treating Covid-19 patients when the virus was an unknown entity – we didn't know what it might do to us."
When twin brothers Dhionis and Marineo (Medicinal Sciences 2022) emigrated to study at Leeds, they did so to further their nursing careers. They didn't anticipate a global pandemic, and working on the frontline alongside their studies.
"I worked night shifts to help finance my degree," says Dhionis. "At times it felt too much, but I was glad to be there to look after patients." Since witnessing nurses and doctors caring for his older brother in hospital in Greece, it's all Dhionis and his twin brother have ever wanted to do.
Now an Education Practitioner at the Leeds Teaching Hospitals NHS Trust, on the 75th anniversary of the NHS, Dhionis has been nominated as a finalist for the International alumni of the year in the PIEoneer Awards 2023, which honour achievements across the global education industry.
On its 75th anniversary, I also need to acknowledge what a wonderful place the NHS is.
"I've always been able to adapt," says Dhionis. "That's been ingrained since I was young and our circumstances shifted." When the twins were two years old, the family fled civil war in Albania to Greece.
It was there that a road traffic incident set Dhionis and Marineo's career paths: "Our older brother was involved in a bicycle accident. It left him with disabilities and we spent a lot of time in hospitals. I watched the nurses, doctors and parents look after him.
"It inspired me to save lives and look after people. Even as a child, I knew that was what I wanted to become."
Dhionis shared the dream with his twin brother. They went to university and qualified as nurses, before deciding to travel to the UK to complement their practical skills with research knowledge.
They studied an International Foundation Year with Study Group at the Leeds International Study Centre, which runs in partnership with the University of Leeds, before progressing to study a Medical Sciences at Leeds.
Whilst studying, the twins delivered critical care in Leeds hospitals for countless patients and families: "The hardest thing was that relatives of patients couldn't see their loved ones because of Covid restrictions. But loved ones are part of the treatment. Being with family gives you a hand to hold. It was hard to watch."
Dhionis has always been able to rely on his own twin brother to support him through challenges – and even now they remain colleagues, with Marineo working at the same trust as an Oncology Research Nurse. "We would tell each other we've come this far, we can't give up now. I must also mention Dr Michael Coleman, my supervisor at Leeds, who was fantastic in listening to me and guiding me during that time.
"On its 75th anniversary, I also need to acknowledge what a wonderful place the NHS is. I am an international nurse, and the NHS and Leeds have been brilliant in welcoming me. It's an inclusive, diverse place, and the teamwork got us through the pandemic."
Dhionis has been recognised for his contributions with his nomination at the PIEoneer Awards, following a rigorous assessment by a panel of more than 40 esteemed representatives of the higher education sector.
"I was so happy to be nominated," Dhionis says. "I hope my story teaches people to follow their dreams too, despite challenges. I hope it inspires them.
"All I've ever wanted is to look after patients, and now I'm an Education Practitioner, I can help others do the same. I don't see it as a job, really. It's my life."
Further information
For further details, email Ed Newbould, Digital Communications Officer, University of Leeds at e.w.newbould@leeds.ac.uk. 
You can read more about the PIEoneer Awards, which will be held in September 2023, on the PIEoneer Awards website.