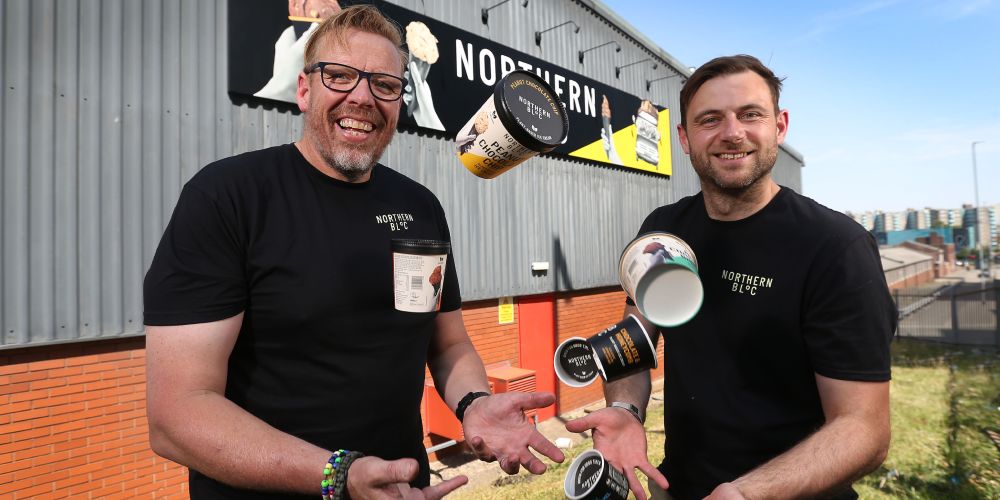 Founder and director of Northern Bloc Dirk Mischendahl is doing ice cream differently. The serial entrepreneur returned to Leeds to support enterprising students starting their own business journeys.
"Quite simply, I like ice cream," says Dirk (Psychology 1995). "That's why I started this. It was the perfect place to do it, because Leeds has great ice cream heritage, from ice blocks that used to get shipped along the canals to the city, to flavoured ices, to Italian families who started making it here using dairy."
To Dirk, and the evolution of "ice cream done differently".
They started out by making ice cream through the night and selling it from a van during the day. Now, Dirk and co-founder Josh Lee supply hundreds of theatres, arts venues and tourist attractions across the UK. Northern Bloc can be found in the Co-op, Ocado, Morrisons, Waitrose, and on all Virgin Atlantic outbound flights. Their plant-based and vegan range are changing perceptions – and setting the standard for non-dairy products.
"We pride ourselves on using responsibly-sourced natural ingredients to create different flavour combinations," says Dirk. "We innovate, and we make great quality products – because who doesn't like good ice cream?"
Listen to the full Leeds Voices podcast episode with Dirk - Episode 14: Setting the standard for vegan ice cream with Dirk Mischendahl
The difference between successful and unsuccessful entrepreneurs is the ability to dust yourself down and try again when things go wrong.
The name Northern Bloc is a nod to the industrial heritage of the city. They chose to locate the business to Castleton Mill, a restored Grade II Listed flax mill built in 1836.
"Leeds has been a furnace of innovation throughout history," Dirk says. "The industrial revolution began up north with a drive to innovate." The University itself started life as the Yorkshire College of Science, and was funded by entrepreneurial industrialists.
It is fitting that Dirk began his first business from its doors – because he was "never going to work for somebody else". After co-ordinating the University graduation ball, Dirk established a marketing and events business which went on to turn over £20 million, before he sold his stake in 2014.
"I'm grateful to the University and the people who gave me a leg up. I wouldn't be where I am today without the support, and it's why I try to help those at the start of their journey."
Dirk is one of many local business owners to attend the launch of HELIX, the new home of student enterprise at the University, and a space of immersive technologies for collaboration on creative, innovative, and entrepreneurial projects.
"When I was at Leeds, I wasn't aware of a formal start-up service. It's fantastic that support is here now to help entrepreneurs.
"My advice is to always trust your gut. Usually people with ideas have thought about them a lot, but they lack the confidence that it could work. You don't need someone telling you how to do it, you need someone to bounce ideas off.
"The difference between successful and unsuccessful entrepreneurs is the ability to dust yourself down and try again when things go wrong. You keep going."
It's an approach Dirk has needed at Northern Bloc. When starting out in 2014, they discovered the challenges of making ice cream using natural, quality, and ethically-sourced products which had a good shelf life. Hiring Manolo Imperatori, who brought a wealth of science and knowledge from his long Italian heritage of ice cream makers, helped them to get it right.
"In 2014 ice cream was seen as a secondary dessert, and something to complement the main attraction. But we're making it centre plate.
"It involves a lot of experimentation and innovation with flavours and combinations. You've got to try new things."
Innovation is ongoing, with creations including Little Bloc for kids, home biodegradable pots, and the recent launch of their allergen-free, plant-based soft serve ice cream.
Flavours are continually evolving, with all staff getting involved in the creation. Dirk has some favourites from the product line – namely grapefruit and bergamot, parkin, and lemon sorbet. "Although," he adds, "a simple vanilla is hard to beat." It's also one of the hardest and most expensive to get right, with vanilla pods costing "more than silver".
Northern Bloc's vision is simple: to make ice cream products that taste great – vegan or dairy. It is the former in which Dirk believes they have truly set the benchmark, with vegan products making up over 50% of turnover. The ice cream is made from natural vegetable fibres using pioneering molecular technology developed specifically by the team.
"We believe everyone deserves good ice cream, which is why we have the vegan and plant-based products. People judge them on whether it tastes like dairy product, but that's not how you should compare because it's not dairy, it's a different product.
"Instead, you need to judge on whether it tastes nice. Our products do, and that's why we're ahead of the rest."
Further information
Watch our 'What is SPARK' video to discover more about the wide-ranging impact of SPARK, the University's business start-up service.
For further details, email Ed Newbould, Digital Communications Officer, University of Leeds at e.w.newbould@leeds.ac.uk.