Award-winning horror writer Tananarive Due knows how to scare. She explains what attracts us to the genre, how she creates horror, and how her time at Leeds played a key role in her success.
Tananarive Due (MA English Literature 1988) watched horror films from when she was young. "As children, we learn that it's fun to be scared," Tananarive said. "It's a rollercoaster thrill ride. My mother let me watch because she was a lover of Dracula, Frankenstein and The Wolfman."
Her mother, Patricia Stephens Due, was also a well-known civil rights activist. Her love of the supernatural contrasted with the woman Tananarive later read about in textbooks. "I realised how our relationship with horror changes. I'd heard my parents' stories – my mother was tear gassed by the police to the point she had to wear dark glasses. As we get older, I believe horror stories become a way to address those traumas.
"It's validating to see something horrific on a screen mirroring a feeling you couldn't put into words."
Tananarive's early exposure to the genre helped her to thrive. She has been a leading voice in Black speculative fiction for more than 20 years. She has won an American Book Award, a National Association for the Advancement of Coloured People Image Award, a British Fantasy Award, and her writing has been included in best-of-the-year anthologies.
But when she arrived in Leeds, she wasn't writing horror at all. "I was always writing, but I was trying to mimic what novels and short stories felt like. That meant a white male protagonist having an emotional crisis and an epiphany. You would never know that there was a horror writer in me."
Aside from overcoming the challenge of "getting accustomed to the Yorkshire accent" and widening her world view by making friends from all over the globe, Tananarive's Leeds studies helped set her literary direction. Professor David Richards' course on Nigerian literature introduced her to African authors, including the likes of Wole Soyinka (English 1957, Hon DLitt 1973) and Chinua Achebe. "It was earth shaking for me. I wrote my Masters thesis on conditions in the African Civil War, and it's no coincidence that in my second novel, A Soul To Keep, I have an African protagonist.
"When you're reading great literature, as I was at Leeds, it has a flowering effect. Seeds were planted that sprouted not long after."
"Typically, the ideas for my horror stories come from a real-life event or something that scared me."
Tananarive began to write from her own experiences, and seven years after graduating from Leeds while she worked as a journalist and columnist for the Miami Herald, her first novel was published. The idea for The Between came after Hurricane Andrew devastated Tananarive's home in south Florida, and she wondered, "what if you didn't die when you were supposed to die?".
"Typically, the ideas for my horror stories come from a real-life event or something that scared me." In another story, Rumpus Room, Tanararive was inspired by a fungus in the shower. When Tananarive saw it without her glasses on, she believed it was a washcloth and touched it with her foot. "It sent a jitter up my leg," she said. "And that minor scare rolled around in my head.
"The next key ingredient is to find a character, and in horror a lot of those characters' stories start with grief or transgression, or both." Finessing the character, Tananarive notes, is something many authors learnt from Stephen King, who is described as the 'King of Horror'. "Pet Sematary by Stephen King scared me the most," she said. "I read that when I was young."
For her new book, The Reformatory, Tananarive draws on her own family history. After discovering her mother's uncle died at the infamous Dozier School for boys, Tananarive delved into the past. She visited the abandoned school – overgrown with vines and full of dusty bunks – listened to stories of survivors, and created a ghost story which rewrites her great-uncle's ending. It also highlights the injustice of the criminal justice system which would send a child to prison for a minor matter – because of the colour of their skin.
Tananarive is considered an expert in Black Horror, and teaches Black Horror and Afrofuturism at UCLA. It's a label which can mean many things. "Black Horror can be social messaging and a way to show what white supremacy feels like, or it can be that the protagonist just happens to be black – which gives a different prism to look at the things that scare us. It's as diverse as all horror, except the creators are black and bring their own experiences."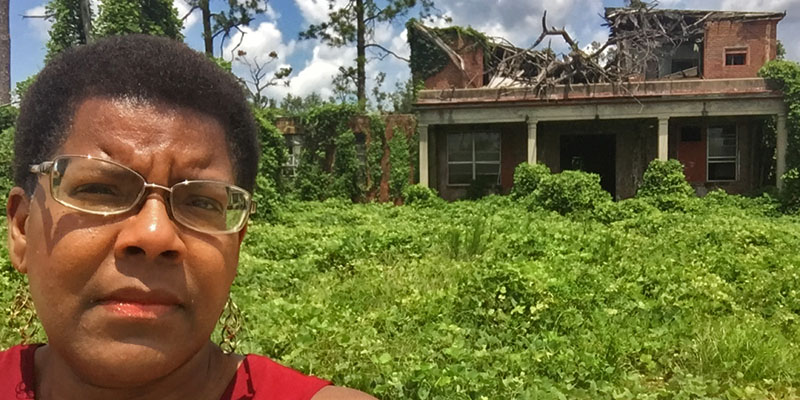 Tananarive visited the infamous Dozier School for boys as research for her new novel, The Reformatory
As someone who has made a career from understanding and teaching about horror – as well as scaring readers – does Tananarive still enjoy the genre herself? "My favourite horror movies are low budget, because it's all about ideas and performance and technique. Something skittering across the table is scary for me, I don't need a flying monster.
"As you get older and start to absorb more of the horrors in the world, trauma accumulates. I think people who have suffered loss or devastating events either stay far away from horror or they're drawn to it.
"As my mother found, it can be soothing to watch a horror film, or read a book – yes it's horrible to see these things in real life, but at least it wasn't as frightening as that."
Further information
The Reformatory, released on 31 October 2023, can be purchased online.
For further details, email Ed Newbould, Digital Communications Officer, University of Leeds at e.w.newbould@leeds.ac.uk