Dr Tim Peakman
Tim is accountable for every aspect of the University's operations, ensuring that all activities are properly aligned with the University's Strategic Plan, and with each other, to enable its key imperatives of student education and research and innovation.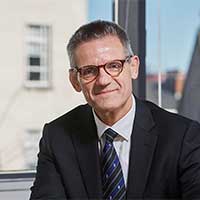 He is responsible for student operations, information management and technology, change management, facilities, marketing and communications.
Before joining the University, he was deputy Chief Executive of UK Biobank, a major medical research resource established for the investigation of common, complex diseases. He also established UK Biocentre and the National Institute for Health Research (NIHR)-National Biosample Centre at Milton Keynes.
Prior to joining UK Biobank, he worked for four years as a management consultant with PricewaterhouseCoopers and for 10 years as a researcher in the pharmaceutical industry in drug development programmes for the treatment of pain and epilepsy.
Contact